Nobody remembers the events of September 11, 2001, like New Yorkers do. Our state is filled with courageous and selfless heroes who risked their lives to help others escape the destruction of the Twin Towers.
News and media outlets provide lots of coverage on the traumatic event, however, at The Messenger, we feel it is important to hear from the responders themselves. Those who had the fortitude to answer the bell and still have the willingness to discuss those events. We hope their stories inform and educate the public twenty-two years later.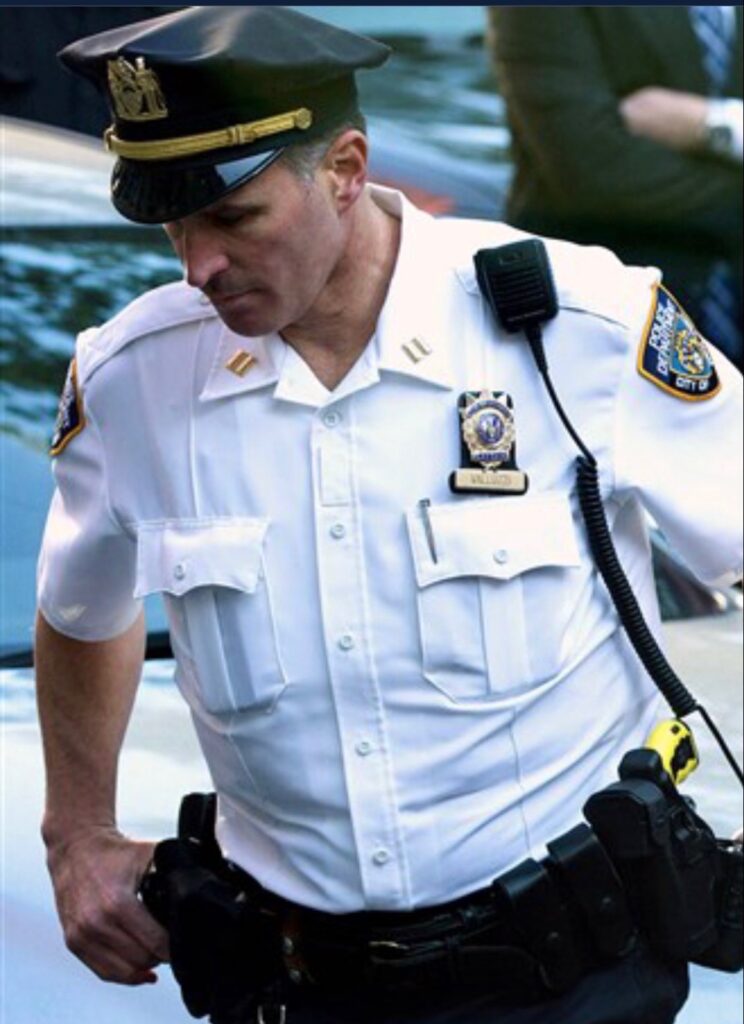 Frank Valluzzi
2001: NYPD Sergeant assigned to the 61st Precinct in Sheepshead Bay, Brooklyn
2023: Managing Director in the Private Sector/ Corporate Security in the Metropolitan Area
Frank Valluzzi of Huntington was a sergeant assigned to the 61st Precinct in Sheepshead Bay, Brooklyn. Now working in the Private Sector of Corporate Security, twenty-two years later he can't erase the horrific sights that he responded to.
"The smell was nothing like I've ever experienced, it was such an odd and distinctive smell. The air was very, very thick and difficult to breathe," says Valluzzi.
Valluzzi explains how there is no way to prepare yourself for a scene like ground zero of 9/11.
"I remember thinking to myself, I thought I would see the conference tables, the servers, I thought I would see big office stuff, but everything was pulverized," he says. "I kind of knew that although they called it a rescue effort, I kind of knew it was a recovery effort."
The memories Frank Valluzzi has of the experience is nothing like we can imagine.
"I remember when we used the K9 rescue dogs to help find survivors," he says. "They would have to keep the dogs motivated because they couldn't find any survivors. Once in a while, a cop would pretend he was lying down injured, so the dog would find him and stay motivated to keep looking. They would use this as positive reinforcement to keep them working hard under difficult conditions."
He also remembers the feeling of gratitude that stretched throughout New York for first responders in a time of intense sorrow.
"Walking around in uniform back then was just gratitude everywhere I went," says Valluzzi. "Whenever I would find business cards or photographs of people, numerous times I would be able to track down the families and return them. I remember it was weird because the people would be so beyond grateful to find something that was left of [their loved one's]."
The first responders of 9/11 spent days and nights trying to recover anything that can be given back to loved ones.
"I would go to the morgue in the 13th precinct and see people waiting in lines to see if any remains had been found of their family," he says.
"The people that I worked with were the most selfless people, and the bravest people I have ever seen. This is why not everybody can do this work, because very few people will risk their lives for a perfect stranger."
Every year on 9/11, Frank Valluzzi connects with those he worked with on that day twenty-two years ago to catch up. "The memorials are difficult to attend and watch. For those of us who were in the pit [ground zero] we can't unsee what we have seen. It's really something that never leaves you."
"9/11 taught me how precious life is and how quickly everything can be taken away from you, as we are all one phone call from our knees," Valluzzi says.
The Messenger thanks Frank Valluzzi for his courageous and selfless effort during 9/11 and remembers those who are not here to tell their stories.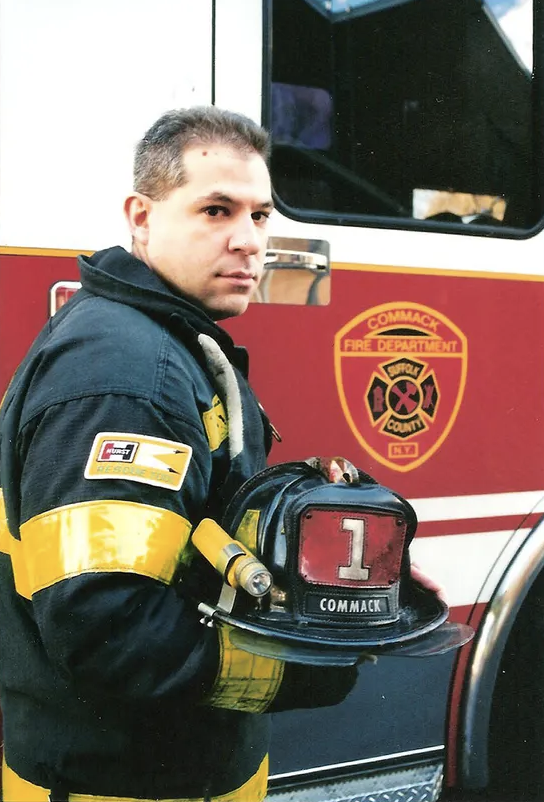 Rob Weisberg
2001: Volunteer Firefighter at Commack Fire Department and Accountant
2023: Volunteer Firefighter at Commack Fire Department, Advocate, and Volunteer at Paws of War
Rob Weisberg, of Commack, was a volunteer firefighter for Commack Fire Department in 2001, but that wasn't the job that brought him to the city on 9/11. He was also an accountant who commuted to his office across the street from the World Trade Center every day. Weisberg, who took a sick day the day prior, got himself up and to work on September 11, 2001, and has been changed ever since.
"When everything happened, I felt the ground shake. My subway had let out, and people were going up the stairs to get to the street level, and the shockwave from the first plane blew the people on the stairwells down the stairs," Weisberg explains. "I thought it was a car bomb. Then when I got to the street, I looked up and saw what had happened. At that point, I still didn't know it was a plane."
Weisberg, knowing he had the ability to help due to his experience at Commack Fire Department, told his office he needed to volunteer his aid.
"So, I told them, if [the firehouse] doesn't need me or doesn't want me because they don't know who I am, I will come right back."
Weisberg knew that they wouldn't have enough people nearby to help, so he responded to the firehouse on Liberty Street. "Those guys were all out on another call at the time, but the captain was still at the headquarters, and he said 'Rob, you're all I got.'"
Rob Weisberg was tasked with setting up a triage for responders who were already injured. "I ended up setting up one of the first, if not the first triage locations for lower Manhattan," he says
As a "truckie" Weisberg wasn't used to being on the medical and first aid side of emergency calls. He thought he was better suited for the search team.
"When I first got there my assignment was medical related, but at this point, an ambulance had come over from Brooklyn." Weisberg asked to join the search team that was being put together as that was his specialty but was asked to remain on the medical team.
"I remember being a little disappointed," Weisberg noted. "I watched those guys go across the street, there were eight who went across the street, and five minutes later they all got killed in the first collapse. That was the team I wanted to be on. There was a lot of survivor guilt from that."
Rob Weisberg now has PTSD from being there and is currently working on making himself and his mindset stronger.
"I just ended up hiking the Appalachian trail, I did over 1,850 miles. I was out there to help me deal with my PTSD from that day and it was such an amazing experience." Weisberg suffered an injury and had to come off the trail. He is now back home and recovering.
"It was great, and exactly what I needed."
Weisberg has suffered with PTSD and suicidal thoughts and is now learning from his experience while teaching others the importance of mental health.
"My goal was to reach one person, to help them not head down the trail I was headed and do something irreversible."
Weisberg has exceeded that goal by helping people on his trail, through his Facebook, and now through The Messenger.
"When it comes to mental health, [people feel like] they can't talk about it. There is such negativity around it. The brain controls everything and it's the one thing you can't talk about." Weisberg dedicates his time to breaking the stigma of mental health by being so candid about his experience.
On days like the anniversary of 9/11, Weisberg has developed healthy vices to help him through the memories and feelings that flood back. As a man with a sweet tooth, molasses lollipops from St. James' General Store have become an annual tradition to help him feel better.
"I started this two years ago so this will be my third year doing this. I love that place and I am tired of sitting home, feeling bad, and there is something about that place and picking up a couple pieces of molasses lollipops that make me happy."
Weisberg's advice to anybody reading: "If anybody is feeling like they are not doing okay, definitely get help. There is no shame in it, there is no embarrassment, there shouldn't be any stigma around it. There is hope at the end. Don't do something that is irreversible."
If you would like to follow Rob's hike and learn more about living with PTSD, follow Rob Weisberg Appalachian Trail Hike on Facebook or robshike.org.
The Messenger thanks Rob Weisberg for his courageous and selfless effort during 9/11 and remembers those who are not here to tell their stories.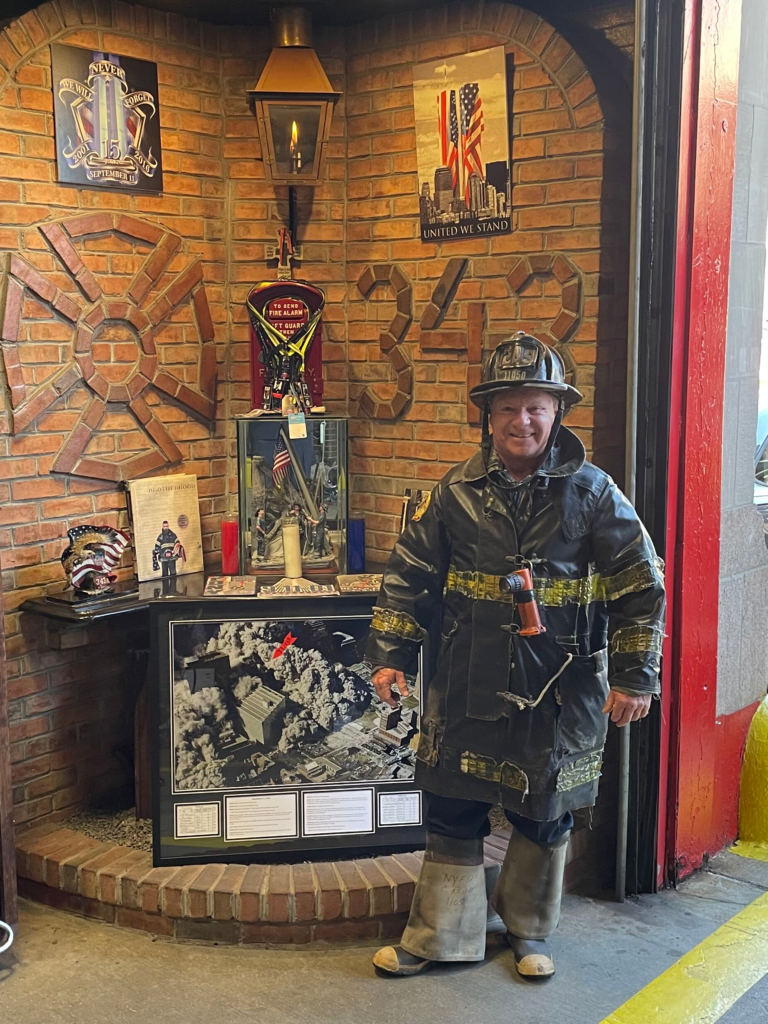 Chris Revere
2001: New York City Firefighter
2023: Retired NYC Firefighter and Personal Trainer
Chris Revere, of Kings Park, remembers 9/11 all too well. "The day we lost the heart and soul of the FDNY" recalls Revere.
Revere was a proud member of the FDNY, and a 9/11 first responder. "The brotherhood of the FDNY is one of the strongest bonds anybody could imagine."
Each 9/11 anniversary, Revere goes into Manhattan to pay his respects and honor those who lost their lives on the fateful day. "It is a tradition that will be carried on forever." He recalls his fellow responders as some of the most courageous people he's known. "We live with this pain every day, yet we know that are here to honor their legacies. True heroes who gave their lives trying to save others. 2,977 people were murdered that day. Many responders are sick with a myriad of illnesses."
"Remembering the love being shown by all in the days after 9/11, tears flowing as we walked the streets leading towards ground zero. The fences were covered with pictures of family members missing, knowing they were no longer with us. Pictures and phone numbers pleading for any word on their loved ones still brings tears to our eyes. On that horrendous day we all came together as a country, as Americans. Love flowed for even those Americans we did not know. How sad is it that we need a tragedy to love and respect our fellow Americans?"
Revere urges those around him to never forget the horrific events of that day and pushes everyone to treat others with the respect and love we all deserve.
The Messenger Papers thank Chris Revere for his courageous and selfless effort during 9/11 and remember those who are not here to tell their stories.
Though the twenty second anniversary of 9/11 was last Monday, Long Island will be remembering our victims and responders for weeks to come.
John Feal, a 9/11 first responder and founder of the FealGood Foundation will be holding his foundation's annual 9/11 Naming Ceremony at the 9/11 Responders Remembered Park on the corner of Gibbs Pond Road and Portion Road on Saturday, September 16, at 10:00a.m. The FealGood Foundation assists all emergency personnel who have been injured due to action or omission in the course of their duties or everyday lives. These responders include, but are not limited to firefighters, police officers, nurses, volunteers, sanitation workers, transportation workers and construction workers.
Visitors to the 9/11 Memorial and Museum are also encouraged to learn the history of the terrorist attack and hear stories of victims and survivors. The death toll rises every year and forty-three new names have been added to the World Trade Center Memorial Wall.
While the 9/11 Tribute Museum did close in August of last year, the museum has transitioned into an online learning source and educational tool great for children or adults unable to make the trip into Manhattan.