The semi-fictionalized screen self of Gus Passanante (Eastport South Manor High School, Class of 2013) may be missing— but the locally-shot film for which he is the subject and namesake, Long Island Gus, has found a home on Amazon Prime Video for rental or purchase, as of May 2.
Written and directed by Passanante's childhood friend, Calogero Carucci (Smithtown High School West, Class of 2013), whose devastating but awe-inspiring feature debut, Moving in 2008, The Messenger spotlit last year, Gus is, in many ways, the inaugural entry in a genre it's dared to invent.
You can't really call it a mockumentary, a la the duo's foremost cinematic influences while developing this project, Woody Allen's Zelig (1983) and Rob Reiner's This is Spinal Tap (1984), because it's as deadly serious as it is Bananaland funny. Long Island Gus is simply the story of what lengths a living, breathing wild card would go to in order to save his best friend's life.
"There aren't a lot of avenues for filmmakers that are independent to explore at this point that can be both lucrative from a monetary standpoint and also get a lot of eyeballs on it. Theatrical release is dead. It's just not alive anymore for 99.9% of movies… so you have to come up with backup plans. The primary plan, as always, was to get it on a streamer," Carucci told The Messenger. "The process is a submission process. I had luck with Moving in 2008, and now that they've seen I've done both, I think they showed an extra sense of belief in the film. It's a 4-6 week waiting period to get your film approved, and we're very excited [that it did]."
What starts as a class assignment about kidney disease for the multi-hyphenated Calogero (as himself) and sound man Braulio Lin (also as himself) spirals into a Long Island superhero movie wherein the colorful and explosive sidekick immediately commandeers the vehicle for his own quasi-altruistic designs. Gus stars as a more emboldened, "more courageous" version of himself who matures beyond hitting on deli cashiers and coaching sports he has no business coaching to ultimately work the criminally odd jobs necessary to fund the kidney transplant he'll illegally secure for his ailing pal, Vito (Paul Lopiparo).
Passanante admits he is more of a one-off movie star that will prefer to operate behind the scenes in the future. He also finds comfort in knowing the film will continue to evolve as a work he is "super proud of" and can regularly lean on to find different, even therapeutic meaning in as he grows— agreeing the film could be considered a mobile tattoo, of sorts.
He also holds no regrets about totally deferring to Carucci each step of the way. He's in the right to do so. Two films in, the filmmaker is clearly ready to branch out beyond his local roots, having proven leaps and bounds beyond his local indie scene contemporaries while sending off where he helms from with a bang. In the same breath, Carucci has also crafted an entertainingly warped and geographically niche yet somehow still broadly resonate version of Passanante's own mythos.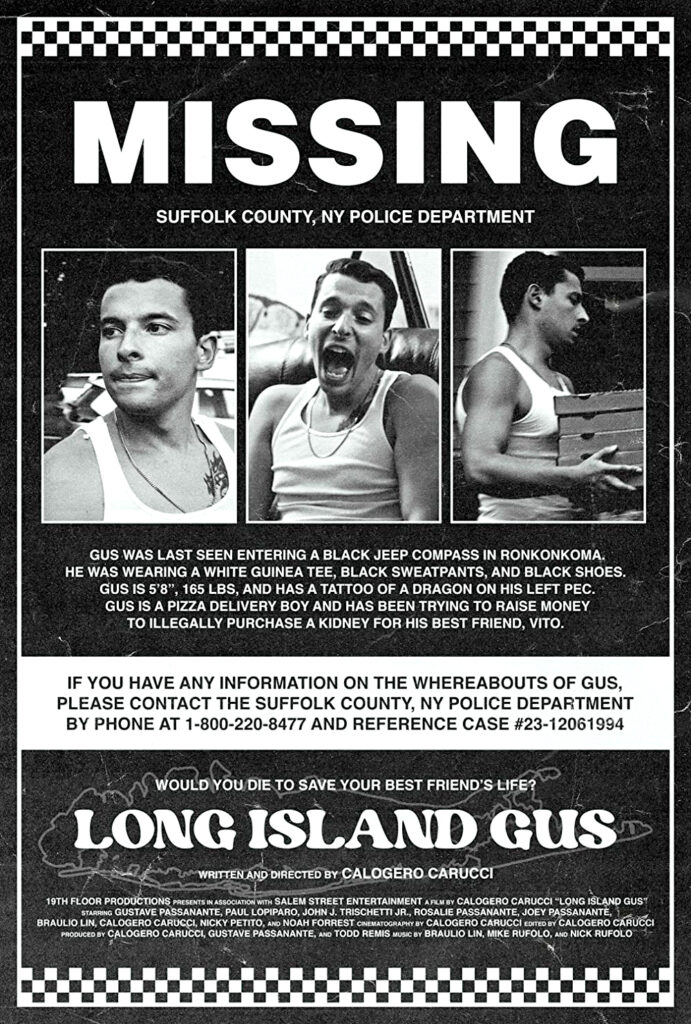 In this regard, this makes this terrific tandem Long Island's latter-day Spike Jonze/Charlie Kaufman (who co-wrote the pair's Oscar-nominated meta extravaganza, Adaptation. with his fictional twin brother, Donald) collaboration, by this reviewer's calculations.
"I trust Cole and his creative direction 110%," Passanante asserted. "I love hearing it. I don't think I ever disagree with anything he thinks. We definitely do love talking about it. We spent a lot of time talking about Long Island Gus, coming up with different characters, tweaking Gus, making him more funny, more serious for certain moments. He wrote the script, and he also did a lot on his own that I gave him full control of it. He's the best."
The film was shot a year into the coronavirus pandemic across nine days over a few weekends in August of 2020. Just that June, Passanante had been admitted to practice law. Passanante says the most difficult part was "switching back" come Monday morning at the office. Gus regularly had to resist the temptation to "become Gus" once more.
Carucci asked Passanante during our interview: "Do you feel, a person you're working with, or someone you're up against, [because of this] you will lose credibility?"
"I actually show most of my clients," Passanante replied. "I do it because I'd rather I tell them than they find it. I have a relationship with them; they know who I am. Believe it or not, when I show them, they're not even surprised. I'm a little goofy, and they know I do a lot of things. Clients wouldn't be surprised by the movie, but by the character. I don't think they'd be able to connect me— maybe in the goofy ways, but not in the 'no-filter' sense."
This is a story of friendship born from a powerful one. In their joint Zoom interview with The Messenger on Tuesday, Carucci and Passanante recalled years of creating outrageous characters for Snapchat and YouTube audiences that would eventually inspire many narrative threads. At a certain point, the world-building resulted in Carucci's confidence that the amalgamation of Gus' alternate selves could carry the weight of his second feature-length endeavor— one that tracks as anything but sophomoric.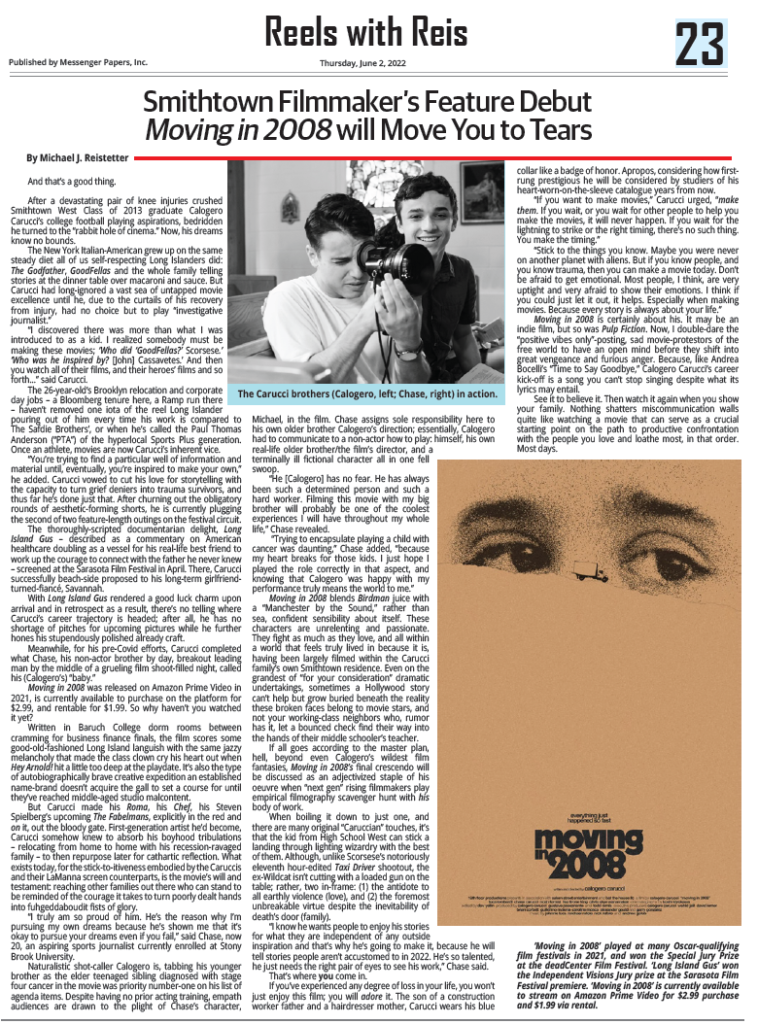 A couple of years later, now it's time to promote the little project that could, and would, dream big. All the while, each of them are ready to stipulate whenever applicable, perhaps even to enthralled audiences' faint disappointment, that some of the more salacious events that occur in the film were not the real thing— a testament to the believability factor consciously baked into the film's construction.
"It was something we obviously thought about [before shooting]," Passanante said, addressing the elephant in the room – the real Gus is a corporate lawyer who's now marketing himself front-and-center in a film that people outside of their network could mistake for true crime: a documentation of someone committing some pretty reprehensible offenses.
Reprehensible offenses in the name of unbreakable friendship, mind you, but reprehensible nonetheless.
"At this point, we're doing whatever it takes to push the film," Passanante said. "I considered those risks. It's unlikely it would have a serious effect. But, I am finally now feeling it. It wasn't out before, but now it is. And there's only been positive feedback thus far," said Passanante.
As there should be. Even before the film's streaming platform release, the small crew stood rewardingly tall when recognized as the Independent Visions Award "Best Film" recipient at the 2022 Sarasota Film Festival.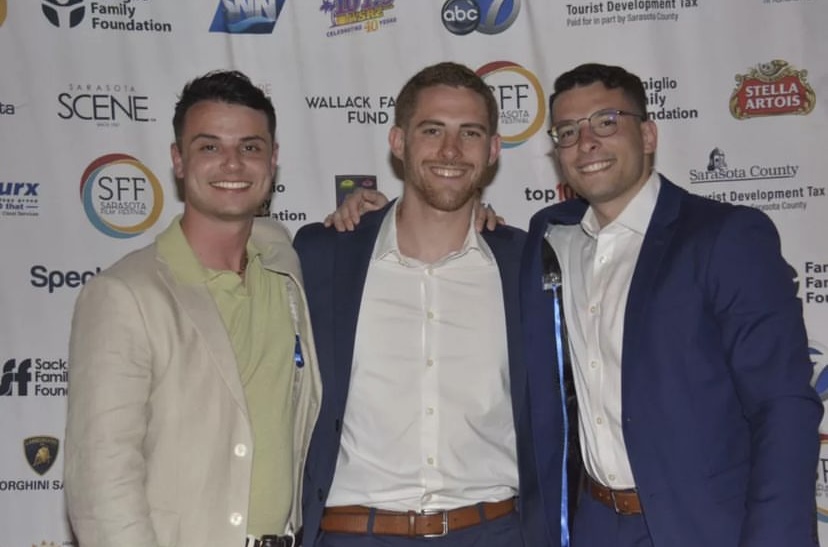 Further comparable works include underrated indie efforts The Search for One-Eye Jimmy (1994) and Alpha Dog (2006). Both films are equally as inspired by the works of the visionary Martin Scorsese, namely GoodFellas (1990), just as Carucci is— especially with Long Island Gus' positively "they're after me" third act paranoia. Gus transforms into Henry Hill: Smithtown edition right before our eyes.
Direct movie nods, and references of all kinds are rampant throughout the film as well, most often uttered by a supporting character who could easily lead another story within another story's story for another time.
"Working with Calogero truly was an incredible experience," John Trischetti, Carucci's maternal uncle who debuted as an actor in Long Island Gus and also starred in the upcoming, locally-shot Christmas Eve in Miller's Point, told The Messenger.
"Being an actor with zero experience [at the time], his guidance and support was second to none. He laid out the expectations he had envisioned for the scene and made filming a pure joy," he added. "Calogero is a person who invests in people. He's an individual who is well-prepared, hard-working and incredibly talented. When he recognizes the goodness in others, he helps them achieve their dreams and goals. The natural ability and level of talent Calogero possesses is unparalleled and unmatched. I'm so incredibly grateful!"
"It was a movie made with a lot of heart, obviously," Carucci summarized as the clock sadly ran out on our Zoom call. "It feels like the ultimate Long Island movie. The epitome of Long Island, in the best way."
Here's to the rollout campaign that is bound to unravel until the inevitable Eddie and the Cruisers-esque, 20 years down the line sequel. It's not a definite, but it's worth noting that Calogero Carucci and the thankfully on-the-grid Gus Passanante did not rule out LI2: Long Island Gus altogether.
"I think it would be a lot of fun," Carucci said. "We would only make it the way that we made it [on a shoestring budget, like Long Island Gus]. The reason it worked so well is because it was made on nothing. It couldn't have been made this way if I made it on $1 million… an authentic, 2-person, 3-person crew."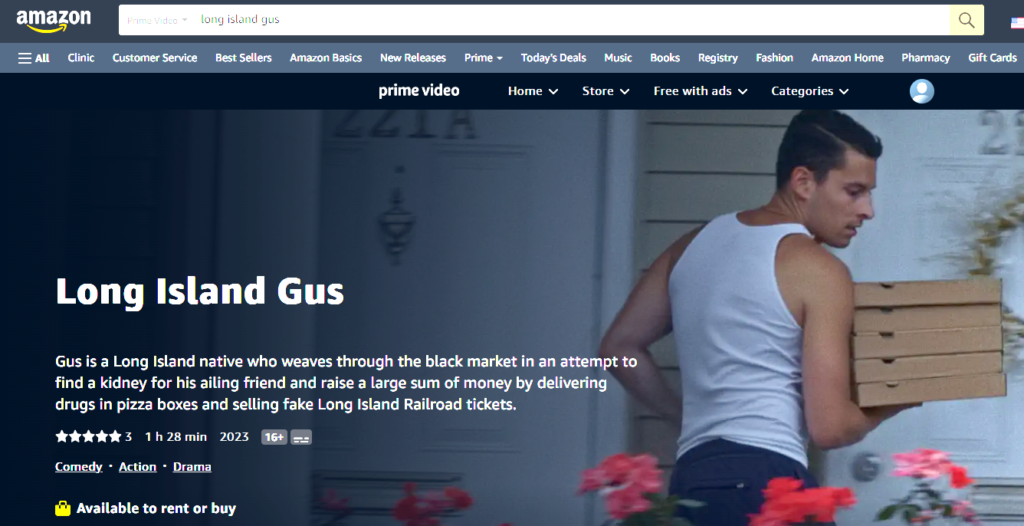 Long Island Gus is currently available to stream for rental and purchase – from only $4.99 to $9.99 – on Amazon Prime Video. Show and tell your friends and your friends' friends.