"We are reanimating our childhood Christmas traditions," independent filmmaker Tyler Taormina, 32, told The Messenger. "I believe this is the most powerful way to honor these cherished family memories."
The way of Omnes Films (est. 2010) is the way of touching down and hitting the ground running in town on their latest project. Co-penned by Smithtown native writing duo Tyler Taormina & Eric Berger, and Kevin Anton, Christmas Eve in Miller's Point is Taormina's third feature-length directorial outing— and has Suffolk County positively buzzing.
"How wonderful it is that the director came back home to shoot his movie right here on Long Island," Kelly Burke-Kelly, of Hauppauge, exclaimed. 
The film, a holiday dramedy with a soul and an edge that shares more DNA with Steve Martin's Parenthood (1989) than something viewable on, say, Hallmark or Lifetime, began principal photography on Wednesday. It will continue to shoot in Smithtown, St. James, Holbrook and Selden over the next month-plus. Many well-known actors are currently set to appear, including Michael Cera (Superbad, Scott Pilgrim vs. the World, Molly's Game).
"That he [Taormina] is using a local cast and networking with his friends to get everything in place to begin shooting is wonderful," adds Burke-Kelly. "Michael Cera is a wonderful actor and we always enjoyed his character on Arrested Development… It's great that the Long Island locations will be authentic!"
"It is so great to welcome this production to our wonderful community, especially since it involves the creative work of Smithtown natives," said Senator Mario Mattera (St. James).
Joining Senator Mattera are even more local representatives who have proven just as excited as their constituents are at the prospect of the next Christmas classic-hopeful, one keen on simultaneously fracturing your funny-bone and tugging at your heartstrings, having such a deep connection to their neck of the woods.
"The film has a lot of heart and has the full support of many other leaders across our districts," Assemblyman Doug Smith (Holbrook) wrote in a letter that successfully appealed to a residential area to keep their Christmas decorations affixed so they  could be captured on film this month. "It absolutely has mine as well," he added. "It's a beautiful community effort that can remind us about the importance of celebrating the arts. It also reminds us the good tidings of the holidays can and will extend well past the winter, carry into the springtime… 
…and beyond."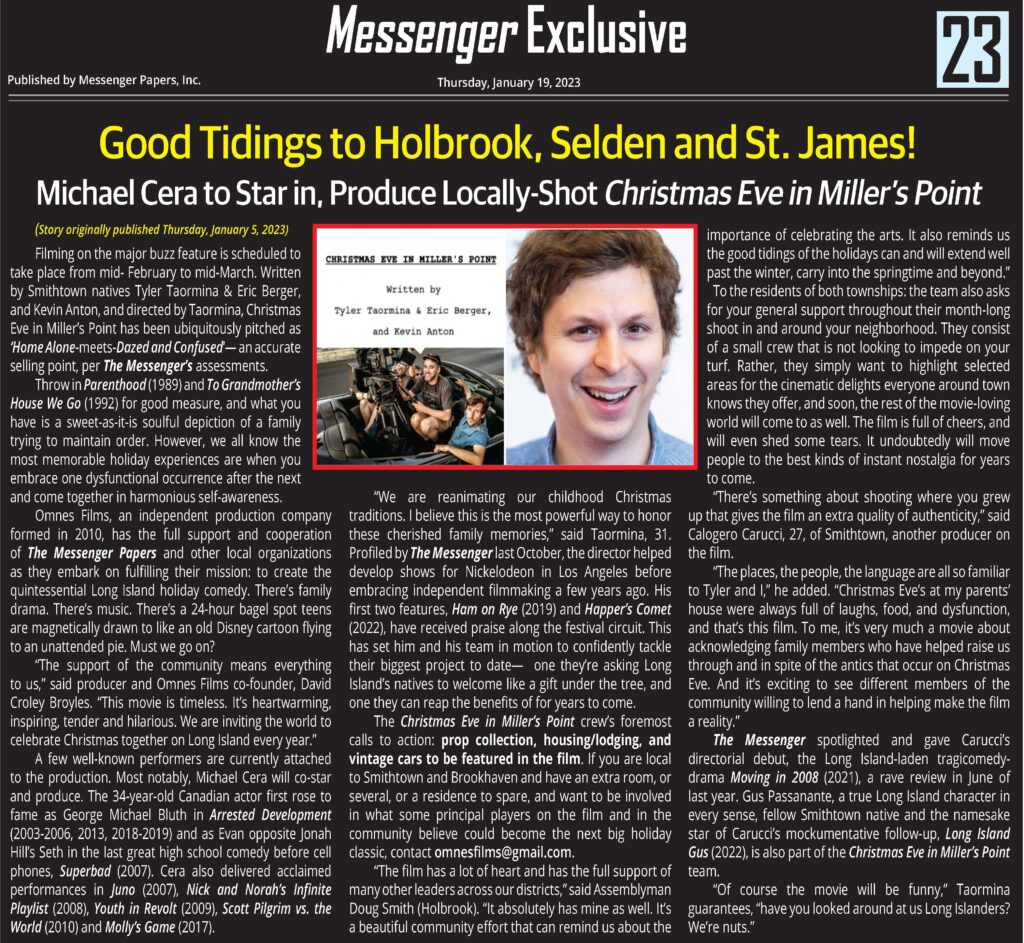 As of this week, the project will dare to transport its doting production team and endless future audiences alike to a time just before cell phones could distract familial heads from butting at the annual get-together of yesteryear called Christmas Eve dinner at Grandma's.
"Our pre-production viewings and conversations circled less around the heroes of aughts-era mumblecore than around a kind of filmmaking gloss tied to the predigital period," Christmas Eve in Miller's Point Director of Photography Carson Lund wrote of he and Taormina's first feature collaboration, Ham on Rye (2019), in an essay for Filmmaker Magazine. "The films of Robert Altman and those of John Hughes, odd as the pairing may seem, were key stylistic touchstones for Tyler…"
In many ways, the same can be applied to their largest undertaking to date. Christmas Eve in Miller's Point is one-part coming-of-age rendezvous that relaunches the Breakfast Club after hours, and another-part multi-generational ensemble event with artistic flexes abound within every frame.
Months on end have been devoted to collecting props and designing a game plan that runs accurate to the film's desired mid-2000s aesthetic. Per the crew's will, Christmas Eve in Miller's Point aims to encapsulate the true meaning of the holidays as natural-born Long Islanders know it.
"By filming in our region, these local filmmakers will inspire students in our area and shine a great light on our area," Senator Mattera added. "This is truly exciting and I am hopeful that it is a tremendous success for everyone involved."
"[Christmas Eve in Miller's Point] is a portrait of a family coming together for the holiday, full of excitement and tension, as one generation gives way to another," co-writer Eric Berger said in a Q & A with Adam Navas for Smithtown Matters in January. "It's a comedy about looking for ourselves in each other, about growing older and apart and tracking through the snow to start over again."
Christmas Eve in Miller's Point will resonate for everyone and their mothers and their mother's mothers who've ever put on a smile during Christmas dinner proceedings, only to run wild after hours.
The film was originally pitched as Home Alone-meets-Dazed and Confused and more than lives up to this billing, 15-pound turkey for 15-pound turkey.
"Nothing says teen-spirited reverence for typical New York Italian holiday feasting than leaving room in the tank for 24-hour bagel spot 'fourth meal' fodder," this salient script screams with poppy seeds perma-sunk into its merry teeth.
Hear those sleigh bells ringing again? You're not alone. Welcome to Christmas in February.
Interested in being involved? It's not too late! The production is in need of vintage (pre-2006) cars, and are taking any and all submissions. Send a picture of yours to [email protected] for consideration.