A government-employed one, at that.
Where We Left Off
The last time The Messenger spoke with Andrew Murano, the Deer Park native had packed his bag and bid farewell to both the stage and Long Island— en route to a new job and life in South Carolina immediately after leading Smithtown Performing Arts' rocking 2021 rendition of American Idiot. 
Where We Are Now
After starring in "close-knit," "remarkably cast" shows on the Smithtown stage like Peter and the Starcatcher, Young Frankenstein and Shakespeare in Love in addition to 'Idiot,' Murano followed an opportunity down south provided by his 9-5 day job as a Department of Agriculture tree-climber.
Elaborating in his reflective follow-up interview with The Messenger on Tuesday, Murano explained he "inspects trees for an invasive insect called 'The Asian Longhorn Beetle.'" An outbreak infestation posing threats to lumber and maple syrup, among other resources, inspired Murano to accept the supervisory role and salary increase he was offered to relocate and eradicate the problem head-on.
"I just said, 'you know what, I'll try it out and see what it's like down there.' Overall, it was a good experience," he said. "I made a lot of memories. I built a climbing program from the ground up… I just missed being here on Long Island, I missed my family, my friends, and most of all, the theater community. I missed doing shows, I missed acting and singing and being a part of the rich theater community Long Island has to offer."
Upon his return, he clearly hasn't missed a beat.
Pride @ Prejudice
Cindi Sansone-Braff wrote of Pride @ Prejudice, which Murano, 34, is currently plugging at Port Jefferson's Theatre Three: "Andrew Murano juggled many roles and made each one unique and memorable. He was convincing and likable as Mr. Bennet, Elizabeth's kind and supportive father. Mr. Murano gave a nuanced performance as Mr. Wickham, a manipulative militia officer who perpetuates the illusion that he is a righteous person when, in fact, he is a compulsive liar, swindler, and gambler."
"That's very kind of her to say," Murano replied. "I have to give all the credit to the director Jeff Stanzel. [He's] just an absolutely amazing director. I've never met anybody as passionate. So well-versed in the text and the content of the play. He brought out the
best in me and all my castmates. It's been an amazing experience performing at Theater Three. The castmates… they've just been so awesome, they're great to play with."
Intermission 'Inside Baseball'
"Intermission is usually fun," Murano noted when asked about what goes on behind the curtains during an actor's version of "halftime."
"For me," he said, "I almost get annoyed by intermission, because I'm in the zone, and then I have to step out of it for 15-20 minutes… and I say, 'Oh no, how am I going to get back into it? It's like a pitcher waiting between innings— you got Max Scherzer in there, stalking the dugout."
Murano need not ever question his own ability, though. He has proven the knack to transform into not one, not two, but five characters in one cohesively meta narrative a la Peter Sellers, Mike Myers and Eddie Murphy, a chameleon of catchable-right-in-your-own-neighborhood comedy when he's not circling dramatic gigs.
Early Roots and the Future
Murano says he didn't start acting until "pretty late," noting that he went out for a show at SUNY Plattsburgh his freshman year of college after recognizing he was struggling to make friends. "I auditioned for it, I got the bug and I've been doing it ever since," Murano said.
Prior, Murano cultivated his performative chops as a young kid on the backs of inspiration and influence drawn from everyone's favorite uncle's favorite Brit skit kings, Monty Python. This led to Murano "doing impressions of people and characters" and endless riffings in the backyard with his friends. These experiences would soon formulate in him someone with quite the side hustle, especially since all who have witnessed him perform can perceive that he hoists the talent to make it his primary professional focus should the right opportunities arise.
For now, he will continue to develop and evolve as a performer with variety, including his personal vow to "always throw my hat in the ring for film." Having starred in a few shorts and a pilot for an independent series called Bronx River, Murano cites taking classes at acting and voice studios in Manhattan during the pandemic as an instrumental experience that changed his acting for the better.
He believes that while musical theater is more fun, he ultimately prefers film because "I feel you can be more honest with your acting. Not that you ever have to be widely disingenuous with your stage acting, but you just don't have to even think about it when you're on camera."
"With a musical," he compared, "you can express a lot just through the musicality of it— the music, the lyrics do the expression for you. In a play [or a film], you have to find those moments and beats in the script, in the text. They're there, you just have to cultivate them and find them. It takes a lot of practice… and the camera doesn't miss a thing."
You shouldn't dare miss Murano perform if you have a window to catch him live and in action this summer. Pride @ Prejudice may be winding down, but he was cast as Macbeth in the Centerport Summer Theater Company's upcoming Summer Shakespeare Festival, presented by the Carriage House Players. He will stage-command as the titular lead from July 7-August 6.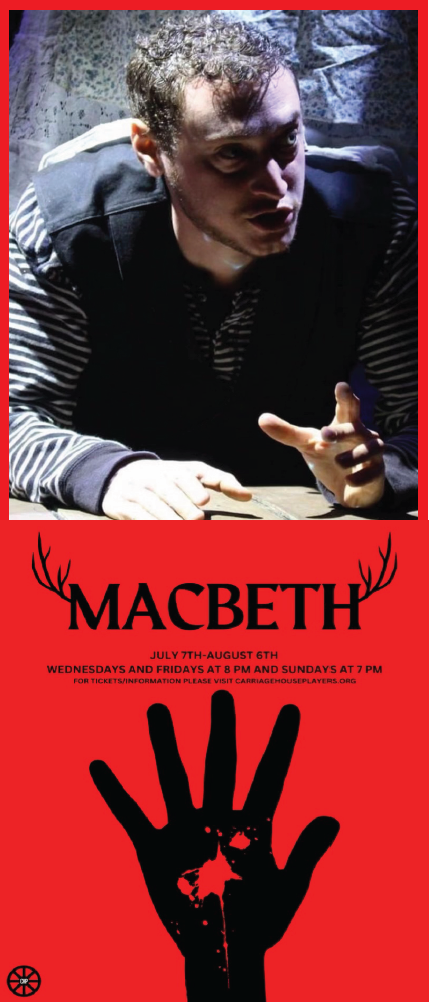 It's a role Murano has always wanted to take on, and while keeping his options open about where exactly his career could wind up, he is most definitely holding out hope that he will "one day be old enough" to play Sweeney Todd.
"The orchestration, the content, the storyline— it's just fantastic," Murano spoke of the musical of the same name. He couldn't choose a favorite song, though, because he considers Sweeney Todd "all one song."
Boulevard of Endless Dreams
One show that wasn't all one song, but several iconic ones that were more than done justice, was American Idiot— by far the best show amongst several high-quality offerings The Messenger has caught on the local front, and in large part due to Murano.
At the time, it was a bittersweet interview and subsequent coverage to conduct as well— considering our American Idiot piece was done through an understood prism that Murano had essentially gone out on top and called it a career.
"As this was my last performance on Long Island, and the first musical I've done since [before] the pandemic, this show meant the world to me," Murano told The Messenger after the show. In our review, we noted that casual music fans may have known featured Green Day hits "like 'Holiday' and 'Boulevard of Broken Dreams' prior, [but] thanks to Murano and Co.,'Whatshername' would be the song 'most stuck in their heads for weeks on end.'"
With hindsight, let us reframe this prediction, though. For it's nearly two years later, and the song is still reverberating in our headspace in the best way imaginable. And knowing what we know now, it will continue to every time Murano well-deservedly makes the news.
This is just the beginning of what will shape out to be a career to remember.
"So much of its [American Idiot's] content was relevant to what I was going through at the time," Murano said at the time. "Saying goodbye, reminiscing on time spent together. I really felt connected to the role in a way I've never felt before. One quote really stuck out to me, and it's the last solo line Johnny sings in the musical: 'forgetting you, but not the time.' Singing that line, looking out at the audience and at my friends and family onstage and knowing I was going to leave that night— I've never felt such a profound wave of emotion; bittersweet joy, and sadness… but such gratitude that I was able to share this moment with so many amazing people."
Like Jordan in '95, he's back for immediate release. 2021 was not his last dance—did you have any doubt?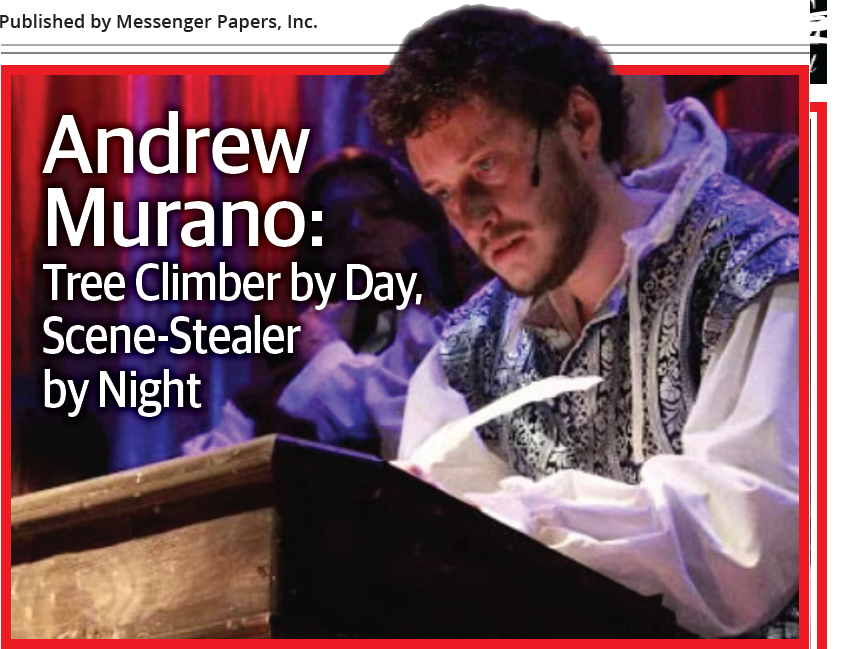 8 p.m. tickets are still available to see Pride @ Prejudice at Theatre Three Port Jefferson this Thursday – Sunday, April 27 – April 30 and Thursday – Saturday, May 4 – May 6. The theater is located at 412 Main St, Port Jefferson.
For tickets to Centerport's Summer Shakespeare Festival production of Macbeth – playing July 7 through August 6, Wednesdays and Fridays at 8 p.m. and Sundays at 7 p.m. – visit carriagehouseplayers.com.