It's not hyperbolic to say that every standout student-athlete has dreamed the dream of becoming a physical education teacher and legend-tier coach for their alma mater.
For forty-plus years, Chris Messina (Class of '72) has lived out this exact dream in the halls and within the walls of Hauppauge High School.
NWCA Coach of the Year
Through over 500 wins at the helm of the powerhouse institution that is Hauppauge Wrestling, Messina has taken home two National Coach of the Year awards, 20 years apart. He received the National High School Coaches' Association honor in 2002, and was presented the 2021-2022 National Wrestling Coaches Association 'Coach of the Year Award' at the State Tournament this past Saturday, February 25.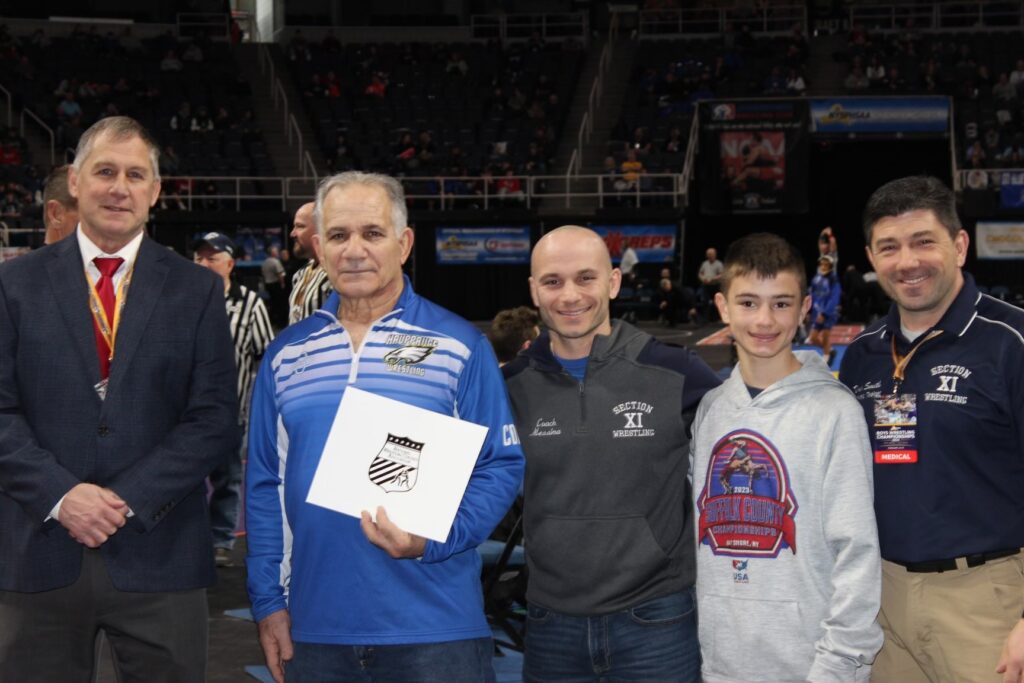 "When I got home, my wife said, 'I want to show you something.' I don't do Facebook… there had to be 100, 200 messages from my former high school friends, and—" he paused to collect himself, holding back some tears during the penultimate "take it all in" moment of his career retrospective interview with The Messenger on Wednesday: "…it was just a tremendous, tremendous feeling."
Later the same day he was recognized for his movie script-esque pedigree, Messina, 68, crowned his 10th state champion, senior Frankie Volpe.
"Frankie Volpe is the epitome of what Dad has been trying to impress upon these young men throughout the years," said Michael Messina, 41, Chris' son, a lieutenant police officer in the fifth precinct out of Center Moriches (and his doting assistant coach between shifts). "The pressure must have been immense for him as a senior with just one last chance, but he stayed the course, followed the Hauppauge 'program' and never stopped believing in himself."
The 17-year-old Hofstra University commit won the 152-lb. weight class, and views the Messina patriarch as "an incredible leader on and off the mat."
"Coach pushes every athlete in the room to work as hard as they can," Volpe said. Of his mentor's knack for strategy, he adds: "On the walls of the wrestling room this year, Coach put up pictures of very successful people in the world that said they accomplished what they did because they wrestled. I think this motivated everyone in the room and inspired the team to work hard at not only wrestling, but at everything."
This was not the first time Coach Messina made a palpable difference in a young man's life. Not by a long shot.
Welcome Back, Mr. Messina
A two-time All-County wrestler himself way back when, Messina started teaching physical education and coaching at Hauppauge in 1977 after the conclusion of his collegiate wrestling career at Slippery Rock University. He turned down jobs in New Jersey and Pennsylvania to instead work his way up through the ranks of his hometown program.
Messina took over as varsity head coach during the 1981-1982 season, and the "program" has remained by-and-large the same ever since – save for him ditching that iconic Mr. Kotter stache long ago – thanks to its steady-hand and his indispensable hands he's proud to call assistant coaches.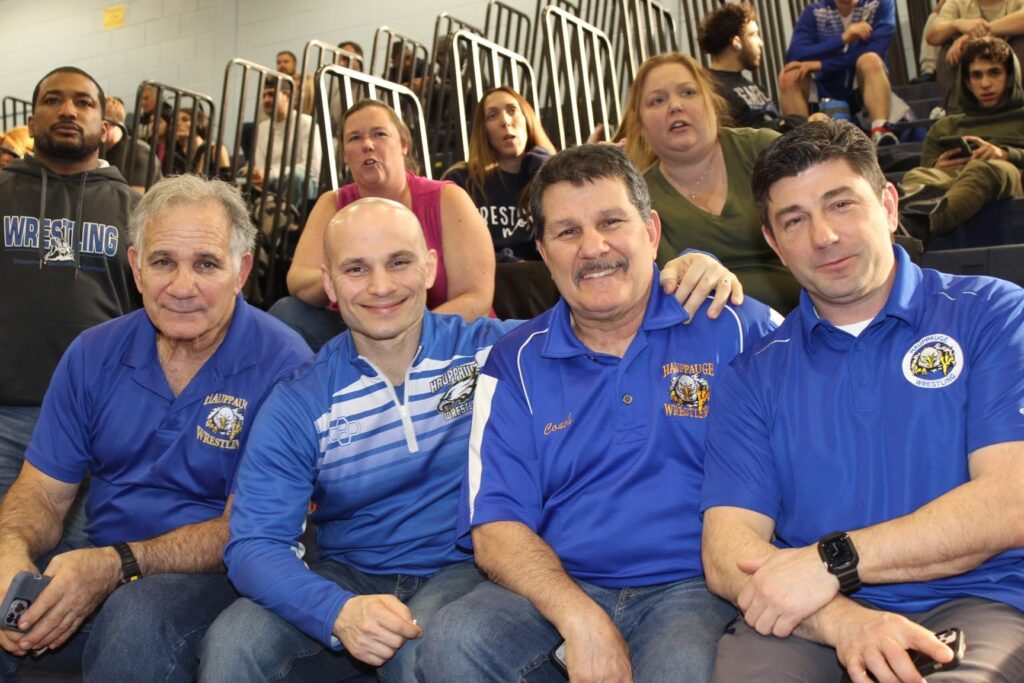 Comparing the modern-day athlete to those who would suit up for him back in the day, Messina notes he's adapted to the mental health-cautious times: "You have to be a psychiatrist, you have to be a technician," he believes.
"The mental aspect… we have kids that are unbelievable in the room, but when they go on the mat they have second thoughts. They think poorly of themselves. They think they don't have the ability. But we're working the best we can with them to get them to believe in themselves like we believe in them."
"When I was growing up, Coach Messina always knew how to win. Once I joined the team in 7th grade, I never wanted to lose in front of him," Jake Silverstein, 2018 New York State Champion and winner of 240 matches under Messina, recalled. Silverstein went on to wrestle for the University of Nebraska.
"The amount of time he puts into us is insane," he added. "I remember going to school at 7 a.m. for extra help before class and he would already be in there looking over video and doing whatever it took to get us to the next level. Coach Messina is not only a person I look up to, but someone I aspire to be someday. He's an amazing father and amazing coach."
Messina's early life goal – to come back to Hauppauge and be a physical education teacher and coach — was an instance of him simply taking after those whose lessons and values he passed onto the next generation.
And the next one.
And the next one.
"When I came through, I wanted to be like my high school coaches. Druckenmiller, Bart Olson, Marz Weitz and Lou Curra, who was actually in my wedding party… these guys were unbelievable human beings. They cared more about the kids than they did anything else. I had so much respect for them, and I wanted that." Adds Messina, "I said, 'this is what I want to do.'"
Family First
The son of Rose, who played baseball for Grumman and "was signing with a professional team in the 1940s" a la A League of their Own (1993) before dad, Dominick, returned injured from war, Messina credits his five siblings and their children for keeping what's amounted to the family business alive and thriving. The Messina Family was elected to the Hauppauge Athletic Hall of Fame in 2018.
"My family bought into the Hauppauge School District," said Messina. "We've loved Hauppauge since the day we first moved in in 1960. There were six of us who went through the school. All my brothers and sisters… several of them had their kids go to Hauppauge. All of my sisters were our managers. My brother Mickey [currently the junior varsity wrestling coach at Hauppauge] wrestled. My sister Linda was probably the first female wrestling official in Suffolk County. My sister Ramona learned to run the tournaments. My sister Diane was our manager, and she still runs our apparel. My five nieces, plus my daughter, were all managers. It's always been a family thing. It's really what I've tried to emulate from my coaches. That family comes first."
"I surround myself with good people, and that's the key," Messina asserts. "You surround yourself with good people, and you're always going to come out on top."
These "good people" include other families that have spawned multiple generations and siblings of high-caliber Hauppauge wrestlers — the Smith's, the Collado's, the Manta's, the miraculous Mauriello's— the list goes on. And Messina couldn't be prouder of what he's started.
"You start them young, and you get them interested," Messina said. "Kids don't want to wrestle, at first, because it's a hard sport. But [if] they do it all the time from when they're little, they remember it. When kids hit middle school, they want to be a part of what's going on. And they don't have to worry about being cut, because we don't cut anybody."
"The one thing that stands out when I look back is how hard he [Coach Messina] fought for his guys and cared about all his wrestlers," said Dan Mauriello, the youngest of three standout brothers who wrestled under Messina. Dan graduated from Hauppauge in 2020 as a 3-time County Champion, 2-time state placer and a 1-time State Champion wrestler.
"It didn't matter if you were a state champ or a backup— if you were on the mat, he gave everyone the same treatment and love. [He's] truly a legend of a coach, and I am honored to have been able to compete for him."
"Even as a newbie, he did not let up [with me]," said Mikall Tran, Class of 2015, who had a tough time starting for Hauppauge due to competing in the same weight class as Dan's older brother, Chris Mauriello. As familiar a face as they come around town, Tran has noticeably bulked up since his high school days— and credits Messina with first setting him on the path toward enhanced fitness.
"He wanted to see who was committed to the sport, the art of wrestling, and who was willing to give up a part of themselves to the sport," Tran recalled. "He knew that the team was as strong as their weakest link, which is why his training style was so unique. He focused on whoever struggled most while not letting the people at the top become complacent. It's through pain and victory that it did create a bond with the team, which is why if anyone asks if I want to relive it, I would."
Messina has profoundly impacted entire families, like the Mauriello's, from the top-down.
"He's meant a great deal to me and my family. I've learned so much from him," said Dan's father, Nick Mauriello, who started as a volunteer assistant coach for Messina in 2008. "His work ethic is second to none and he is all about his athletes. I love the man and he has become someone that I cherish as a friend. He has been unbelievable for the sport of wrestling and the wrestling community."
Health and Safety Always
Remembering unthinkable adversity that hit the program and community at large that was thankfully overcome, Messina called to mind the oldest of the Mauriello wrestling triumvirate, Nick's eldest son, also Nick, and his life-threatening 2011 battle during his junior year.
It was originally understood he had been infected with MRSA— but, ultimately, Nick was diagnosed with a "one in a million" case of the bacterial infection known as "Lemierre's Syndrome."
Thanks to opportune medical treatment and the community rallying together in good-old Hauppauge fashion, Nick made a full recovery— placing in counties and states as a senior one year after his life hung in the balance.
Hauppauge's disinfection operations, and the entire state's, were completely overhauled as a result.
"You can't afford to have an outbreak. You can't take a chance at losing a quality kid," said Messina. "We've learned a lot, since Nick. Since that happened, the school has paid a company to come in [and disinfect "everything"]…our entire philosophy [for safety and cleanliness] has changed… it was one of the scariest moments of my life."
After losing its youth program and middle school program for a year due to COVID some years later, Hauppauge Wrestling was able to build it back up. This is something they were about to do in no time, for they lead the curve in safety precautions after witnessing firsthand what the alternative to dotting every 'i' and crossing every 't' entails.
"We go through serious lengths to keep our kids clean," said Messina. "From mopping the mats before and after practice. We have a bucket they have to step in, and they have to clean. They step on their towel that has to clean their feet. We have a special solution of non-toxic cleaning fluid, they step in it, wipe their feet off and they're good to go."
"So it's not just teaching and coaching wrestling, you have to teach a philosophy. Your mindset is that your kids are in better shape than everybody. That you're better prepared. That you eat the right things."
Messina adds, "Michael [his son] is on the mat with them. I roll around a little bit, but Michael can actually still wrestle with the kids. It's a tremendous help for me. I can go around and tweak little problems, and Michael's on the mat calling out the moves, and we sit down and decide how we're going to push the kids… he's online, too, he looks at Penn State, he looks at Iowa and asks 'why are these teams winning year after year, what are they doing with the same personnel?' And then we incorporate it into practice."
"There's days we take off where we give them a rest. There's other days we go twice, cut the first practice short then come back at night and run," said Messina. "Parents don't want their kids running in the streets like we did. I used to run 2-and-a-half miles a night. Michael used to run at night then get up in the morning and run to the school and workout. And you just can't do that anymore, it's too dangerous…. so we come in and have the kids run in the hallways. And the parents appreciate that."
The Guiding Light
Messina's own kin sure do agree with the notion that "Coach's" competitive edge has given them the edge, too. According to their calculations, it's also "a family thing" for them— and a beautiful thing, in general.
Said Michael, a Hauppauge '99 graduate, 2-time Suffolk County Champion, 2-time New York State Champion and Sacred Heart alumnus years before he would return to the Hauppauge mats as his dad's second-in-command: "Dad was always a hero to me. He was and still is 'larger than life.' I remember being a little kid watching him interact with his wrestlers. I saw the way they looked up to him and I knew I wanted that relationship for us."
"He was always a guiding light of perseverance and he made us (his wrestlers) believe that we were better than we probably were," Michael added.
"He always did whatever he could support us, whether it was scheduling additional practices for the whole team or just for one individual guy," Messina's nephew, Francisco "Franny" Bisono, 26, Suffolk County Champion and third-place state finisher in the 170-lb weight class as a senior at Hauppauge (Class of '15). Bisono went on to wrestle all four years for the Penn State University Nittany Lions, and is currently a registered nurse in a pediatric ICU.
"Another thing," Bisono added, "he was always three steps ahead of everyone. Occasionally I would come back to the high school later at night to get a second workout in, and when I would walk into the locker room I would always see his light on sitting in his chair strategizing the next match."
From a coaching perspective, Michael, his inherent bias aside, knows no one compares to his dad— and that the experience of coaching alongside him can never be beaten.
"Coaching with Dad has been one of the greatest journeys of my life," Michael said. "Each year has its own challenges and ups and downs but the theme is always the same…One of my most favorite coaching moments with Dad was sitting next to him in the finals of the 2019 Suffolk County wrestling tournament as our 182-lber, Mikey Tyrell, wrestled in the finals. We watched in the trailing seconds as Mike held a commanding lead over his opponent and we leap into 1st place by a mere 1.5 points. 30-plus kids came running out of the stands and a full on 'Hauppauge, Hauppauge!' chant began as we all jumped and hugged each other. The smile on his [Chris'] face said it all to me as we watched the boys celebrate another county championship. It is something I will never forget."
For all the hubbub out of Hauppauge, technically not a town, but a hamlet by design, it doesn't take six degrees of separation, maybe a good two or three, if that, to forge a connection with Messina or someone related to if you missed out on the opportunity to be taught or coached by him,. In a sport without one, he certainly doesn't hog the ball, either. Messina would quicker defer the credit for his infinite successes to his King's ransom of assistant coaches.
However, Hauppauge administration knows where first and foremost credit is due— with the man whose "coaching tree" puts both Duke's Coach K's and the Pats' Belichick's to shame.
"Coach Messina is a legend in Hauppauge and a pillar of our community. His success as a wrestling coach over his 40-plus year career is unparalleled. Yet, his impact on our kids is his finest achievement," said Don Murphy, current Superintendent of Hauppauge Schools. Murphy adds, "[Messina] has built a 'family' amongst the wrestling community, instilling values of hard work, persistence and integrity in our student-athletes over his career. So many of our current students and countless alumni cherish Coach Messina, and feel lucky to know him and learn from him."
"Coach Messina is a legend in my mind not because of his wins as a coach. It is because of his impact on so many lives in a positive manner. He inspires young athletes to achieve more than they can ever imagine," said Joseph Tasman, Deputy Superintendent of Hauppauge Schools, and former Athletic Director and coach within the district.
A Lifetime of Decisions
For parents wary of allowing their kids to sign up for a sport that encompasses both violence and subjecting them to considerably more health risks than other activities, the four-plus decades long educator insists that it is "going to teach them discipline."
"I don't profess that winning is everything," Messina notes. "What I try to get my guys to understand is— you're going to have to make so many choices in life. And you think this is hard? Wait 'till you get married. Wait 'till you have a baby. Wait till you get an interview and you have a job. This is what it will prepare you for. When you can go out on a mat one on one and wrestle somebody, and put your strength against theirs, and you do it 130 times, later on in life… you're going to be stronger every time."
"It's not about the wins and losses, this year," he added. "My decisions later on will be better made because I played the toughest sport that prepared me for the obstacles in life that I wouldn't have been prepared for otherwise."
Scott Detore (Class of '83) was the first of the many champions Messina had the privilege of coaching. A 2-time County Champion and two All-State placer, Detore – an eventual 2-time All-American in NCAA Division III, says "Chris Messina taught me what conditioning was."
"When I went to college, I was totally prepared, all thanks to Chris Messina," Detore said. "Do you think it's any coincidence I turned out to be a physical education teacher and coach just like him?"
No it, is not. That's the Messina Effect— one that's shaped nearly half a century of Hauppauge athletes, and will continue to for at least "five more years," per Michael's no-negotiation demands.
Retirement Soon?
"I told Michael – I would have given it up long ago if he didn't come back [to coach] – last year that I was ready to pack it in. And Michael said, 'Dad, stop talking, you're not going anywhere for five years because Luke [Chris' grandson, Michael's son] is in 7th grade.' I go, '..oh crap,'" Messina joked.
From the underdog tale of their 1999 County title run, to the 2015-2016 and 2019-20 "back-to-backs" and everything in between, Messina knows full well "we've had a good run."
Even despite some threats in the past, he knows he's not slowing down anytime soon because there is more work to be done. Connor Sheridan – son of Patrick Sheridan, who Messina also coached 30 years prior — took second in states as a sophomore. Gino Manta made it to the top 12 in New York State. "Look at this year," Messina asks, "we only had five guys place in the league tournament— lowest in 30 years. But when we went to counties, we had three kids in the counties and took 6th out of 40 schools, which is tremendous. In the state tournament, we took three kids, but took 7th out of 300."
Alas, Messina isn't done yet. Like the athletes he develops, he starts nothing that he doesn't wind up finishing in top of the heap style, because it's the only mode he knows.
"It's funny, parents ask me— they'll see me at a match, and I'm still screaming, still jumping up and down, still getting on an official. I still have a tremendous desire to see our kids do well. In Hauppauge's name, it's a tradition. People ask me all the time, 'were you upset about living in the district you taught at?'"
"I said, 'absolutely not, it was a dream come true.'"
Dream Until Your Team Comes Through
There you have it: as of this current moment, a hyperlocal paraphrasing of that old saying will remain the same, through the year 2028: Death, taxes and Chris Messina calling the shots for Hauppauge Wrestling.
He's living out the dream wherein, year-in and year-out he gets to show naturally talented individuals how to take supernatural flight as a winning team.
Once indoctrinated into the Hauppauge School system, an Eagle is born.
Once they're taught by Messina, said Eagles soar.