QuackerJack was named the best Team Mascot on Long Island for the second consecutive year at the top of this month. Not long after that, the Flock announced they were signing 4-year MLB veteran, southpaw Kyle Lobstein, to join their pitching staff.
As is usually the case, though, with the 2023 season nearing, all Long Island Ducks news warmed the bench compared to the event of the year every year that is Open Tryout Day.
Open Tryout Day is April 15!
On Saturday, April 15, local amateurs are invited to showcase their skills in front of Ducks coaches and team representatives alike. Eight players have earned contracts with the Ducks in year's past via open player tryouts, including pitchers Jason Creasy, Tyler Honahan, Chris Pike, Anthony Rosati and Brandon Sherman; catchers Wagner Gomez and Francis Prettitore; and outfielder Robert Garcia.
Manager Wally Backman, Pitching Coach Nelson Figueroa, Hitting Coach and once-Ducks position-playing great Lew Ford and President/GM Michael Pfaff will all be on-hand to evaluate this year's batch of hopeful talent. Select participants (chosen by the coaching staff) will even earn the opportunity to play in live, on-field scrimmage competition following the tryout.
"It was a great experience that I'd recommend to anyone interested in playing baseball [at a higher level]," said The Messenger sportswriter Dylan Flynn. A middle infielder out of Hauppauge High School's 2017 graduating class and middle infielder for SUNY New Paltz ('21), Flynn notably roped a double during intrasquad in his Ducks tryout last year before playing summer ball with the Long Island Crush (est. 2015) of the Long Island Stan Musial Men's Baseball League (est. 1989).
"It's one day to be a pro baseball player, with the possibility of a few more weeks," he added, "it's not an opportunity to be passed up!"
For this year's open tryout, position players must report to Fairfield Properties Ballpark ("Ducks Stadium") no later than 8:30 a.m. for registration, while pitchers must report at 10:00 a.m. Participants must be 18 years of age or older, wear proper baseball attire and supply their own wooden bats and baseball gloves.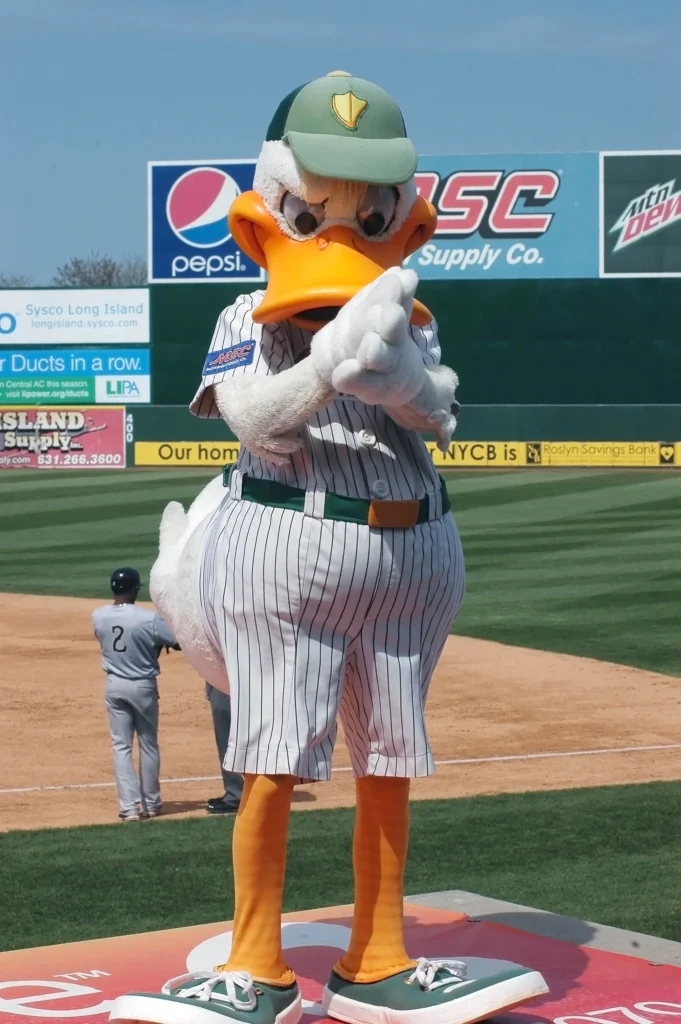 Participants will also be required to sign a waiver before trying out. Cleats/spikes are only to be worn while on the field. All players must wear sneakers/turf shoes prior to reaching the field.
Amateur-to-Pro Crossovers: a Historical Context
Don't let the cynicism rife within an episode of FX's irreverently jam-packed comedy, It's Always Sunny in Philadelphia, wherein the gang goes green in an ill-fated attempt to try-out for their hometown Eagles' flying machine— infect your opinions about all-things open tryouts. Instead, look to the experiences of Netflix's titular Battered Bastards of Baseball — a documentary so heart-tugging you ought to throw it on immediately after reading this article.
The 2014 documentary tackles the misadventures and exploits of Bonanza character actor Bing Russell, father of Kurt, and his ragtag assemblage of your tired, your poor, your hungry for battle local watering hole regulars turned menaces to high baseball society. Like the Long Island Ducks, Russell's Portland Mavericks (1973-1977) were an independent minor league ball club unaffiliated with a Major League Baseball organization.
Unlike the Ducks, the Mavericks divisionally competed against affiliated clubs— much to the latter's chagrin, as the Mavericks forged feather-ruffling championship runs via an outside-the-box, renegade style of play.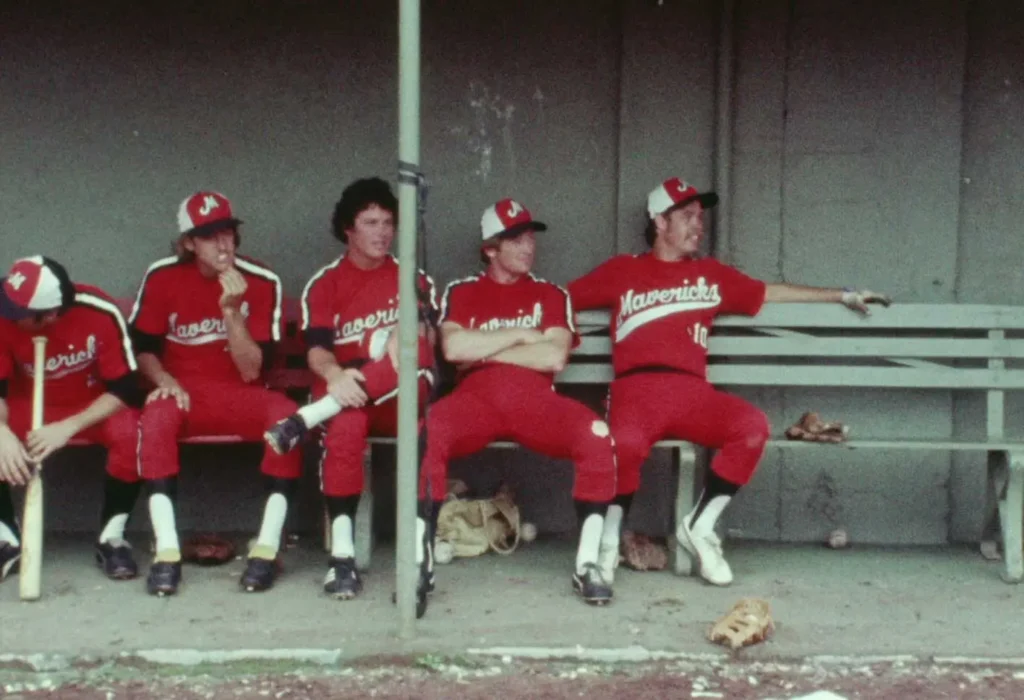 Comprised of MLB vets like Ball Four author Jim Bouton looking to stage late-in-the-game comebacks, and self-proclaimed amateur rejects who responded to newspaper wanted ads and general word of mouth, the Mavericks are as timeless as the children's game itself. And with its batboy, 2023 Academy Award-nominated director Todd Field (In the Bedroom, Tár), along with Bouton and Mavs southpaw Rob Nelson inventing "Big League Chew" bubblegum – talk about a mouthful of a sentence – in their criminally short-lived bullpen, the titular "bastards" confirm that it doesn't take big league affiliation to make a big-league impact.
The Ghosts of Baseball Legends Past in Duckland, C.I.?
Just up the road, off of the same Carleton Avenue strip that plays host to Ducks Stadium and different iterations of the now state-of-the-art Central Islip Little League Complex, lives ol' reliable Gull Haven Golf Course.
Also on its grounds: the abandoned, seemingly irremovable "old-timey" baseball grandstand that welcomes you upon arrival. Many from the area recall playing on the now all-grass area that once featured an operating baseball diamond to compliment the grandstand. More specifically, they grew up with an urban legend of sorts passed around that the grandstand remains in place because New York Yankee legends, "The Great Bambino" Babe Ruth and "The Iron Horse" Lou Gehrig, once barnstormed there during their heyday.
"I remember playing little league baseball on that field about 50 years ago when I was 12 years old," said Patrick Falbo, now of Bay Shore. "It was in good shape back then, and sometimes when I play that hole [at Gull Haven] and look over at the field, I can remember my dad sitting in the stands watching the game…"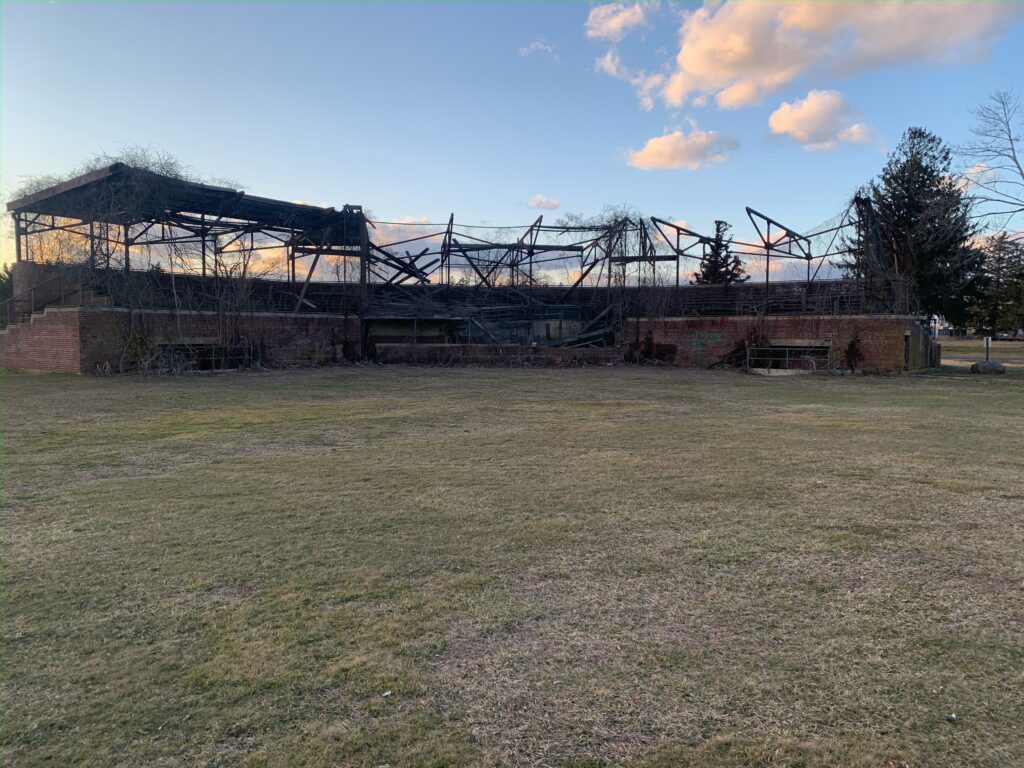 "Barnstorming" was a beloved practice of a now bygone era, back before contractual language absolutely prohibited gameplay outside of one's own Major League organization. Throughout the 1920s and 1930s, the 3-and-4 batters for the Yankees' famed "Murderer's Row," amongst other ballplayers, not only traveled overseas to market the game in the wintertime. Out of sheer willingness to keep on getting their "hacks" in after hours, baseball's top stars would take to the local Long Island men's leagues for "pay-to-plays," and even play-to-play pickup game reps while en route from Manhattan to the Hamptons every weekend in the offseason. Lindenhurst reportedly shut down its town in 1930 to watch The Babe and Lou play.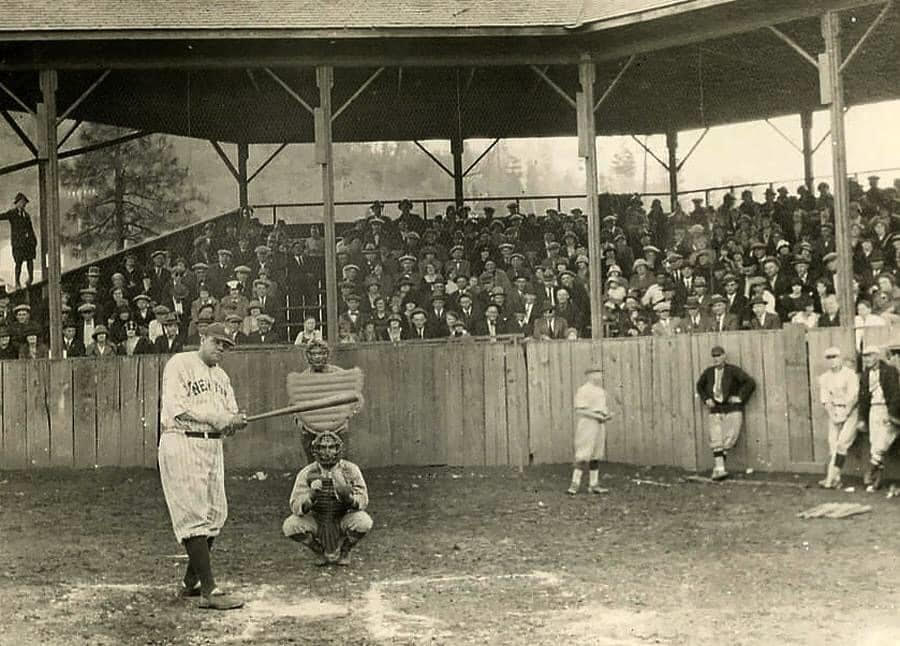 "Babe Ruth and Lou Gehrig were good friends and enjoyed visiting Lindenhurst to dine and fish at Barnacle Bill's restaurant and docks on Montauk Highway along with other teammates," reads a post on Lindenhurst Library's website recalling the occasion. "One of their fishing buddies was Addie Klein, the manager of the local amateur Lindenhurst Athletic Club's baseball team, considered one of the best in the county. As many players did at the time, the two stars would form teams of other major leaguers and 'barnstorm,' arranging exhibition games against local teams during the off-season…
"The afternoon of Saturday, October 18, 1930 was the date set for a game at Meridale Park, a diamond located on the north side of Montauk Highway at 2nd Street, between a team of major leaguers, including Babe (pictured batting in Lindenhurst below) and Lou, and Addie Klein's Lindy Nine."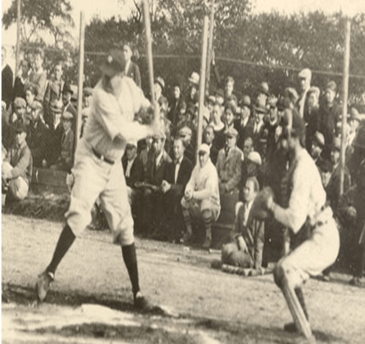 Imagine Aaron Judge launching dingers at Browns Road in Nesconset… traffic passing by, cover your hoods!
A Duck for a Day…
The Pro-Tryout Specifications for April 15 are scheduled to include:
-Warmups
-60-Yard Dash
-Pop Time (Catchers)
-Infielders/Outfielders – Defensive Drills
-Pitcher Warm-Up in Outfield
-Position Players Hit Batting Practice,
Pitchers Light Bullpen (pre-scrimmage)
-Scrimmage begins at approximately 12:00 p.m.
There will be an administration fee of $100 to participate in this year's tryout ($125 on the day of the event). To register and reserve your tryout spot, please visit the LI Ducks' website to submit a registration form. You may also contact Christine Blumenauer during normal business hours by calling (631) 940-3825 ext. 114 or emailing [email protected].
Going, Going, Go for It
With the knowledge of all the local history and its many legends in tow, it's certainly not a pipe dream for all those longing for LI Ducks employ — because there's no telling what doors such an opportunity, even if for a day, will open for them. Even those on the team with their inherent individual agendas, to make it back to "The Show" or be tabbed a starting lineup cast-member for the first time, know not to take the luxury of being a professional ballplayer, affiliate or no, for granted.
Moreover, even those who don't make the cut just yet have the opportunity to play at Ducks Stadium. The Long Island Stan Musial Men's Baseball League's Summer All-Star Game is annually held there, and has been for years.
"We were the first organization to hold an event at Ducks Stadium when it opened [in 2000] and we have done so every year since – with the exception of 2020 due to COVID," League President and Founder Jimmy Rose, of Selden, told The Messenger. "We are proud to be associated with the Ducks of the Atlantic League. It takes a lot of hard work and cooperation from a lot of people, a great staff of volunteers who put countless hours into it, and especially for the Ducks."
Whether it's the Mavericks of yesteryear, or the movie-like "COVID Year" of 2020 that saw displaced minor league players galore above-board infiltrate our beloved local men's league, there has long-been been absolute precedent in may forms, vis-à-vis, average joe's defying all logic by still playing the kids' game in a high-stakes capacity.
In fact, many can recall running into circumstances where, thanks to the many "Fields of Dreams" at our disposal across this Island, and at large, they would stare down the barrel of 90 mph-plus fastballs delivered by someone who may just be playing on their TV sets by the next year…
…and living to tell the tale.
'Men's League: The Movie'
Conclusively put: men's leaguers sure can make it big in real life, not just on the big screen— a la The Battered Bastards of Baseball and just as much in the hockey-based men's league masterpiece, Mystery, Alaska (1999), a film where Russell Crowe gladiates on ice as the player-coach of an amateur team tabbed to take on the New York Rangers in an exhibition.
Imagine the LI Crush taking on the Bronx Bombers?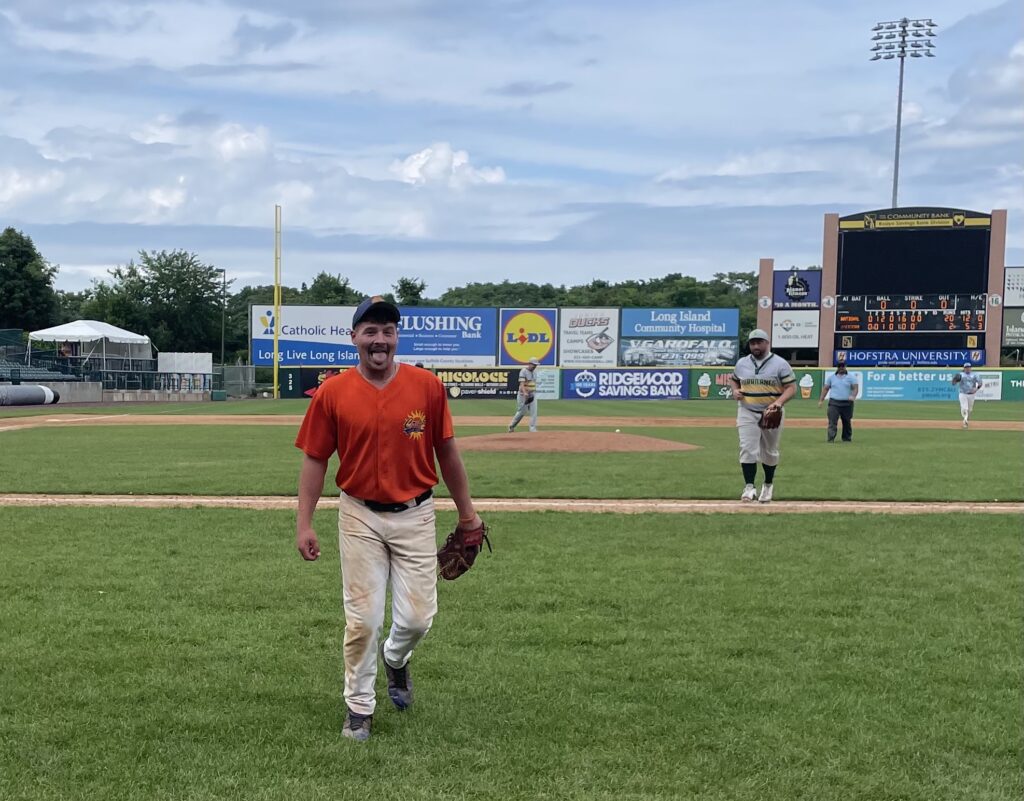 "
Fireworks Finale
The Messenger will be there ready to break the scoop the next time a Stan Musial League alum gets the call. Did Ruth and Gerhig actually make it to Central Islip? Stay tuned for our expansive follow-up investigation on that front as well.
—
The Long Island Ducks are members of the Atlantic League of Professional Baseball, a Professional Partner League of Major League Baseball. Over 8.5 million fans have enjoyed the Ducks brand of affordable, fun entertainment at Fairfield Properties Ballpark since inception in 2000. For further information, visit LIDucks.com or call (631) 940-DUCK (3825).