The dreadfully cold winter months are among us. Our days are long, and so are our nights. With a certain stillness to our routines, we can find ourselves just looking for something to break up the day and get us out of the house. Many Long Island families look to hibachi places to offer us dinner and a show.
With three kids to entertain, Izumi Sushi & Hibachi Steakhouse in Holbrook came up the closest to where we were. With a 4.5-star rating on Google, we decided to give it a try.
I was familiar with the location because I remember when it was Sonoma Grill. The parking lot is moderately easy to navigate, but as soon as I pulled in, I realized that I should have made reservations– the place was packed, which intrigued me even more so.
When opening the front door, you are walking through an entryway towards another threshold. This entryway is decorated with a real-looking fake tree, a fountain to throw your pennies into for a wish, and a jolly Buddha. To me, that sets the mood for a different kind of experience.
When entering into the main area, I noticed modern décor, but with a liveliness to its ambiance. The entire restaurant was filled with life, and had a ton of people eager to celebrate– even if it was just dinner.
I was very surprised to see how large the steakhouse actually is. I took mental note, as this would be the perfect place to host an event (which they do, I asked). The generous-sized rooms can hold a decent number of people. For not making reservations, and given the amount of people that were there, we were seated rather quickly and immediately treated like regulars by our server. Drinks were quick to come out. The show itself did take some time to start up, but I couldn't complain because of how fast we were seated as walk-ins.
The show was your typical hibachi show. I have visited a unique Hibachi spot in the past that put on an exceptional show, so I am a tough judge. To my understanding, most hibachi spots do a basic performance, and in that case, this place did more than fine. With the enormity of the crowd that was present, things had to be moved along, but what we got was definitely an experience to take home with us.
I ordered the salmon sushi dish and was able to taste the scallops and the filet mignon. While the salmon was cooked to perfection, the filet mignon was rather well done, which I was not too crazy about. After eating here, I better understood a 4.5-star rating. I will absolutely return to taste the sushi.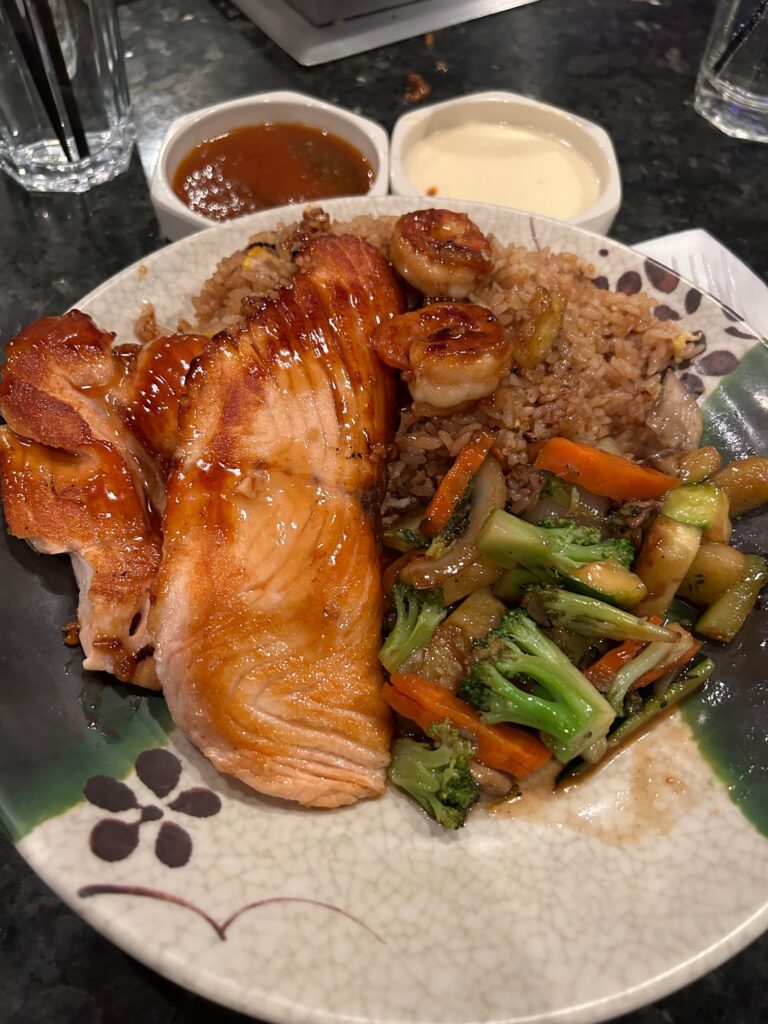 The food was favorable with a generous portion and enough for leftovers. The bathrooms were clean despite the large crowd. Most importantly, the kids were happy, and we all got out of the house to enjoy our escape into a high-spirited atmosphere.
If anything, Izumi has definitely sparked a curiosity in my family to try even more hibachi spots. Keep a look out for the next review of this sort!