An abysmal season came to an unceremonious end when Aaron Hicks left Game 5 of the ALDS with a knee injury.
Fans wondered if the Yankees would make a big trade for Pirate outfielder Brian Reynolds (they didn't) or sign back Andrew Benintendi (they didn't). Instead, general manager Brian Cashman has publicly stated Aaron Hicks is viewed as their best option in left field.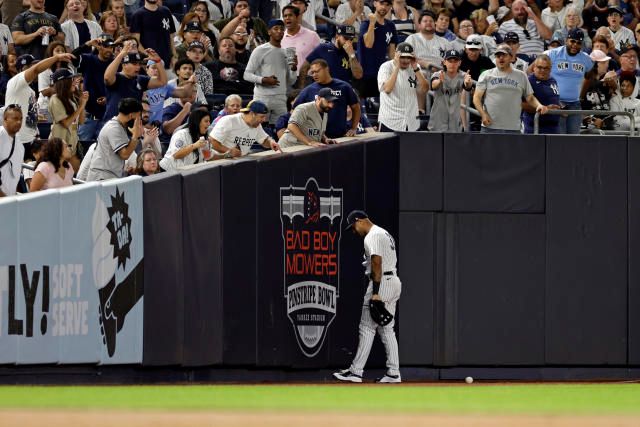 This is a horrible idea.
In 2022, Hicks hit a lowly .216 with 109 strikeouts in 130 games played. He hit just 8 home runs and drove in 40 runs. What the stats don't entirely show is the horrific defense he played as well. He is notorious for completely whiffing on balls, on both sides of the ball. He has a knack for calling a 30/30 (30 homers and 30 stolen bases) and coming close to neither.
And yet the diamond is where he makes his living, to the tune of 70 million across 7 years.
Fans have run out of patience, and have called for Hicks' removal upon each televised still of his depleted mental frame and confidence. The problem doesn't completely lie in his poor performance, though, but in the Yankees' stubbornness– they're unable to admit their wrong, and hence, they'll double down and keep running Hicks out there, despite signing him to an extension clearing being the wrong move from the start.
A first-round pick of the Minnesota Twins, the Yankees traded for him in 2016, envisioning a move from fourth outfielder to full time centerfielder soon after that. He has produced one good season in 2018, with 27 home runs, 79 RBI, and 90 walks, as part of an otherwise dud-of-a-deal that may turn out, dare we say it, sandwiched between Pavano-bad and Ellsbury-worse on the list of all-time bad contracts in franchise history.
A serviceable alternative option seems to be young utility player Oswaldo Cabrera. Cabrera came up and played exceptional defense wherever the Yankees asked him to. He especially excelled in right field, dipping his toe into the waters of left field as well and holding his own throughout.
Major League Baseball's slogan has become, "let the kids play." The Yankees should take note of it. Otherwise, we're changing the channel.
If demeanor is any indication, Hicks sure appears like he wants to.
Cashman may think Hicks is the best fit for left field— but the sound-minded know the best fit for Hicks would be left out.