No, this isn't the plot of the next Coen Brothers film— at least not yet.
"Our investigation of these alleged crimes revealed a criminal plan that reads much like a movie script," said District Attorney Raymond A. Tierney. "A bad movie script."
Tierney announced on Tuesday the arrest of Raymond Bouderau, 59, of Manhattan, and Jacqueline Jewett, 57, of Connecticut. The pair are reportedly an on-again, off-again romantic pair and alleged partners-in-crime, as they are the only current suspects in the ransacking of two residences – one in Manhattan, and the other in Sag Harbor.
Each burglary took place on September 25, and resulted in proceeds "well worth over $1 million" in cash, jewelry, fine wine, artwork, weapons, drugs and much more.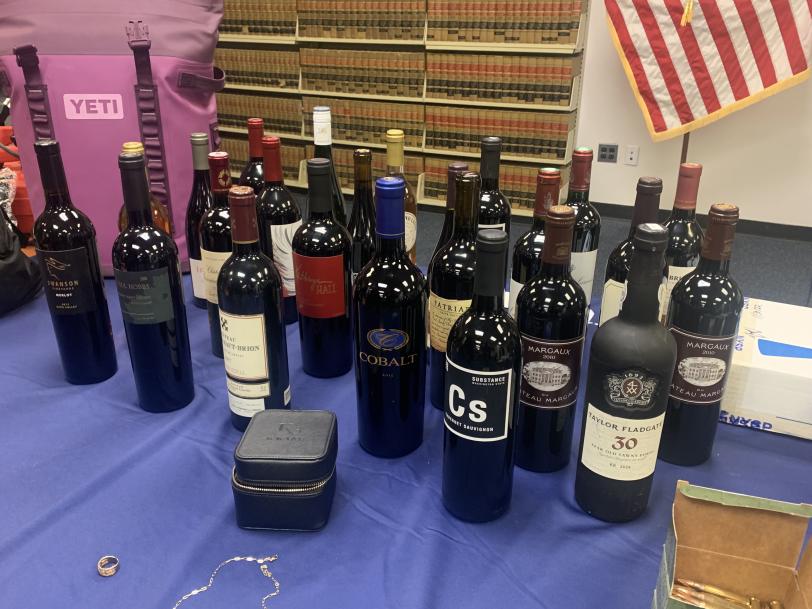 With aforementioned recovered items, including assault rifles, on display at Riverhead's Arthur M. Cromarty Court Complex, Tierney walked all in attendance through the timeline of the crimes that their thoroughly-conducted joint investigation has produced thus far.
Per Tierney, the victim in this case – an "ex-paramour" of Jewett's – was "carefully selected and targeted." The alleged perpetrators hacked the unwitting victim's iCloud, permitting them secret access to residential and possession information. Bouderau and Jewett were inspired to commit the same-day heists during a time frame when they were assured the victim would be out of town. A "dry-run" was even orchestrated a week earlier, as detailed by a text message exchange between Bouderau and Jewett exhibited at Tuesday's press conference.
The investigation began on September 27 when the victim returned home and discovered the condition of the Sag Harbor home. Authorities detected soon thereafter that the Manhattan residence was also breached.
Initial findings revealed that, in conjunction with a force of entry arrival through a basement window in the Sag Harbor home on September 25, all electricity was cut and the circuit breakers were switched off.
Despite Jewett's prior relationship with the victim, Tierney confirmed revenge was not their motivation— rather, "good old-fashioned greed" was the driving factor.
Jewett, believed to have last-been employed in the Connecticut school system, shared the information she acquired with Bouderau, who likens himself a film actor and producer. If convicted, the public may soon come to identify both as felons, though, as Bouderau and Jewett were each charged with Grand Larceny in the First Degree (Class B felony) and Burglary in the Second Degree (Class C felony). Bouderau also faces a Conspiracy in the Fourth Degree charge and additional burglary charges in connection with unrelated Manhattan cases.
"Thanks to the coordination between our partners in the NY State Police and the Suffolk County District Attorney's Office, we were able to quickly solve this case," said Sag Harbor Police Chief Austin J. McGuire. "I am so proud of everyone who worked tirelessly to identify the perpetrators and bring them to justice."
The interagency triumvirate cracked this most intriguing case through the obtainment of video surveillance, Apple Cloud data and license plate reader ("LPR") data. Though surveillance cameras were disabled at the homes, surveillance placed a man matching Bouderau's description operating a pick-up truck registered to him in both cities on the day of the offenses. More specifically, surveillance evidence collected from a nearby location showed Bouderau and another individual carrying proceeds from the Sag Harbor estate into his Manhattan home mere hours after the September 25 burglaries.
After a November 30-issued search warrant was executed on Bouderau's residence, an AR-15 rifle belonging to the victim, a few more unlicensed and unlawfully purchased weapons, about 50 of the 200 bottles of wine stolen from the homes, and approximately 750 grams of a substance field-tested positive for ketamine were seized. Cocaine and crack were also discovered at the scene.
While questioned following her arrest on this date, Jewett made admissions to her involvement in the burglaries.
Bouderau and Jewett were arranged in East Hampton on December 2 by the Honorable Steven Tekulsky. The judge ordered Bouderau to be held without bail. Jewett's bail was set at $200,000, with $400,000 set as a bond alternative and $650,000 set as a partially secured bond.
"If there is one thing this case illustrates," Tierney added, "it's that life is not like the movies. In Suffolk County, if you steal other peoples' property, whether it's at the point of a gun, or, in this case, through the planning of an elaborate heist, the Suffolk County District Attorney's office, along with our law enforcement partners, will hunt you down and you will be held responsible."