Whatever happened to JT's Corner Café in Nesconset? The quaint café that was once located on Smithtown Boulevard, thought to have been a good competitor to the infamous Maureen's Kitchen, seemed to have suddenly closed with no answers.
But unbeknownst to many, JT's relocated to Blue Point where it took on a new location and new clientele. It still has the same menu that people rave about along with a similar, rustic and homey décor.
I stumbled upon the establishment almost by accident. Familiar with JT's Corner Café, I was curious to see if there was any relation. I was very happy to learn that it was the same owner, because I already knew the food would be good. After talking with the staff, I learned that the owner also owns JT's On The Bay across from Corey Beach in Blue Point. To be honest, it was one of those "duh" moments, for I felt like, "how did I not put that together?"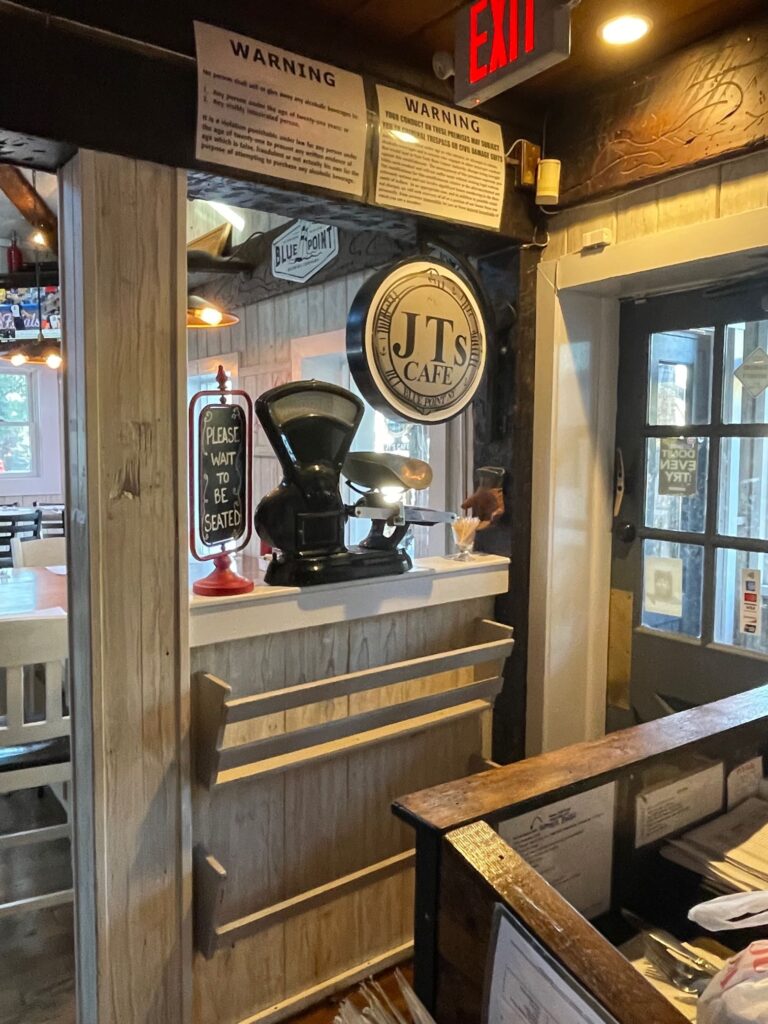 I was fortunate enough to have been served by Melissa Caicedo who was friendly, personable and knew so much about both the menu and the restaurant itself. Melissa has worked for the owner Justin for years now at JT's On The Bay, and since 2016 has been working at the new JT's Café location.
I can't lie, for breakfast, I usually am a plain Jane. Excited to have been reunited with an old friend, I was inspired to ask Melissa to serve me the most popular breakfast dish. She recommended the Eggs Amsterdam – JT's corned beef hash-topped with two eggs (over medium) with home fries and toast.
Let me tell you, Melissa did not disappoint. Sometimes I get rather shy with my food selection and stick to what I am comfortable with, but I am happy I stepped out of my comfort zone and went for the corned beef she recommended. The hash itself was  perfectly shredded, tender meat mixed with a thicker mashed potato, so it seems. It was a very tasty, different kind of dish for me, but I can certainly see why it is so popular. At first sight, it didn't seem like much food– but it was certainly filling and equally delicious.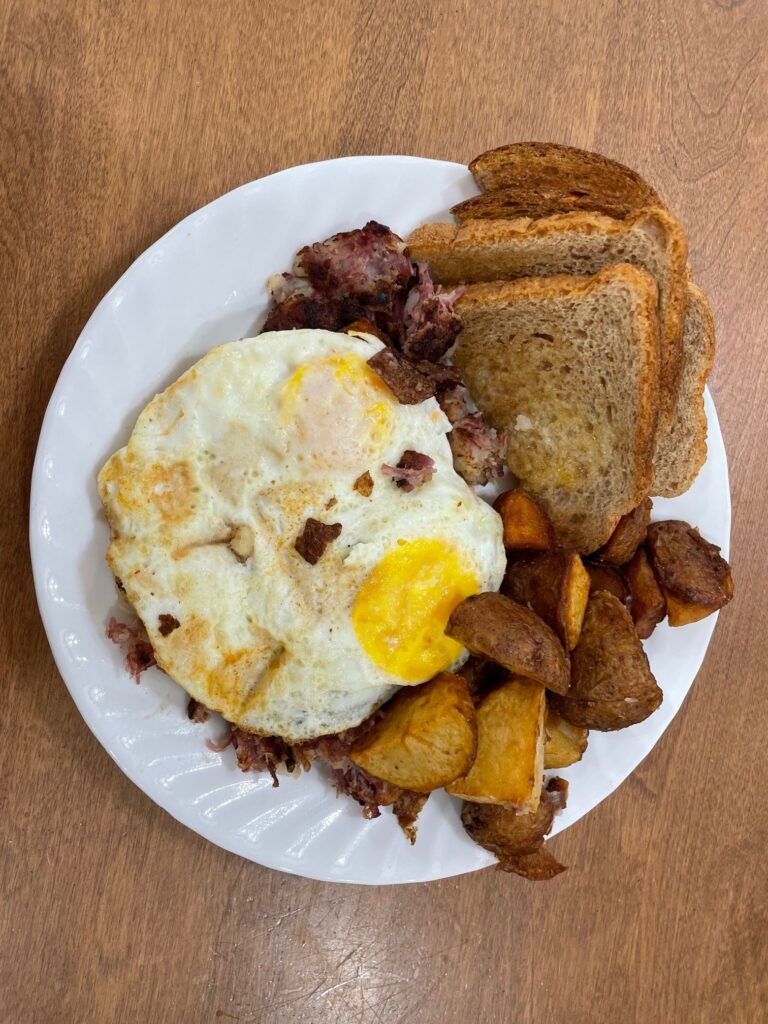 I just want to take a second to talk about the ambiance. What draws me to JT's is its laid-back environment. It stills has that rustic, hometown feel to it. I learned that the owner has collected antiques to add to the mood he sets in his establishments.
Apparently, his grandfather owned a deli back in the day and he took some of the décor from that to put in his restaurant. This includes a horse pulling a man with a trolley full of barrels that I had to take a picture of, along with the many other pieces in the restaurant.
I was directed outside to the café's "signature piece," which is a tractor that seems to get a lot of attention from passersby.
All in all, the service was impeccable and the meal delicious. The girls working explained how reservations are recommended for Saturday and Sunday, as the wait can be very long for breakfast. And still, like the old corner café, lunch is also available. There seemed to have been a high demand for dinner, so JT's Café is opened on Wednesday through Saturday for dinner as well.
JT's Café sits directly in front of you as you come to the end of Nicolls Road in Blue Point at 4 Montauk Highway. More information is available on their website at JTscafe.com. For reservations, please call (631) 363-9562.