Conventional political wisdom states that the non-Presidential party (the opposition party) typically sees larger-than-average gains in congressional seats in a midterm year.
2022 is no exception.
Despite a hiccup for GOP enthusiasm due to the Roe v. Wade overturning, momentum has shifted squarely back in the Republicans' corner, making them large favorites for the House, slight favorites for the Senate, and prohibitive favorites in other races around the country.
I will cover my forecast for the US Senate, US House, all 36 gubernatorial contests, and races specific to New York. I have included an "Upset Alert" section, including races I think could
flip, accounting for a last-minute environmental shift, candidate blunders, serious polling errors (or outperformances), or voters' second thoughts at the ballot box.
I have also included a "Margin Watch" section. These were tough to call. These are states and seats wherein margins in relatively safe seats could signal how bad a night it might be for the Democrats. Anything below a 15-point margin is worth considering. If results in a safe blue state/seat are less than 10 points, those are signs that point to a GOP blowout.
As per The Messenger's Thursday release date, there's five days for developments to occur. So, while I will give a forecast devoid of toss-ups, I will concede that the last five days of the campaign could result in shifts I will not be able to cover.
US Senate
At a glance: GOP +3 – Pickups in NV, GA, AZ
Control of the Senate comes down to a coin flip.
In Pennsylvania, Dr. Oz (R) is the slight favorite over Lt. Gov. John Fetterman (D), mostly due to the latter's historically poor debate performance last week.
Nevada is the most auspicious pickup for the GOP. History, trends, and the shift of Latino voters to the GOP signal a pickup.
In Arizona, Blake Masters (R) is the favorite over Sen. Mark Kelly (D). Kelly could still manage a marginal victory, but Kari Lake's (R) advantage in the governor's race might help Masters if down-ballot votes coalesce.
In Georgia, the race could not be more of a jump ball. I think it will go to a December runoff, but if anyone will win outright, it will be Herschel Walker (R) due to Gov. Brian Kemp's (R) presumed long coattails in his reelection bid. In New Hampshire, a 50/50 classic swing state, incumbent Sen. Maggie Hassan (D) is narrowly favored over GOP Brig. Gen. Don Bolduc (R).
Upset Alert:
Colorado (D), New Hampshire (D), & Washington (D)
Margin Watch: CT, IL, NY
Gubernatorial Contests
At a glance: GOP +4, Dem +2 – Net GOP +2
Governor races are more about candidate quality than any other race. It's also notoriously difficult to topple popular incumbents. Most Democratic governors are at least marginally popular going into this cycle, which might insulate them from a possible good GOP night.
I favor the GOP to hold competitive seats in AZ, GA, FL, OK and SD.
I favor Democrats to easily flip MD and MA. I favor Democrats to hold competitive seats marginally in CT, IL, KS, ME, MI, MN, NM, and RI.
I favor the GOP to flip Oregon – which will be the first time the party has won this seat since 1982 – as well as Nevada, Wisconsin, and New York.
Upset Alert: Michigan (D), Minnesota (D), New Mexico (D), Oklahoma (R)
US House
At a glance: GOP +52 – 261R-174D
I have the GOP picking up 52 seats, more than most pundits are projecting. I think we'll see an environment better – or as good as – 1994, but not as red as 2010. I'll outline some
key points about the House races below:
I expect the GOP to pick up 5 seats in NY, 2 on Long Island, 3 Upstate, including DCCC chair Rep. Sean Patrick Maloney (D).
States with three seats each flipping to GOP: CA, FL, IL, MI, NV, PA
States with two seats each flipping to GOP: AZ, NJ, OH, TX, VA
States with one seat each flipping to GOP: CO, CT, GA, IN, IA, KS, ME, MD, MN, MT, NH, NM, RI, TN, WA, WI
I predict a clean sweep for the GOP in Nevada. In Rhode Island, I predict Allan Fung (R) will be the first GOP Rep. from the Ocean State since 1992. I predict a clean sweep of South Texas for the GOP, marking a paradigm shift of Latino voters to the conservative base. I also predict a GOP blowout of Dems in Iowa, marking the first time since the 1940s that the party of Jackson will have no Congressional caucus from the Hawkeye State.
Upset Alert: AZ-04, CA-25, 26, 47; CO-07, FL-23, GA-02, IL-08, 10; NJ-05, NM-03, NY-25, VA-10
Margin Watch: CT-02, 03; DE-AL, FL-22, MA-09, MD-02, NY-20, 26; WA-06
Possible Survivors: CA-47, IL-06, KS-03, ME-02, NJ-03, NV-04, PA-08, VA-07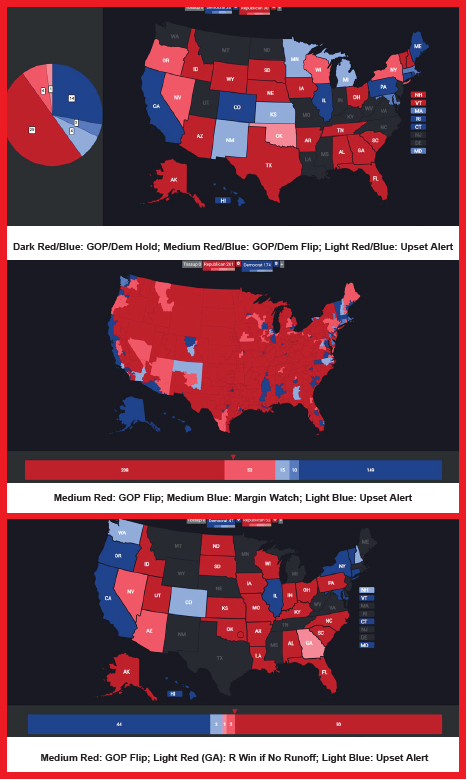 New York Races
As previously written, I predict Zeldin will win by a 0.68% margin. Sen. Schumer will win by 11-12%, fairly low for his career.
The Messenger's Brian Monahan has covered the home stretch of Zeldin's campaign, namely Florida Gov. Ron DeSantis (R) coming to Hauppauge to stump for the gubernatorial hopeful.
Attorney General Letitia James (D) is poised to win re-election. The GOP will not take the State Senate, but will reduce the Democratic supermajority, forcing Albany Democrats to play ball with Gov. Zeldin.
GOP will flip Senate Districts 5, 7, 9, 23, 38, 40, 42, 48 and 50, for a gain of R+9 and a result of a 34D-29R State Senate.
GOP will not come close to the Assembly, but will likely flip Districts 4, 13, 10, 16, 41, 47, 45, 46, 100, 115, 127, 143 and 100 for a gain of R+13 and a result of 94D-56R Assembly.