One of the few responsibilities of elected officials, among delivering public safety and economic stability, is to maintain good stewardship of community resources and assets. For years, that responsibility had been neglected, namely in the form of Ross Park. Just next to the Brentwood train station, Ross Park – once referred to as "Needle Park" – for many years had been a blighted property that had long fallen out of service to the area.
However, under recent leadership and community efforts, the park has been restored to its former glory, delivering back a much-needed facility for the residents of Brentwood.
The new signs were unveiled Thursday, November 2, as elected and community officials gathered to witness a notorious eyesore transformed into a new cultural touchstone.
"During my tenure, I've made it a mission to ensure that all Town-owned facilities are safe for our residents to enjoy and Ross Park in Brentwood is no exception," said Islip Town Supervisor Angie Carpenter (R-West Islip). "In recent years, the Town has received many complaints from residents about dangerous criminal activity, along with reports from the Metropolitan Transit Authority (MTA) and the Suffolk County Police Department (SCPD) about illegal activities here. In 2020, in consultation with the SCPD and the Third Precinct, officials made the decision to close the park while renovations were being made."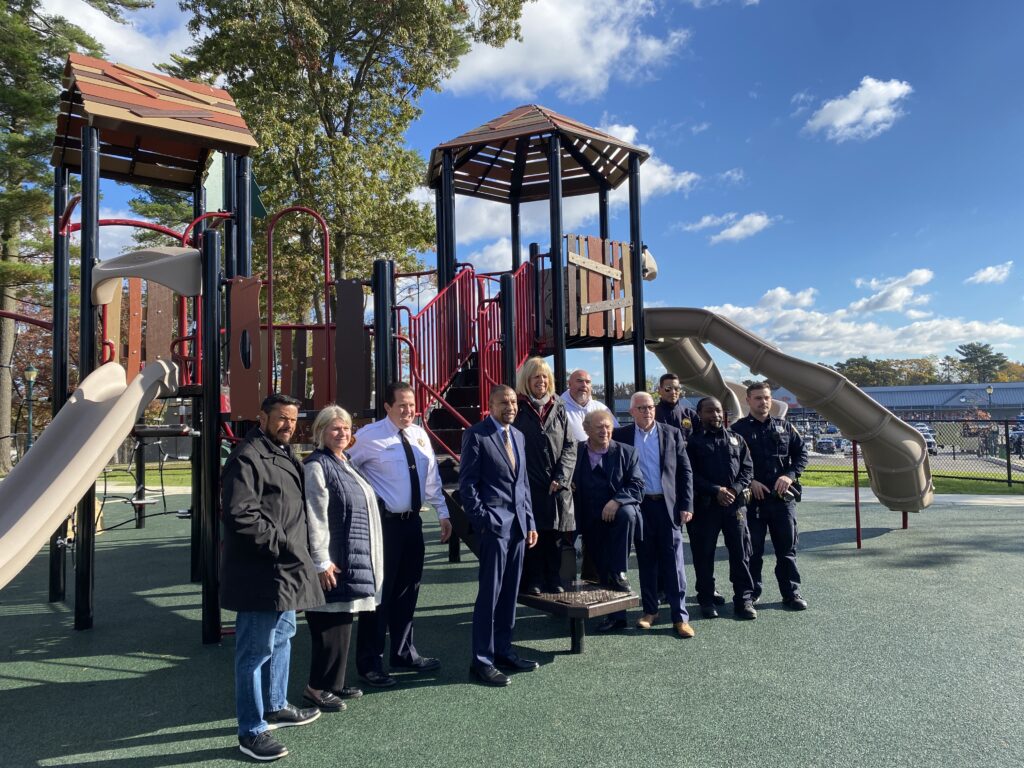 Supervisor Carpenter then outlined what renovations have been completed in the park and what additions are slated for the future:
"The project includes a new parking lot, a new playground and swings with safety surface, and new fencing around the perimeter of the park," said Carpenter. "This park will be closed at dusk as are all other parks in the Town of Islip to maintain security and safety of the park. We have a new gazebo and that will be expanded upon as we go forward. Additional work continues with amenities still to come, such as benches surrounding the playground, sound and lighting for the gazebo – which will be a new source of public assembly – a storage shed, game tables, picnic tables, and in the future, we hope to have a restaurant."
Assemblyman Phil Ramos (D-Brentwood) described the bipartisan effort to restore the park.
"This is the beginning of a several-part series of investments that we will be making here to bring about our plans," said Ramos. "This is your tax dollars at work out of a partnership between your state and your town. This park was full of urban blight; there was graffiti and drug dealers and it was no secret to the people of Brentwood that this was a sore thumb. People were arrested here for assaulting police officers and the neighboring businesses had vagrants hurting the commerce. Make no mistake, this is not the end. We plan to have a summer concert series here. There will be more investments in security, with part of the project being to install high-definition security cameras that are tied into the police department. This will not be user-friendly for criminals."
Ramos continued that while criminal activity will not be tolerated, help has been offered to the homeless population who once frequented the park.
Carpenter added that "there are people from the north shore coming to see how we took a drug den and turned it into a beautiful facility." Carpenter also stated that she and Assemblyman Ramos remained adamant that the park would not open until the bus shelters were removed by the County.
Vinny Maronski, Commanding Officer of the Third Precinct, was a named partner in the effort.
"Thank you for letting us be partners and taking our advice," said Maronski. "We're committed to working with you in the future to keep this a community and family park. We're hoping we can have some of our movie nights here, in addition to the summer concert series."
Bruce Fabrizio, President of the Brentwood Chamber of Commerce, reflected on the long-standing poor state of the park.
"This is the culmination of ten years of my representation of the Chamber," said Fabrizio. "In the early 1960s, this was all wooded area, and I would regularly walk the trails. I remember coming into Ross Park and seeing an iron frame of where swings used to be and I used to wonder why we couldn't have swings here. Now, sixty years later, we have them. I hope we can bring our tree lighting ceremony back to the park."
Tom Owens, Islip Town Parks Commissioner, and Nick Fasano, Government Affairs of the MTA, were also present at the grand opening.
Officials then formally unveiled the new sign before leading a tour of the new park.
BEFORE