A church and private school in Centereach were treated to a special appearance by a member of the Fox News team on Saturday, May 20.
Pete Hegseth, a Fox News contributor and co-host of Fox and Friends on the weekends, as well as New York Times bestselling author, made an appearance at a banquet and book signing at Our Savior New American School (OSNAS) in Centereach.
Hegseth was promoting his book, Battle for the American Mind: Uprooting a Century of Miseducation, which documents the gradual, systematic efforts by activists and bureaucrats to undermine the American education system and instill certain desired values in our nation's most impressionable demographic: children.
His appearance at the school and church on Mark Tree Road adds another high-profile name to the list of visitors of years past, including, but not limited to, renowned neurosurgeon and 2016 GOP Presidential candidate Dr. Ben Carson, as well as minister, CBN religious broadcaster, and 1988 GOP Presidential candidate Pat Robertson.
OSNAS was founded in 1992 as a refuge for homeschooled kids. The school opened its doors with a modest pool of resources and volunteers which grew into a school of hundreds of children at its peak. The school was started in the few rooms adjoining the church. About 10 years later, a large annex with a gymnasium was built to become an accredited school.
Since then, thousands of children from preschool to high school ages have passed through the doors of the school, with many hailing from dozens of countries around the world.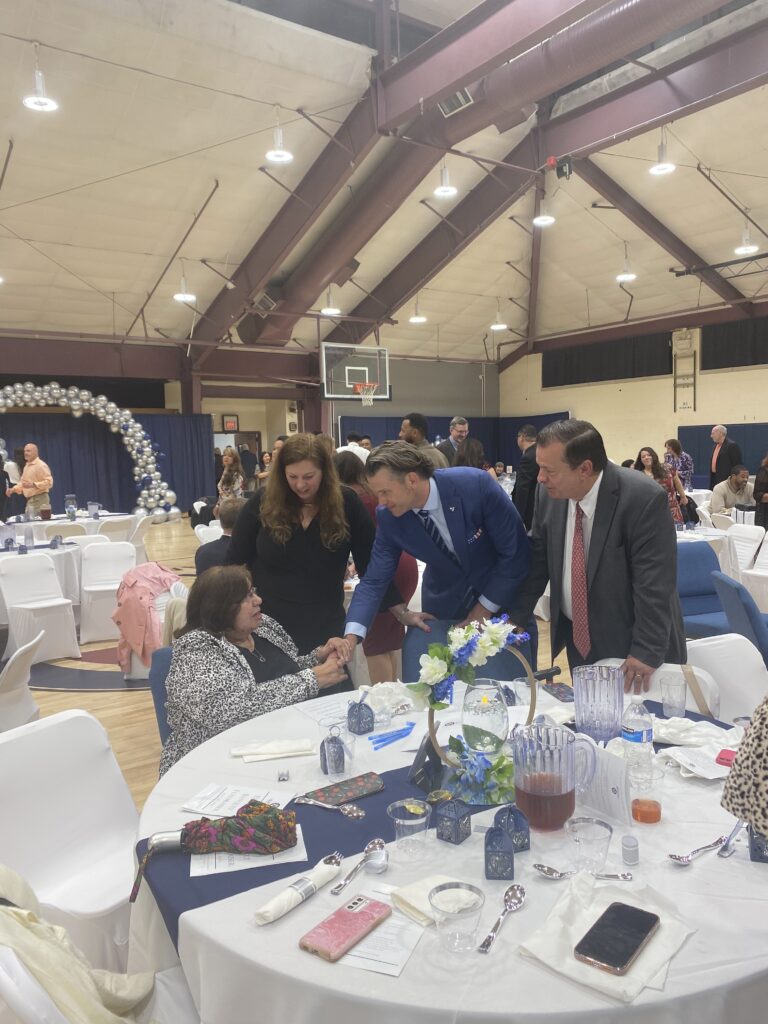 Hegseth's goal in speaking at the school was to urge parents and educators alike to not surrender to pressures of government, media, and the general public regarding education, especially as tensions continue to grow between parents and school boards and districts.
The event was headlined by the church's head elder, John Reade, a founding member of the school. The event also contained performances from the students, including Bible verse recitations, an interpretive dance of the parable of the Prodigal Son, as well as an original musical number written by the church's music director Ray Knehnetsky.
Alumnus of the school and current principal Dr. Wil Stelzer spoke before Hegseth.
"The mind is a great gift of God, but if you train the mind and neglect the heart, you have actually done the world a disservice," Stelzer said. "We don't just want our students to be intelligent, we want them to love the right things. Teachers, coaches, and mentors can live lives of love that reflect the character of God and give students a visible representation of what God is like. We can share stories of the great men and women of history who acted with integrity and courage so that our students can aspire to be like them."
Hegseth is also a combat Veteran of the Iraq War and War in Afghanistan, for which He volunteered. He received two Bronze Stars. Hegseth also served as the CEO of Concerned Veterans for Americans, a Veteran advocacy organization as well. Hegseth earned a bachelor's degree from Princeton University and a Master's Degree in Public Policy (MPP) from Harvard, the latter diploma from which he famously mailed back to the school on live television. He also briefly ran for the 2012 Republican nomination for U.S. Senate in his home state of Minnesota.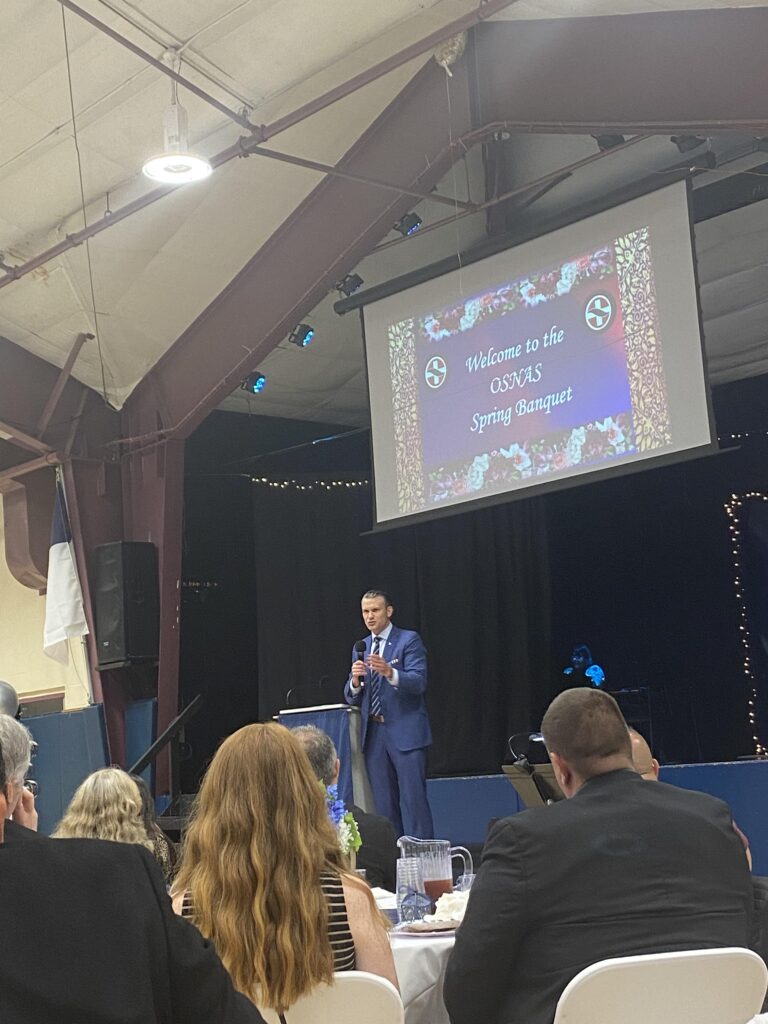 Hegseth currently resides in Middle, Tennessee, with his wife and seven children. Hegseth began his half-hour speech with a subtly profound concept: "All we leave on God's green earth is the legacy of our kids and grandkids and whether or not they love Jesus Christ as their Lord and Savior."
His early past is similar to that of Dr. Stelzer and those of many who have called OSNAS home over the years. Hegseth was raised in rural Minnesota, where he spent many of his early years in Lutheran church basements, at pot-luck dinners. His father was a high-school basketball coach. Wil Stelzer's father, Reverend Ronald Stelzer, the long-serving head Pastor of the church, was a founding member of the school, where he served as Headmaster for nearly 30 years. He coached the school's nationally-renowned basketball team, which has sent many players to the NBA.
Hegseth discussed how many aspects of our personal lives are out of our control. However, where we send our kids to school, how we raise them, and the principles we instill in them are in our control. He mentioned how "16,000 hours" are invested in a child's education from kindergarten to 12th grade. School, to many, he said, is an "afterthought," after hobbies, family, church, and extracurriculars are considered.
"If public school was good enough for mom and dad, it's good enough for me, and that's the default assumption. After I went to public school, the assumption was that my kids would also go to public school."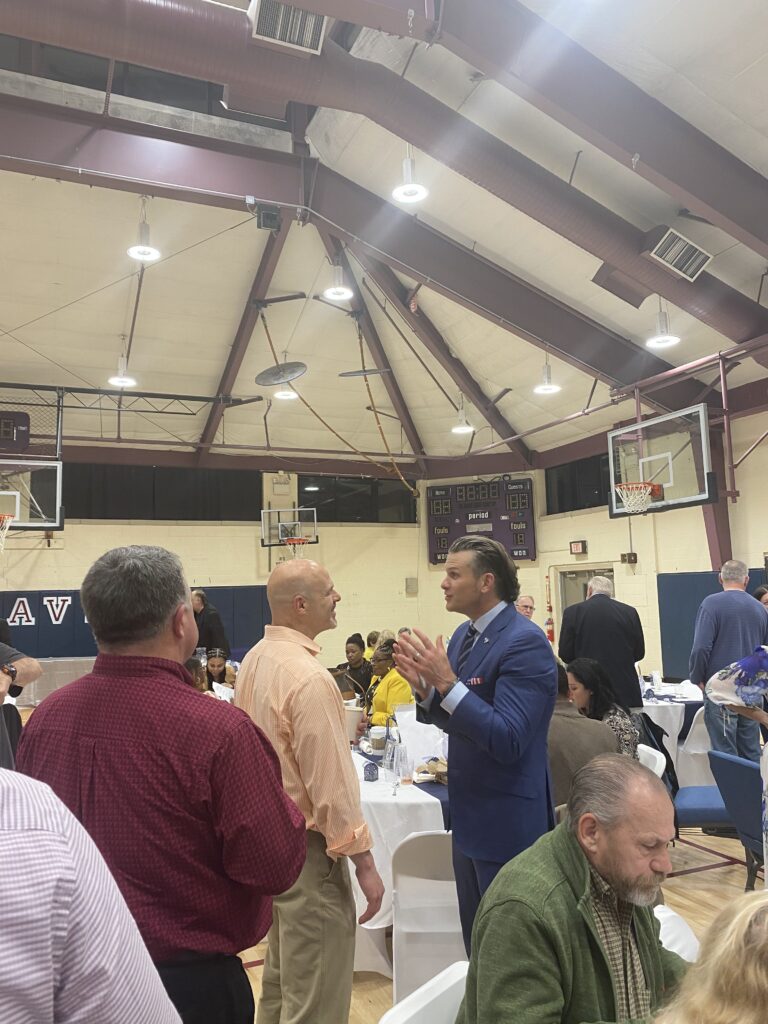 What Hegseth didn't realize, he said, is that while he was at public school, he was receiving a "specific form" of education. Kids in American public schools were targeted as a means of fostering mass social change, "turning the dial" on American Western civilization. He says the fight for the American mind is not necessarily in the colleges and universities, but rather "first grade."
Referencing the 1970s as the "darkest time for American education," Hegseth shared that homeschooling had been outlawed "almost completely," and there were "zero classical Christian schools across the country." He also said that the engineering of American mind's is not a new concept, but one that dates back to the 1880s.
Hegseth discussed the plight of Frances Willard, a known Christian socialist who traveled the country with an anti-alcohol curriculum. Forty years later, the Eighteenth Amendment was introduced, banning the sale and consumption of alcohol. This, as Hegseth said, was where the groundwork was laid to remove even more fixtures of the American classroom to bring about even further fundamental change.
Hegseth invoked the ancient Greek word "paideia," meaning the education and rearing of the youngest of society, essentially the soul of a nation. He referenced this concept as he criticized the attempt of nation-building in Afghanistan, as well as the reason why churches and schools must remain in the hands of a God-fearing community. America's paideia was once reinforced by Scripture and the Ten Commandments, which was replaced in the 20th Century by allegiance to country and patriotism as means of weaning the public off of God's inclusion in education.
By the 1990s, social studies became the replacement for subjects like history, civics, philosophy, and phonics. Hegseth concedes that social studies, when "taught properly," is not bad, but the attempt to define human character and morality in one catch-all subject is foolish and intentionally inaccurate.
While not critical of patriotism in general, Hegseth criticized secular humanism's replacement of God with patriotism. God is "immovable and does not change," while allegiance to state is "a lot easier to manipulate."
Hegseth then chronicled the events of German Marxists from the Frankfurt school that fled Europe after Hitler's rise to power. Some of them set up shop at Columbia University in New York, where they conceived "critical theory," the basis for several forms of the current paideia in American schools.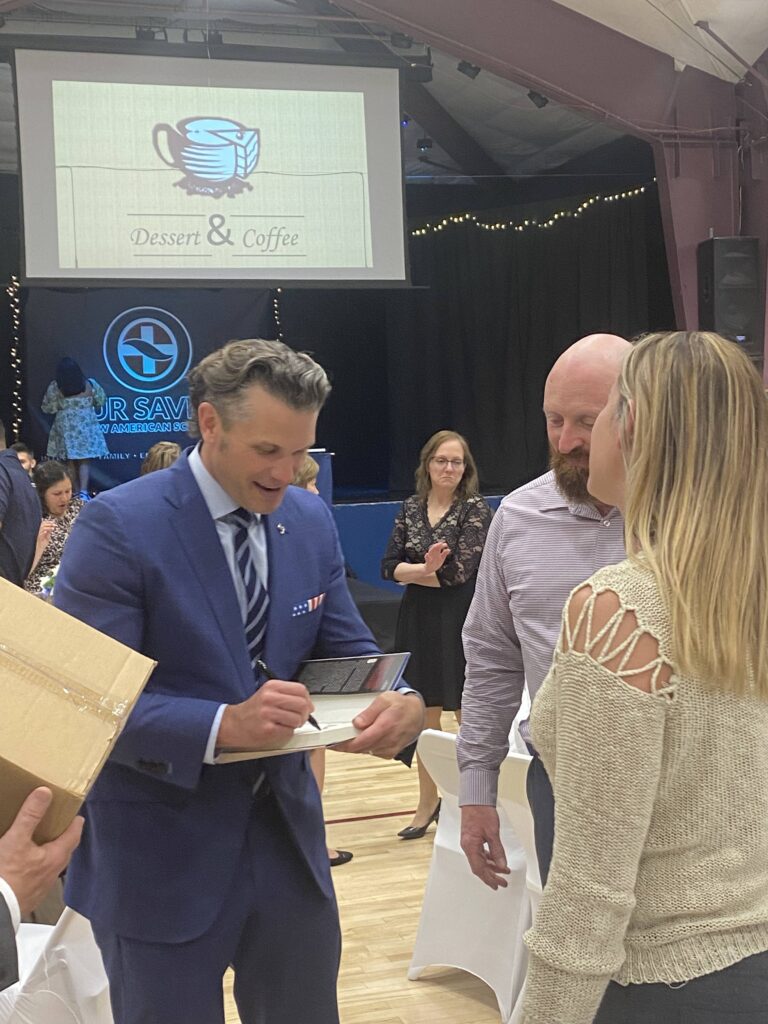 Hegseth also mentioned a solidification of educational change in the United States with the 1976 Democratic Convention, at which Jimmy Carter became the first Presidential candidate to be endorsed by the teacher's unions. One of Carter's first accomplishments as president was the founding of the Department of Education. Hegseth said that the purpose of the DoE is to federalize priorities of those who control it, which is Washington, D.C. Hegseth referred to Washington as a "distanta capital," as opposed to parents and communities. Hegseth declared himself and many in the room as "survivors of progressive education."
He said he spent many years "careening out of control," because his church life was so disconnected from his school, familial, and personal life.
"Beauty, wisdom, virtue, truth, and goodness are words that are absent in schools today," Hegseth said, linking record-high instances of anxiety, depression and self-destructive behavior in youth today.
Hegseth concluded: "If we lead our kids at home, lead them to Christ through a church community, and then fortify them at school, we have a fighting choice no matter how dark the culture is because God is great and anything is possible through Him."
The event was heavily attended, well received, and fantastically catered by Felico's of Farmingdale.