Flown out of the middle of Long Island runways offered at Islip's MacArthur Airport, the annual honor flights give Veterans the personal opportunity to visit museums and memorials dedicated to the bravery and sacrifices of their fellow soldiers.
In the process, they are celebrated for their courageousness as well. Multiple times a year, the Gary Sinise Foundation's Soaring Valor program selects Veterans throughout the country to enjoy this experience, and invites students to observe and learn along the way.
Says the non-profit 501(c)(3) Gary Sinise Foundation, founded in 2011 by the actor of the same name who played Vietnam Veteran Lieutenant Dan Taylor in Forrest Gump (1994) en route to a Best Supporting Actor Oscar: "Their experience includes entertainment, celebratory meals, and community building with their fellow heroes. Students who accompany our veterans carry on their stories with a new appreciation for the sacrifices made by an entire generation."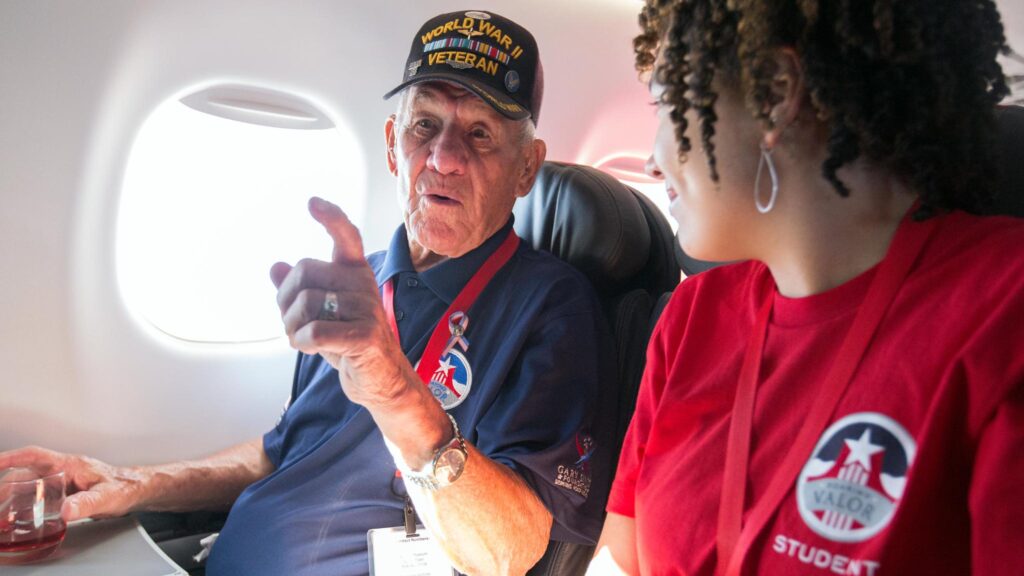 A few of our local Long Island heroes were celebrated the last two weeks through the Soaring Valor Program. On April 29, Joseph Colletta, of Smithtown, and more Veterans of WWII, Korean and Vietnam wars were selected to fly into Baltimore-Washington to visit The Tomb of the Unknown Soldier, Vietnam Memorial, the Changing of the Guard Ceremony, and more.
"It will be a packed day, but as long as I can stop to get my wife a T-shirt", Vietnam Veteran Staff Sergeant Colletta said ahead of the event.
Colletta has been interested in the Soaring Valor Program for years now. This past weekend, the Bronze-Star recipient was elated to be a participant. Flying out bright and early, Colletta and his fellow Veterans spent the whole day in Washington, D.C., then were greeted by a celebratory return home that same night. Boy and girl scout troops lined the gate along with bagpipers, ROTC members, and family and friends as the Veterans departed the plane— something especially poignant for Vietnam Vets who were not celebrated when they originally returned home from the polarizing war.
"It was very touching, this time around we went to see everything… they did it up right for us, it was just right," Colletta told The Messenger.
Though Colletta had seen the Tomb of the Unknown Soldier before when a member of his Platoon was recognized there years back, he had new opportunities upon revisitation.
"What I didn't know was my wife was asked by one of the program leaders to write something to me for the ride home," he said. "It was very heartwarming. Even my 100-year-old mother wrote something to me. It was very nice."
Colletta was able to thank his wife with a hoodie from Washington, D.C., as promised!
The families of the selected Veterans are called upon to write a letter to their Veterans, recalling memories, things they appreciate about them, or just to say, "I love you." These letters are then given to the Vets on their ride home to complete the touching experience. On April 19, 18 WWII Veterans, along with thirty-eight high school students, were flown to New Orleans to visit the National World War II Museum. The group were sent off by bagpipers, a hero's welcome and a water cannon salute.
"This heroic sendoff is a fitting tribute to the sacrifices these servicemen have made," said Islip Town Councilman John Cochrane, Naval Captain (ret.).
The Soaring Valor program began in 2015, bringing Veterans and students together to appreciate the importance of service, sacrifice and defending our nation. So far, the program has flown over 1,000 Veterans and over 200 students. The program brings pride and honor to those who participate and those who volunteer.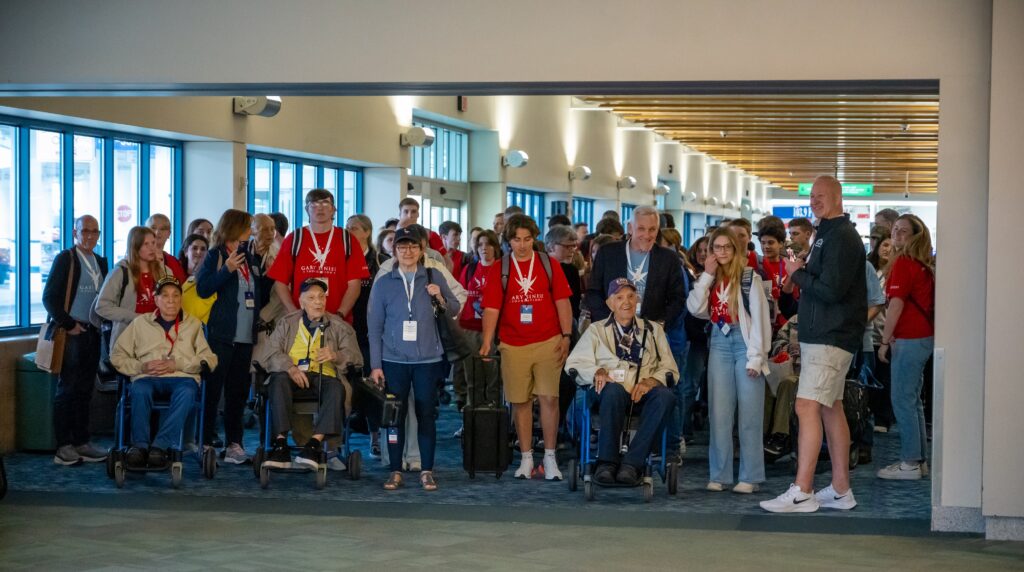 "Soaring Valor gave me a sense of pride knowing how much people appreciate the contribution I made to my country… it made the sunset of my life a complete success," said Bernard Martin, WWII Veteran, as featured on the Gary Sinise Foundation website. Our local heroes and national Veterans more than deserve this honor. You can help the Soaring Valor program continue by donating towards sharing their stories.
Visit garysinisefoundation.org to learn more and donate to a Veteran in need.