Back in March, Steve Mileti set out to build a successful girls' flag football program in the Hauppauge School District that helped the girls grow as people and win some football games along the way.
In the program's first year, they've done more than win just a few games.
After going an impressive 11-0-1 as a first-year team in a league that was in its second season, therefore regularly facing off against opponents that had prior experience, the Eagles are the 1-seed and absolute team to beat in Suffolk County as playoffs start this week.
Hauppauge will host Longwood this Friday at 5 p.m. on their Hauppauge High School home turf. Their 11-win regular season puts them just three wins away from a Suffolk County Championship, which would send them to a Long Island Championship and possibly a lower State Championship after that.
The Eagles' success can be attributed to head coach Steve Mileti, but he believes all the credit goes to the girls: "These girls are extremely coachable, they trust their coaches," Mileti told The Messenger. "They've only gotten better since we started in all aspects of the game."
It really has shown just how good the team has been on the field. They won their season opener against Harborfields 26-13, and that would be the most points they would allow all season.
After beating Sayville 18-6, they went on a stretch of four-straight games without allowing a point and would pitch six total shutouts in 12 games. No other team had more than four the whole season.
"It's a very young team," said Mileti. "It makes it exciting to see what they can do for such a young group. Something just clicks in their head when they step on that field."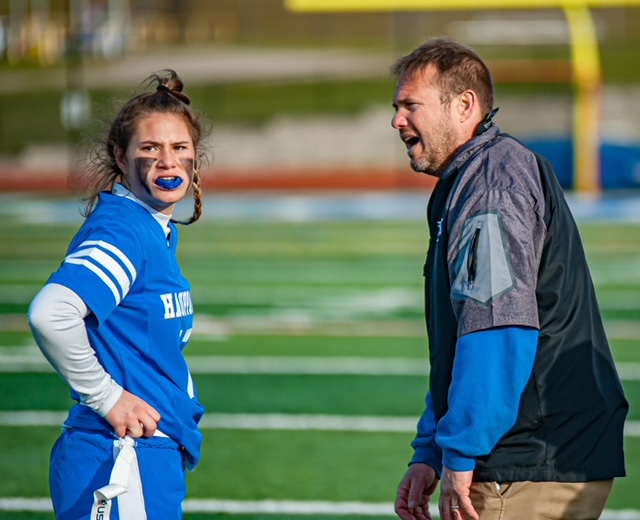 It definitely has clicked in for the Eagles this season. On top of the stellar defense, the offense has averaged 22 points per game, ranking them 4th in offense.
As the old saying goes, though: "defense wins championships…. and apparently pizza. "We started this season by telling the girls, if you get six interceptions [as a team], we'll get you pizza," Mileti said. "They had six interceptions in one game against Northport. They got three more in our last game versus Amityville; they're probably close to 30 interceptions."
That's a lot of pizza.
Though they never played the Lions this season, going into Friday Mileti feels good about facing Longwood. "They're very well coached, and we told the girls, they practice just as hard as we do. We respect all opponents, but fear none."Should the Eagles advance past Friday, they will square off against either Half Hollow Hills, who fell victim to the shutout streak, losing 6-0 to Hauppauge, or Sachem East, an unfamiliar opponent.
Nothing seems impossible for this group of girls that Coach Mileti could not say enough commendable things about, from their work ethic and focus in practice to in-game execution. He was especially impressed with the flag-grabbing ability of his players, which is harder than it may seem.
If they are able to make it all the way to the county championship and win, maybe a little something more than a pizza party is in order for the latest batch of soaring eagles from Hauppauge.