Long Island is Line Dancing Country!
It's 6:30 p.m. on a Friday evening in Sayville, and people are beginning to file into the VFW for the monthly "we love to dance" dance party. There are smiles and greetings all around as most of the group knows each other, and these country dancers mean business.
When you talk to people about what they love about line dancing, you may get several responses, but whatever the response, you are sure to see a wide-eyed grin that beams happiness. Some folks say it is socializing with their fellow line dancers, some say it is the exercise, others simply say it's just plain fun.
Line dancing is special because the dances are performed individually. Just about anybody can jump right in with a beginner class and be dancing in no time at all. Not only that, but the music is upbeat and lively. This week, The Messenger reached out to several participants and instructors, as well as the president of the Long Island Country Music Association, or LICMA, to see firsthand what makes line dancing so popular.
Long Islanders can receive line instruction at a variety of venues throughout Suffolk County. Many of the instructors teach a beginner session as well as an intermediate session, and frequently they are taught back-to-back. Participants have the option to do as much as they are comfortable with. The atmosphere is cordial and fun, and "all are welcome, no matter what age or dance experience you have," said Elena Austin, who teaches line dancing at the Moose Lodge in Greenlawn.
In a typical line dancing class, each dance is broken down into a series of steps. Dances are described by the number of steps, or counts, in the dance. Dances can range from 16 counts to a more complicated 64 count dance. A series of steps also have names, such as "jazz box" or "shuffle" which helps dancers to learn the steps faster. The instructors do an excellent job of pairing the dances to the best song.
Line dancing is all about options, one can choose to attend practice with a partner or solo, then choose how much of a commitment they wish to make. Many, but not all, come to love it, and soon commit to progressing toward intermediate classes.
Some dancers go to more than one instructor to learn different dances from instructors with varying styles of teaching.
Dance Instructor Bill Iozzino (pictured above), who teaches line dancing at the VFW in Sayville, started taking dance lessons at adult education, and eventually became an instructor. Iozzino says he "loved teaching from day one of his first class at Pat-Med Adult Ed and continues to love teaching."
Iozzino, a former Marine, has been at it now for 25 years. He especially loves the "wonderful and cherished friendships and supportive positive environment from line dancing."
The Long Island Country Music Association, or LICMA, has been promoting country music and country dancing on Long Island for over 35 years. They sponsor a dance each month from September through June, at the Sons of Italy Hall in Deer Park. The
dances feature a live band and DJ, which is announced on their website. In addition, the website, licma.org, contains information about local bands, how to become a member and a photo gallery.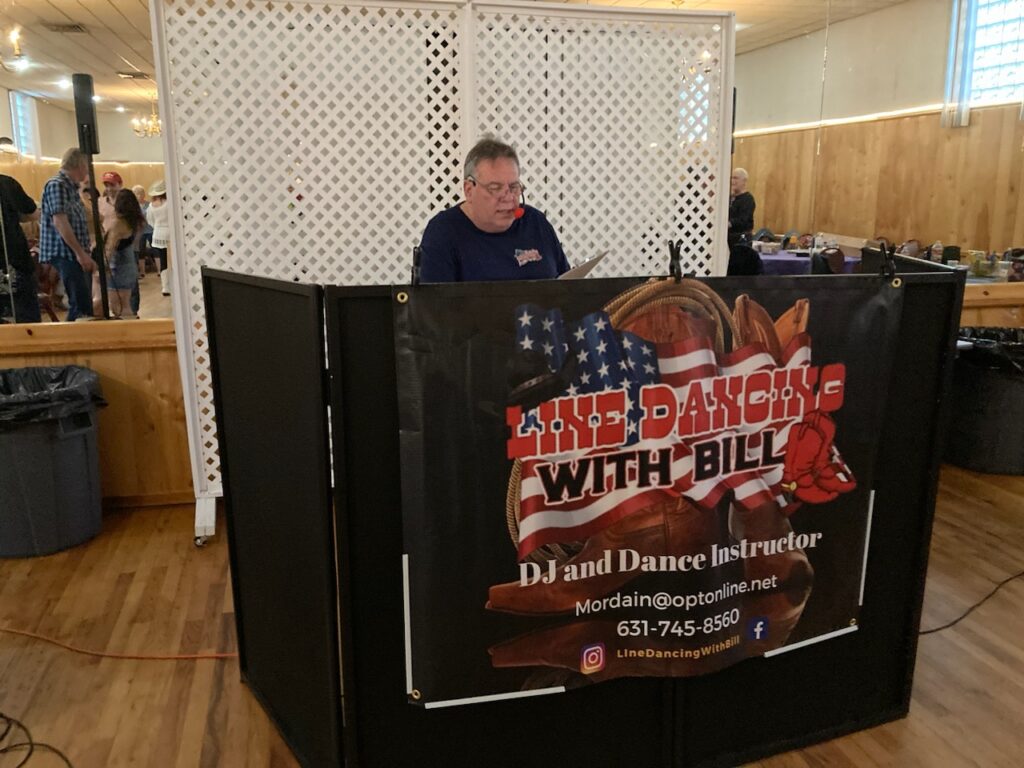 A separate tab has a list of all the dance instruction locations, including the instructors and times.
Jim Teeple, president of LICMA, was proud to point out that on May 6, they will celebrate their 38th anniversary. While speaking to The Messenger, Teeple wished to thank the many people "who love getting together, socializing, learning new dance moves and genuinely enjoying each other's company."
"At the Long Island Country Music Association (LICMA) dances, we actively try to make everyone feel welcome."
Elena Austin (pictured below left), who has been teaching line dancing at the Moose Lodge in Greenlawn for close to 2 years, has been a dancer since the age of 12. Although she is experienced in many forms of dance, including ballet, ballroom and jazz, she describes line dancing as her "true love." When asked how she came to love it, Elena stated that "Line Dancing has a Folkloric Flare to it, which was familiar to me from my experience with Ukrainian Folk dancing." From that point forward, "line dancing found a special place in my heart," said Austin.
At a recent dance practice, The Messenger spoke to Karen Anderson, who is not only a line dancing instructor for the Smithtown Adult Education program, but also attends many practices and dances. Anderson described her experience over the past 15 years as "great exercise, lots of fun and a great way to make new friends."
Line dancer Ron Castellano, and his wife, Diana, are dedicated line dancers who rarely miss a practice or event. Ron, who is 80, had this to say: "It is the secret pill that keeps you from aging, a fun way to exercise your body and mind."
It seems Castellano has a good point. According to healthline.com, the benefits of dance Include:
Improves cardiovascular health
Improves balance and coordination
Provides a mental stimulus and
acts as a mood booster
Good socialization
One couple you see a lot at country line dances are Al and Kathy Muoio. While Kathy says she loves that she can forget her troubles while dancing, Al speaks highly of the "physical and mental benefits" he gets from participating. It must be paying off, as Al and Kathy have also mastered many of the partner dances that are very popular, and are performed as couples. Both Al and Kathy love the people they have met along the way.
Line dancing is an economical way to get out and have fun. The typical fee for a class is $10.00, and that includes the beginner and intermediate class, so you are able to dance for over three hours!
The actual dances cost about $15.00, perhaps a little more if food is provided. You do have to purchase your own cowboy boots, if you are so inclined, but sneakers are fine as well.
While the attire at the practices is casual, country line dancers like to kick it up for the party-like atmosphere at the actual dances. This includes cowboy boots, denim jeans, a hat, accent belt, plaid shirt and perhaps a red bandana in the back pocket or tied to a boot. Iozzino, it should be mentioned, is known for his signature red dance shoes. He also DJs at all his dances at the VFW, yet still finds time to dance with Leslie, his partner, teach a dance or two and pick the winning raffle tickets.
As much as the dances are lively and buzzing, there is always time for a "buckle polisher," which is country-speak for a slow dance.
When asked where he sees Country line dancing going over the next few years, Teeple noted that last year was really a recovery year (from Covid) and many people were just not ready to venture back to social gatherings. However, now he sees a "full return to dancing with new people getting into country dancing, as people are looking for places
and activities where they can again have fun." "I think country music and dance will continue to grow over the next five years," says Teeple.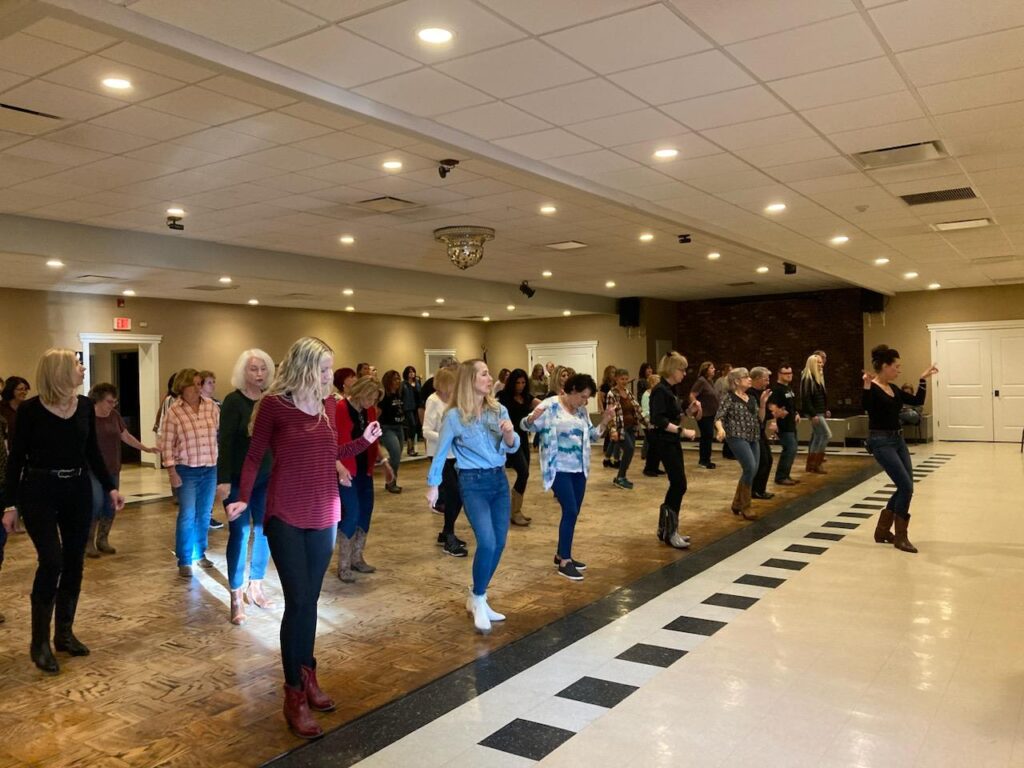 HERE ARE SEVERAL LINE DANCING
INSTRUCTION VENUES:
Greenlawn: Mondays – Dancing with Elena
at Huntington Moose Lodge
Beginners 6:00 to 7:15 p.m.
and Intermediates 7:30 to 9:00 p.m.
Sayville: Tuesdays – Bill Iozzino at the VFW
Beginners 6:00 to 7:15 p.m.
and Intermediates 7:30 to 9:00 p.m.
Centereach: Wednesdays – Dancing with Elena
Our Savior New American School
140 Mark Tree Road, Centereach
Beginners and more 6:30-8:30 p.m.
Medford: Bill Iozzino –
Every other Sunday at Elegant Dance Studio
12-1 p.m.
Farmingdale: Open dancing at Nutty Irishman
from 7:00 to 10:00 p.m.,
lesson with Sandy at about 8:00 p.m.
For a complete list of dance instruction
locations, go to Dance Instruction (licma.org).