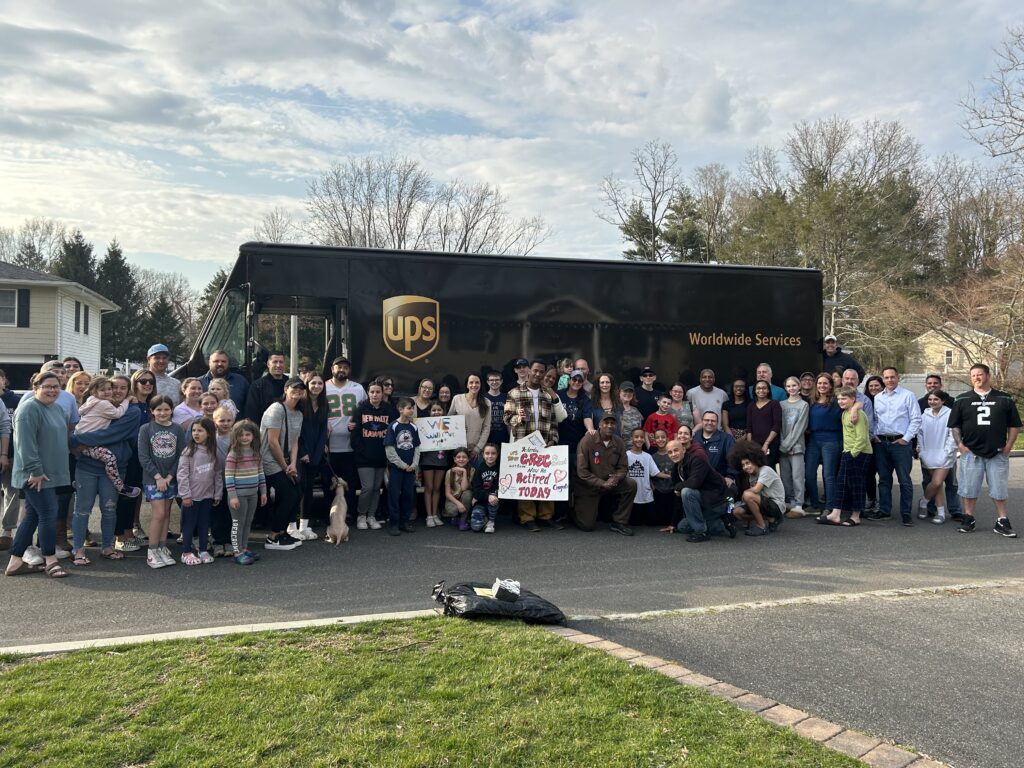 Congratulations were in abundance as Smithtown's Greg Watkins Sr. drove down Mark Drive, concluding his 34-year career as a UPS driver on April 6.
Unbeknownst to Watkins, the package in his care was part of a fantastical farce arranged by Christine Grazia and Watkins' supervisor, Frank, to give him a proper sendoff.
"The love everybody is showing me is totally amazing," confessed Watkins. "When you care for people, people care for you."
And care for people he did. Nearly every one of the over 100 attendees had a story of Watkins going "above and beyond."
"He genuinely cares about people," shared Grazia. "When my child was younger, he knew if it was a Christmas gift that wasn't wrapped, he'd text me to let me know where he hid it; if a package was too heavy, he'd bring it right in."
Grazia added, "Even if he's in the area not even delivering to your house, he makes it a point to stop in to see how your family is doing."
While one might be inclined to attribute the increased familiarity with COVID and the spike in online deliveries, Grazia stressed that Watkins was always going the extra mile for his route.
Included in the crowd were Watkin's wife, Katrina, and two of his four children, Kyle and Garrett, as well as colleagues. His oldest son, Gregory Jr., lives in North Carolina and managed to Facetime into the celebration, while his youngest, Kharlin, is away at college.
"I am surprised to see this many people, but we always knew that my dad was a pretty amazing person, so it just makes sense," said Kyle. "That's how we know him at home. There's no difference in character."
"Being over here for the 17 years that I've been here, you've been most gracious to me," stated Watkins in his impromptu speech, surrounded by the crowd. "I'm going to miss everybody. It's bittersweet. I just love each and every one of you. You just made my life so much better. You've shown me so much love through the years. I never expected this."
"I feel the love he feels," said Katrina, "he's amazing, and this has become our family."
"I wasn't surprised" to learn about the celebration "because I knew the families," added Katrina. In three years, after their youngest graduates from college, the Watkins plan to move to South Carolina to be closer to their oldest and their granddaughter.
In 2020, during the deepest throes of COVID, residents on his route, which stretches to 111 near 347 and portions of Smithtown south of Mainstreet, threw him a viral parade. It, perhaps, made him the country's most famous UPS delivery driver.
At least one local business, Chick-fil-A of Smithtown, added to the congratulations, sending Watkins off with a branded cup after delivering 6 million packages, making 1 million stops, and driving over 900,000 miles.