Nick Fanti (Hauppauge '15), Stephen Woods Jr. (Half Hollow Hills East '13) and Former New York Met ace Matt Harvey are taking their talents internationally— and have a cutting-edge Hauppauge instruction house to thank.
Matt Harvey
"I was kind of shocked [when Team Italy called me for the World Baseball Classic], because obviously 'Matt Harvey' is not really an Italian name," Harvey told The Messenger after getting in one last round of tune-up work at Hauppauge's LI Field House on Tuesday.
The 33-year-old hurler who last played in 2021 with the Baltimore Orioles confirmed his maternal grandfather, Rudolph Benedetti, was born in Italy— thereby qualifying him to represent the country in his simultaneous effort to get back to "The Show" that once marketed him a headlining act.
"I wish I had come out here earlier in the offseason," Harvey said of the Industrial Park-located indoor facility, the only one of its kind in the greater region equipped with a dirt mound. The 2013 All-Star Game starter months after being christened "The Dark Knight of Gotham" on the cover of Sports Illustrated credits LI Field House with helping him prepare to bounce back from career derailment— first in the WBC and potentially with a Big League club after that.
At his peak before on-field injuries befell him, Harvey was the undisputed World Series Game 1 starter selection for a Mets pitching staff that also featured future multi-Cy Young Award Winner Jacob deGrom. He put up a 9-5 record, 2.27 Earned Run Average (ERA) and 191 strikeouts in 2013 and a similarly stealth 13-8, 2.71 ERA and 188-strikeout line in 2015.
Now, Harvey is looking to latch back on with a uniquely routed comeback — from free agency to the city, to Suffolk County to the Southwest, and finally Taiwan come March 1 as a part of Team Italy at the WBC.
"I come [to LI Field House] a couple times a week, especially the last couple of weeks, after doing some stuff with [former Yankee and current Met relief pitcher] Adam Ottavino over at his lab in Harlem," said Harvey, while recommending that others in his situation make it out to Hauppauge for a well-worth it commute.
"Coming out here, between the clay mound and the amount of space," he added, "obviously it gets cold here in the Northeast… having this much space here to pitch inside is next level."
Harvey's fellow free agent pitchers turned bullpen mates-to-be agree they would not feel as confident as they would upon touching down in Arizona on Wednesday if not for LI Field House.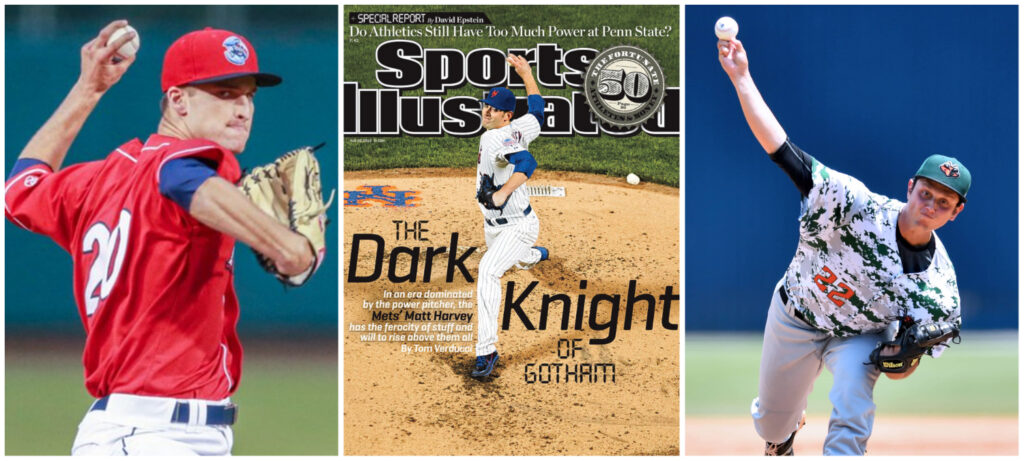 Nick Fanti
"I'm excited for the opportunity, I can't wait to get over there, stay with the team in Arizona and eventually go on to Taiwan," said southpaw Nick Fanti, 26, who won the Carl Yastrzemski Award for best Suffolk County High School Baseball Player of the Year as a senior out of Hauppauge in 2015.
Fanti was a 31st-round selection by the Philadelphia Phillies that same year, reaching "High-A" in 2018 with a notable single-A season the previous year— producing a 9-2 win-loss record to a 2.54 ERA and 121 strikeouts for the Lakewood BlueClaws. He pitched a no-hitter that season and the first 8.2 innings of another.
Fanti played for Team Italy in the 2017 World Baseball Classic as well. He pitched in Mexico in multiple rounds, notably striking out Carlos Correa when the squad faced off against Team Puerto Rico. Fanti recalls being expectedly ultra-nervous for what boiled down to a very cool experience overall.
"One thing that I remember, Mark Leiter Jr. [currently a pitcher in the Chicago Cubs organization], he had told me in Spring Training that year, 'hey man, you don't know if this is going to be your only opportunity to be on TV… so just make sure you take it all in.' His dad and his uncle [former MLB pitcher Mark Leiter and former Yankee and Met Al Leiter, respectively] must have told him that. That's always been what I've done, and it's my piece of advice I give out too."
Like Harvey, an injury-plagued Fanti is looking to return with a bang— sporting an even deadlier changeup, as per a video making the local Internet rounds, than the one he had last time he collected affiliated innings in 2018 before hitting the sidelines indefinitely. He underwent Tommy John Surgery on the ulnar collateral ligament in his throwing elbow in 2021, and it "took every bit of about a year and a half to feel good enough to finally do this."
Fanti also cites Belding Performance, a physical fitness center also located in Hauppauge, with helping provide him and other local pro ballplayers a strength and conditioning program like no other during every offseason.
He's since brought his Belding regimen over to LI Field House, where he has grown even further as a prospect and become an instructor of next generation up-and-comers in one fell swoop. Fanti is a textbook example of a technical free agent who doesn't view the glass as half empty in the slightest, because he knows it will be full once more the second he returns to much-missed gameplay.
"There's always nerves in it," Fanti notes of the expectation to pitch "impact innings," "but you get on the mound and it's your office, and the rest takes care of itself."
Stephen Woods Jr.
Fanti's family and friends got to experience huddling around the TV during the wee morning or late night hours last go-around. Now, Woods Jr.'s network of close confidants will soon be able to do much of the same.
With a 23-19 record, against a 3.58 ERA across 5 minor league seasons since being selected in the 8th round by the Giants out of SUNY Albany in 2016, Woods, now 27, laughably considers himself more than well-traveled since he once called Dix Hills his home.
The right-hander was dealt to the Tampa Bay Rays in the Evan Longoria trade, selected in the MLB "Rule 5" Draft and subsequently sent to the Kansas City Royals for the duration of "The COVID year (2020)" before finding his way back to the Rays organization.
Now, he is a free agent— but has put brief flirtations with injuries of his own behind him, per a personal mission statement Fanti and Harvey can also identify with: reaping the benefit of the big stage audition a tournament like the WBC provides.
"I think that's one thing that I've always been prepared for— heading into Spring Training, ready to go no matter what, and at a high intensity," Woods said. "It's going to be a blast coming in hot right out of the gate."
In a room filled with additional local pros, student athletes and scouts all on-hand to witness Harvey, Fanti and Woods light up the radar gun for their final Island "bullpen" sessions before joining their Team Italy brethren, Woods by far wore the biggest grin— if not to get ahead of "the elephant in the room," that he has an even less Italian-sounding name than 'Harvey.'
"It's really fun, because I'm a 'Jr.,' taking pride with being a 'Jr.' in my life… and my dad is Italian, but 'Woods' is questionable— he's adopted, and his [original birth name] is Lauro Giuffre, son of Rosa Laura Giuffre. So, yeah, I'm Italian too! Don't think I'm not," he joked.
Tommy Garrett
Pitchers are nothing without their catchers— and one local backstop collected himself quite the future anecdote to tell, thanks to the hours he put in this past Tuesday morning when most others his age were spending Day 2 of their February breaks sleeping in or playing Xbox.
"Over the past five weeks I've had the opportunity to get to know Matt Harvey, Nick Fanti and Stephen Woods," said Tommy Garrett, 17, of Bayville, a junior out of St. Dominic's High School. Garrett caught every zipping heater and mean hook the WBC-bound trio had to offer on February 21.
"To say I learned some things is an understatement," he added. "Each week I have watched them prepare every day for an opportunity to play in the World Baseball Classic and in the MLB this spring. To have the opportunity to catch each one of them is something I will never forget."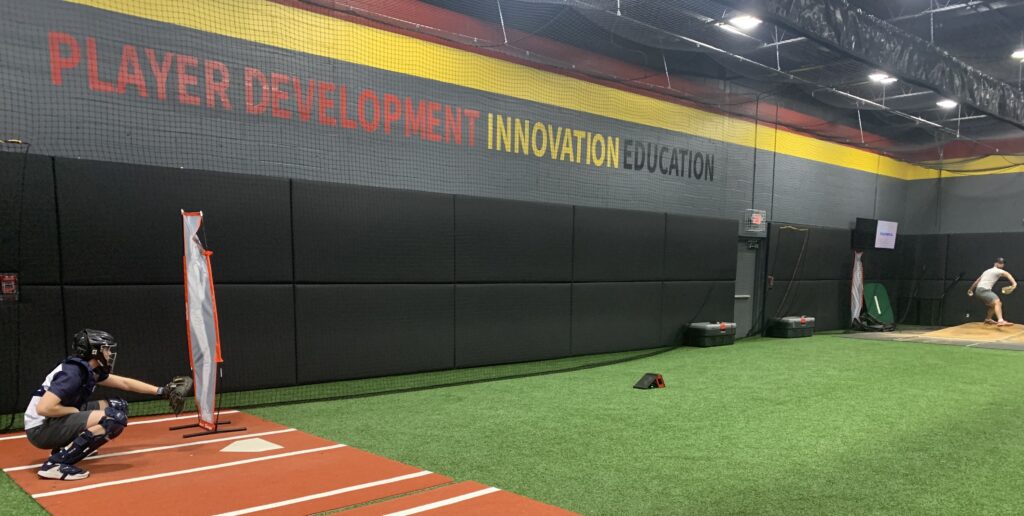 The 2023 World Baseball Classic will take place from Tuesday, March 7 to Tuesday, March 21. Games will air on FOX. Get ready for some chaotic start times— the families and friends of Fanti, Woods Jr. and Harvey sure are.