The South Huntington School Board voted unanimously to enforce increased security outside all school buildings last Wednesday.
Parents and teachers expressed security concerns after the Parkland shooting. The new security comes amid such discussion, and measures were implemented after the district sought a better response to prevent a mass school shooting.
The Board President said that over 70% of parents concurred with the decision regarding armed officers. The South Huntington School District is composed of 7 schools: Birchwood Intermediate School, Countrywood Primary Center, Henry L. Stimson Middle School, Maplewood Intermediate School, Oakwood Primary Center, Silas Wood 6th Grade Center and Walt Whitman High School.
The annual cost of the officers is estimated to be $750,000.
The school district has about 5,849 students, according to data.nysed.gov, as of 2021. The average student spending is $23,839.
"We know it's a very sensitive part to everybody, to the board, to myself, to the community. We know not everybody is in favor of armed guards and I respect that and I understand that," South Huntington Superintendent Dr. Vito D'Elia said.
"But decisions have to be made and we feel this is a step in increasing the safety of all within our South Huntington learning community."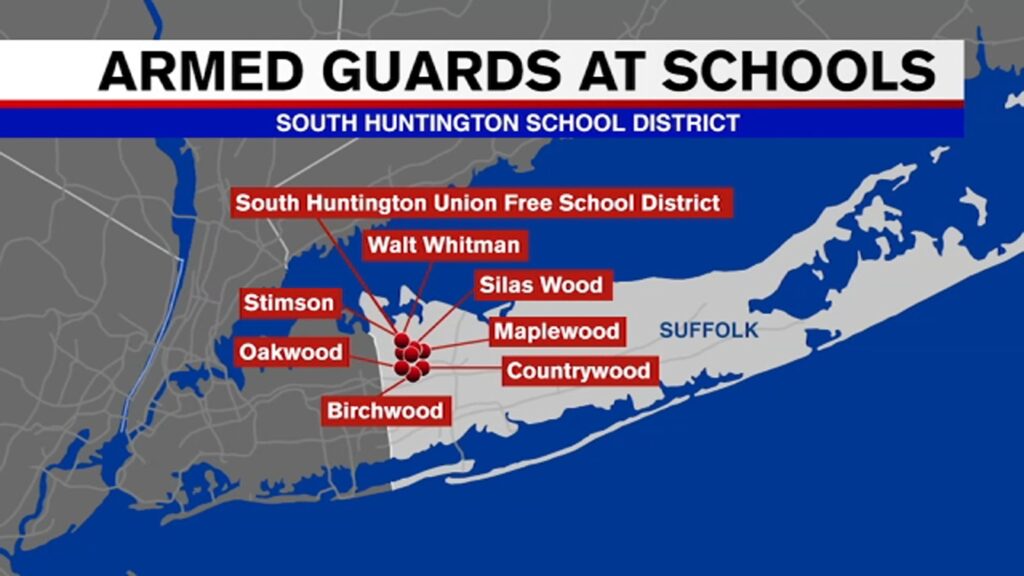 South Huntington School District is joining other districts on Long Island that have installed armed security including Montauk, Tuckahoe and West Babylon.
But there are contrasting opinions.
The head of the teachers union for South Huntington schools said there are "differing opinions" regarding the decision made last Wednesday.
"I have members who are thrilled about it and others who are vehemently opposed," Dennis Callahan, also an AP Spanish teacher at Walt Whitman High School, told Newsday.
Callahan said that teachers supporting the verdict "say we are in an unsafe world, and we need to do everything in our power to ensure that when students come to school in the morning, they get home safe."
He also said those who oppose armed guards say they worry "bringing weapons into schools opens the door to more violence."
But, the security officers would be carrying concealed weapons and remain outside— they cannot enter schools unless there is a threat of violence.
"I think it's what is best for us. I know some of my friends fear guns in our schools, but I'd rather have an officer carrying a gun, than someone who is using a gun with the intent to hurt us," a Senior at Walt Whitman High School told The Messenger.
The New York State United Teachers and its nearly 600,000 members have not taken a stance on guns in schools, according to a spokesperson on Friday.
The armed guards started monitoring the schools at the end of January.