"He never gave me good advice. And the only bad advice he ever gave me was to stay with him through this."
When Mario Nicoletto, 22, of Lake Grove, accepted a job on George Santos' (R-Whitestone) staff in December, even his wildest imaginations couldn't predict what would happen next. In two months' time, he would be simultaneously contemplating who could be tabbed to play him in a Netflix series…
…and gearing up to bag groceries for a living.
After his five-month detail as the Republican National Committee-appointed regional field director assisting the now otherworldly-scandalized congressman's campaign, Nicoletto was rewarded for his efforts with a caseworker post in Santos' district office. He would run point on much of the same— constituent services, taking phone calls, setting up meetings and the like.
Nicoletto describes working restlessly on the campaign trail for a "very bombastic, dramatic guy" who would "give you the shirt off his back" when he wasn't actively engaged in petty warfare— singling out the time he [Nicoletto] spent two nights in a Melville hotel on Santos' dime.
He remembers his conversation with an intern on the campaign while in the latter's car after yet another "9 a.m. to midnight" shift on the heels of election night: "We were saying, 'if we win, we're not going to go anywhere but up.' And then it happened."
That it was the December 19 New York Times article that told Nicoletto his life was about to get complicated. What was originally the day of his 22nd birthday celebration turned out to be the day where a fury of 120 missed calls and texts would pour in — friends, family and former colleagues all asking variations of the same question: "what the hell are you doing? Why would you do this to us?"
In the days that would follow, many of Nicoletto's relationships would irrevocably shatter to the point where he had to spend Christmas dinner upstairs because, as it turned out, his new boss had lied his way to Washington.
The Fabulist's Fraudulence, Recapped
Within two months of being elected to Congress, George Santos brought New York's Third Congressional District, and Long Island with it, into the national spotlight for the most unwelcomed reasons, per his colossal deceit.
At a certain point, the magnitude of the fabulist's fraudulence grew exponentially more infuriating— his mother passing due to a 9/11-related illness (false), him having former employees who were killed in the Pulse Nightclub shooting (false), him being Jewish (false), as opposed to his asinine "Jew-ish" clarification, and being the descendant of Holocaust-surviving grandparents (false).
Then, they started ballooning into ridiculousness. Santos' fantastically-conjured mythos paints him a poor man's Forrest Gump reboot, except he's swapped out Army-issued camouflage and Creedence Clearwater Revival's "Fortunate Son" for preferred Bosom Buddies garb and theme song in that order. Santos' falsehood frenzy-for-a-résumé shows a financial wunderkind on the climb.
Meanwhile, New York Magazine has also reported an "Anthony Devolder"-penned Wiki entry with some questionables. It casts a young Santos in episodes of aughts Disney Channel staples like Hannah Montana and Suite Life of Zack and Cody and in an Uma Thurman film that does not exist, before also documenting his "decision" to take his artistic flair backstage as a producer on Broadway's now-infamous Spider-Man: After Dark production.
All false.
Once a pop cultural babe in the woods with baby-faced aspirations, he's now manifested the stronghold upon the zeitgeist he so craved— with a heel turn to put all past heel turns to shame. Everyone from the bowels of the Internet to Saturday Night Live's "Weekend Update" panel have taken their thwacks at this year's hottest new proverbial meme piñata. Consequently, society is now as full of all things George Santos as he has long-been full of himself.
For all the delusions of grandeur embedded into his loaded die called a sales pitch, it's his Brazilian criminal status, per 2008 court records, for stealing the checkbook of a man his late mother was caring for and writing $700 worth of fraudulent checks when he was just 19 years old, that best portrays who the deceived are dealing with here.
A thief, plain and simple, and one not as masterful as Frank Abagnale Jr., the real-life check-forging youngster Leonardo DiCaprio played in Steven Spielberg's Catch Me if You Can (2002). Because, in this instance, Santos earns the benefit of the doubt from no one, nor audience sympathy— either in the immediate or when Hollywood typers start typing. He is not the hero of his own story.
And we caught him, because we could.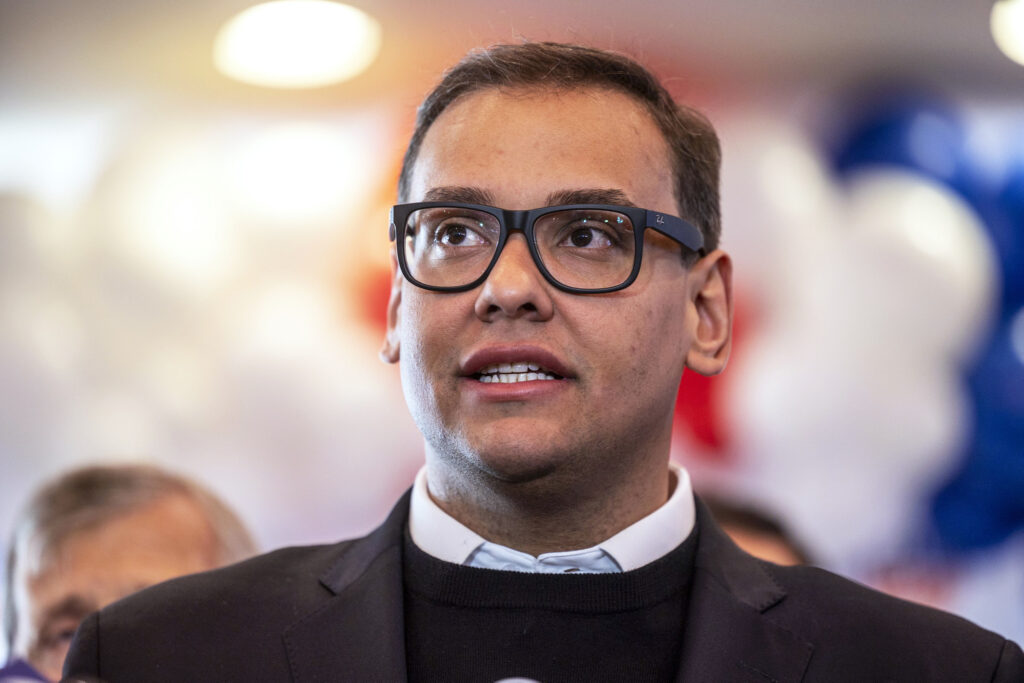 Nicoletto on Santos
Whimsy aside, Santos currently sits in an ill-gotten seat he's declared he isn't keen on relinquishing anytime soon. This poses serious ramifications stateside and on the national scale, according to someone "integral" to the campaign.
In an exclusive sit-down interview with The Messenger, Mario Nicoletto urged that he believes he did nothing wrong. What makes him the most upset? "There are reputable people in Long Island who say it— that George Santos could never have done it [been elected to Congress] without me. Let me make that perfectly clear, he could never have done it without me and my team."
About a month into unemployment, Nicoletto feels "borderline depressed" to be at risk of being considered persona non grata. Regretfully, Nicoletto admits, "I should have left earlier. I really should have. But with me staying there, it gave him time to substantiate his claims. And he never did."
Nicoletto dropped out of Suffolk Community College in 2020, right around the time he first met George Santos, a regular fixture at fundraisers and community events. Despite confirming he caught Santos slipping about their shared lack of a college degree "years before" they'd work together, Nicoletto says Santos assured him "…he was going back [to Baruch] to take online classes."
At the time, Nicoletto figured Santos had simply misspoken: "The guy is busy, he's under a lot of pressure, he's running for office…" He gravitated to the candidate for the same reason he believed Santos took a shine to him and what he could bring to the table.
"He liked me because I'm young, and a lot of people don't care about young people," Nicoletto said. "I saw a real opportunity when I first talked to him… So for the next 16 months, I was building up his empire, so to speak."
No matter how bright or hungry for action, young staffers don't typically have a whole lot of experience to draw from or prospects to fall back on (let alone those who get burned right out of the gate)— much of Santos' field staff was green behind the ears.
In June 2022, the many-years-volunteer Nicoletto joined the Republican National Committee (RNC), which full-time appointed him to be "in charge of voter contact" on Santos' campaign.
Nicoletto had a handful of main metrics to hit in the realm of door-knocking and cold-calling across Greater Nassau, while Santos used the entirety of the "none the wiser" team as deception target practice.
"George spoke about his prior career to me, and that he worked for Goldman Sachs. He told me he worked for Citigroup," Nicoletto said. "He was lying to my face about these companies. He lied straight to my face several times. And people took him at face value. They trusted him. I trusted him."
With hindsight, Nicoletto admits Santos was suspiciously "too nice," and that he never liked how much of a "calculated guy he was."
With the onslaught of now-instantly recallable deceptions came detailed anecdotes, Nicoletto notes: "That's how he was so good at it. How 'damned good' he was at volleyball… phenomenal. Even if that's a lie, that's a really weird thing to lie about. He was saying how he 'crushed' the entire team. And he's kind of fruity, so people would believe volleyball over football."
"If George Santos wants something from you, he's going to get it no matter what. George would wear a yarmulke to Great Neck, but he'd wear a cross to Massapequa. That's not even a figure of speech, he legitimately did that."
"Look, George was a nice guy. Was. But it's become incredibly apparent to me that he's unhinged, frankly. He's become detached from reality," Nicoletto said. "He has a different story for every person he meets. We noticed very small inconsistencies with his stories, among me and the folks that left—- things that built up over time, and now they're everything."
With Santos' propensity to rely on fictionalized impressions of reality to further fuel his fire, Nicoletto can't help but make comparisons to select works media from which he is convinced his former boss takes his cues.
"I'll tell you this— at every campaign stop, George Santos was a different person. Almost like Fight Club [the 1999 film in which Edward Norton stars as an insomniac with a "do or die" alter ego], right? He would switch it up, [snaps fingers] and, boom— he was Tyler Durden. That's the best way I could describe it."
Yet, Nicoletto still doesn't classify Santos as delusional to the point of actually believing his lies, a la George Costanza of Seinfeld's most golden of golden rules. Nicoletto agrees Santos is a performer, first and foremost.
"He doesn't believe his lies," said Nicoletto. "He wants to."
On the Campaign Trail
"A lot of stuff he did on the campaign was— uncomfortable," Nicoletto recalls. "He received an inordinate amount. Three or four vans, they were given to him."
He didn't have to record "$199.99 and didn't have to file an expense report, at least to my knowledge. He was given these vans to transport yard signs and other equipment."
"He used the campaign account for exorbitant dinners—allowed, but shady," Nicoletto added. "And he keeps a big circle, which is never a good thing. We had a few people who were hanging around a lot on payroll… that I don't know what they did. And I ought to be in the know, and couldn't find out. We had some local officials, the infamous 'cringe' group (Loud Majority US, formerly 'Long Island Loud Majority') on Long Island on our payroll. There'd be payments through our miscellaneous account, which is perfectly sound, but still shady."
Loud Majority US was contacted for comment, but did not respond to The Messenger prior to the time of publication.
"He and other folks always seemed, I'm not going to say— mischievous, but you never really know what was going on," Nicoletto said. "A lot of it felt fugazi."
Newsday seems to corroborate Nicoletto's claims:
"Santos' campaign finance disclosures with the FEC, for example, contain dozens of expenses that fall just cents short of a threshold that would have required him to preserve documentation of those purchases. And he provided dramatically different information on financial disclosure forms filed during his first run for Congress and his successful campaign last year."
Per Nicoletto, in a "masks off" phone conversation he had with the congressman following his exit: "I said to George, 'you shouldn't have done this; this was a bad idea. I told him 'I have to leave for the safety of myself and my family' because that day, I was assaulted."
Staff Temperature Post-Times Article
"When the article dropped I — well, actually, before," Nicoletto recalls, "I didn't see the team as glued together— I saw almost anarchy."
Non-existent morale currently defines the staff from New York to D.C., making serving constituents virtually impossible. Despite this, Santos has doubled down, arising from his committee-abandoning exile and vow of silence to become "more bold and more emboldened," as former representative Pete King (R-Seaford) put it, per Newsday.
Even with the diminished staffing levels, "There are people in the administration that I know plan on leaving," said Nicoletto. "They're frustrated with the lack of communication, cohesion, and teamwork going on. There are some very big names, top-level people who plan on leaving."
Santos "rallied the troops" for a ZOOM call — hosted from its permanent residence, the emptily promised land of make-believe — following the release of the Times article. "The 'congressman' was speaking to the congregation, if you will," Nicoletto recounted. "It was the D.C. and Douglaston team, where 75% of them had already left. And he's telling us, 'no matter what happens, our jobs are safe.'"
At the Douglaston base, the team began altering their routes to avoid reporters. However, even secret exit-ways were subject to combative force compromise, Nicoletto said, as church cut-throughs became confrontational hotbeds in the worst way.
"There's a guy following me, either a reporter or a protester," Nicoletto recalled. "He grabs the left part of my jacket, winds up for an elbow and clocks me. I back off, push away and say, 'stop, this is unprofessional!' I didn't want to hit him back… And that was my last day."
Nicoletto submitted Santos' Chief of Staff Charlie Lovett his resignation later that same day, January 10. He says Lovett was not surprised. "He had no idea about the assault, I wanted to keep a tight lip about it, I didn't want police involved."
"Charlie Lovett, I think he's criticized too much," said Nicoletto. "He's loyal to a fault, even to me. After this, he probably will still be [loyal] to me; that's how loyal he is."
According to Nicoletto, some more "revelations" came from Santos himself— with certain claims that have since-been swiftly refuted. "He was trying to get me to stay," Nicoletto said of his last phone conversation with Santos, shortly after his exit. "He offered me a job in D.C., and I declined."

"George told me Anthony D'Esposito, the congressman in New York's Fourth Congressional District, had called him up to apologize for making a public statement calling for him to resign, and he also wanted George to go through the wording and make sure it was tiptop," Nicoletto said. "They all told me it was true. I thought it was true, at first… but it is not."
"There was definitely no apology," Matt Capp, Congressman D'Esposito's Communications Director, told The Messenger. "He's not apologetic at all, about calling for him [Santos] to resign."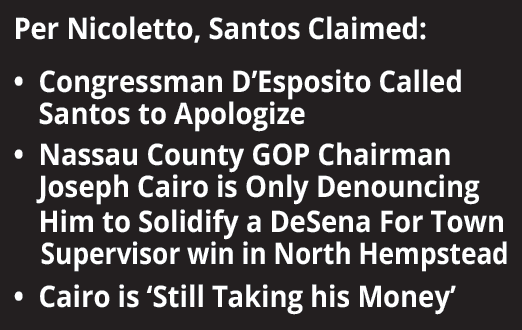 "The big ones, that George told me on the phone, is that [Nassau County GOP] Chairman Cairo is only denouncing him so Jen DeSena can win [re-election] in North Hempstead; that's the only reason he's doing it," Nicoletto says Santos told him via telephone. He adds that in the same conversation, Santos also indicated the Chairman "hasn't returned any money to George… so he's lying about Cairo blatantly, because that cannot be true. That's just insane to me, that he would lie about that."
Nassau County GOP was contacted for comment, but was unable to provide one to The Messenger before the time of publication.
Campaign Finance Trouble?
"Even his [Santos'] own staff, the people who lent him money… he's an extremely nefarious actor, he's taking away people's gold in the pot and putting it in his," Nicoletto claims. "It's like in The Sopranos, if you're a little late with Tony… people are that upset with Santos."
"I probably know more than The New York Times," Nicoletto said. "They haven't covered George's phone calls. They haven't covered this— that George owes a lot of people a lot of money and he has not paid yet, and I have sources that can back that up."
Could this signify campaign debt? Nicoletto did sign a non-disclosure agreement with the RNC at the beginning of his short-lived tenure, so he could not make an indication one way or another. But he did not sign one with Santos, who he vows to separate himself from every chance he gets.
"I have time to recover from this, but I'm wasting none of it."
Nicoletto emphatically stresses two-fold, (1): that "the Republican Party did nothing wrong. It wasn't their fault."
And (2): "My loyalty is to my local community… to Nassau, and to Suffolk…. it's not to fabulists, it's not to liars, it's not to people who fabricate their résumé."
High-Stakes 'House' of Cards
"Whoever Chairman Cairo chooses (to replace Santos), he and his colleagues know exactly what they're doing," said Nicoletto. "He is smart for calling on George to resign. They can deliver a Republican primary victory in the Third in 2024— but it all depends on George."
Per a joint Newsday and Siena College Poll released last Tuesday, 78% of New York State residents are ready to send Congressman Santos packing.
When asked if he anticipates Santos will resign anytime soon, Nicoletto told The Messenger, "I don't think so, unless he strikes a deal he finds beneficial to him. He's made it very clear, almost like Jordan Belfort in The Wolf of Wall Street – 'I'm not f——g leaving!' – so we'll see. If he doesn't resign, that makes things worse."
Unlike Leo, thanks to his explosive transformation as Belfort in Martin Scorsese's Oscar-nominated 2013 film, Santos won't see himself a part of college kids' dorm wall poster iconography anytime soon.
Rather, he'll have to explain to a whole heap of them, like Nicoletto, what made him so special? College-aged exemplifications of eagerness incarnate put off their higher educations to instead play what's boiled down to a long-form round of high-stakes "House"— wherein the roof is caved in and the primary participants are all soon-to-be as leperized as ballplayers on steroids.
"He wasn't encouraging us not to go to college," Nicoletto stipulated. "He was encouraging us to do what was best— and this wasn't it."
"No one wanted this. It feels almost paradoxical. I feel like I'm living in a sitcom right now. Like one big joke," Nicoletto said of "Santos, or Anthony Devolder or 'Katara,' whatever you want to call him."
"Did he do something illegal? That's not for me to judge," Nicoletto posits. "Did he do something immoral? Absolutely. I think it would be beneficial if he did resign."
"…It's pretty evident he does have a criminal record in Brazil. He is an international criminal. But I can't make an educated assumption of what can and can't be true."
'Do the Right Thing, Even When it Doesn't Benefit You'
Nicoletto decided somewhere between burned bridges and the realization he'd soon be beyond 9-5 deployed to attempt to sell people said bridges that this was the opposite of what he signed up for.
"I had everything I wanted, and then it disappeared. But it was the right thing to do [quitting]," Nicoletto said, denying the notion he's been blacklisted, despite very much feeling the heat. "Look, I'm not saying I'm the American Caesar, but I'm saying people shouldn't look at me as 'Mario Nicoletto – Santos Staffer 1' or 'Santos Staffer 2.' They should look at me as a human being."
Nicoletto wanted to give Santos the benefit of the doubt, but as he learned the hard way, liars shouldn't get benefits— because they didn't gain anything they currently "have." In fact, they point-blank wrongfully took what rightfully should have been someone else's.
"If the American taxpayer is paying me, then it's about way more than that. It's about following up on the promises we, the promises I made on the campaign trail. And at the end of the day, it's about doing the right thing even if it doesn't benefit you."
According to the Times' original report, Santos cashed checks written out to his Friends of Pets United charity under his "Anthony Devolder" pseudonym. Through this, per the Patch, Santos also allegedly stole money from a disabled Navy Veteran, Richard Osthoff, who came to the charity's GoFundMe page hat-in-hand in 2016 seeking a life-saving surgery for his dog.
Santos reportedly refused to give the money to Osthoff once $3,000 was solicited. Osthoff's dog succumbed to its terminal illness less than a year later.
The FBI is currently investigating.
"If it's true, because anyone can get on photoshop… him taking money from a Veteran's dying dog? I lost all respect for him," said Nicoletto. "I had lost a lot, and what little I may have had left was gone immediately."
Apropos of his victims, all paralyzed by a web of boundless lies that discriminated against neither man nor man's best friend, Santos is like the pup who finally caught that truck it was mad-dashing after— and he hasn't a clue what to do with it, other than stall, baby stall 'till the clock runneth out. He is a sitting congressman, alright— one that people cannot, and will never stand.
"George betrayed everybody," Nicoletto, who's clearly spent this short year keen on redeeming more New Year's resolutions than the next person due to his uniquely grim situation, reiterated.
Nevertheless, he wears a grin, his glass half-full half of the time as he throws one back and laughs, because what else can one do when real life becomes a cartoon?
Felina
"My friend called George 'the Walter White of politics,' " Nicoletto said, referring to Breaking Bad's meth-dealing antihero who went out guns-a-blazin' in the AMC hit's series finale entitled "Felina," for which this section is also named after.
"…that's almost giving him too much credit."
What Mario Nicoletto was expecting to be the start of a potentially fruitful career has hit a significant snag. He will be out of politics, at least for the time being, due to the royal combination of a small sample size mixed with the dreaded scarlet 'G.S.' he and his friends from the old team now wear.
In an office wrought with lies, deceit, pettiness, threats of violence looming just outside, a "mass exodus of resignations" hanging overhead like perfect storm-cloud cover and communicative disarray that's more than airborne, it begs to question: how much is being done for the district?
Whether it's the rumor mill kickstarted by Congressman George Santos playing literal telephone, desperately trying to keep his image alive amongst his staff, or the ilk desperate enough to remain, can one really believe that they are in it for the district anymore? Or are they (Santos and the staffers) in it for themselves or their own agenda, as Nicoletto's glass half-emptier side would care to venture?
Nicoletto spoke of the weeks he spent witnessing damage control-alt-deletion in the aftermath of the "damning" New York Times article's release. "The way I looked at it," Nicoletto reflected, "It was every man for himself."
"There's a lot of turmoil in that office. Most of them aren't getting out of there alive, career-wise," Nicoletto said, hopeful he is an exception.