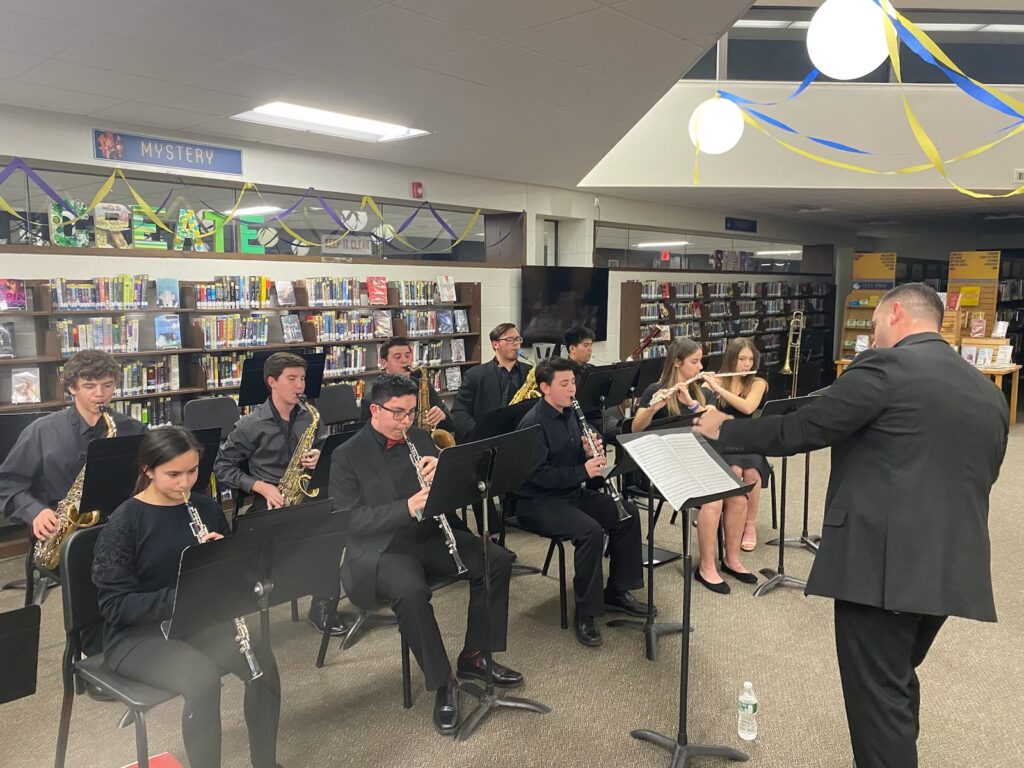 Tensions ran high at the Smithtown High School West on Tuesday, November 22, as West's Tri-M Music Honor Society Chapter #1338, advised by Joseph Cotignola Jr., looked to retain control of the coveted Tri-M Cup over High School East's chapter #4958, advised by Brian McCoy – a feat West accomplished.
From its inception 12 years ago to now, the Tri-M dinner and the associated Tri-M games are a rare opportunity for collegiality and for the 'modern music masters' at both schools to enjoy a night of revelry.
In addition to the entry fee, all Tri-M members in attendance must bring a donation for the Smithtown Emergency Food Pantry. The event has provided thousands of items of food immediately after the Thanksgiving season, when there is typically a decline in donations before the later holiday season.
Prior to the games, students enjoyed a performance by High School West's own Wood Wind and Jazz Ensembles under the direction of Frank Scheno and dinner.
"The Tri M dinner is an annual event that represents two chapters becoming and representing one community," stated McCoy. "The chapters have a 'Friendsgiving' event and participate in fun-filled activities. Winning or losing doesn't matter; it is all about the gathering and, most importantly, collecting food donations to give back to those that need it the most this time of year."
And from its inception, it has grown from a humble gathering to well over 100 students from both high schools. Even the Tri-M cup both teams compete for has grown in grandeur to a formal trophy. However, older alumni remain fond of the dollar store trophy and associated paraphernalia that once made up the prize.
"It meant a lot,' said Eric Brengel, president emeritus of chapter #1338 class of 2017, of the old cup he calligraphed. "If there is one single regret our administration, it is despite the historic performance of Dan and the Romanians [a toy instrument band], we were unable to retain the cup."
"The Tri-M Dinner is a signature event of our honor society and one that I look forward to every year," said Stephen K. Jung, president of Tri-M Chapter #1338. "Being able to both plan and run it along with my fellow officers was truly a treat, but what was most meaningful was our chance to help out people in our community with the canned food donations that both Smithtown East and West members contributed to. I can't wait to return next year as an alumnus!"
The Tri-M games feature three events: the toy music contest, musical chairs, and music jeopardy. As whimsical as they sound, the contests have not been without controversy over the cups dozen years.
With its defeat, East's chapter is hardly dismayed.
"The plan [to win] is similar every year; the important thing is practice and planning," said Ella Femino, president of Tri-M Chapter #4958. "Most often, we try to pick out our song in advance for Toy Instrument Battle and assign musicians to instrumental and vocal parts. Musical Chairs and the accompanying Rock Paper Scissors is a game of chance, so we just play at meetings to sharpen our skills. Jeopardy is a combination of luck and studying. We try to guess what will be asked and study different things that may be relevant. Half the fun is the suspense and practice working up to Tri-M Dinner."
"But it's not just about the Tri-M cup; it's all of the awards and the event itself that really matters," said Femino. "People tell battle stories of Musical Chairs and how they helped their team win. The event itself celebrates the kids who don't always get recognized."
As Chapter #1338's 2022 victory fades into memory, all eyes now turn to next year's Tri-M officer elections where the Tri-M cup will surely be a motivating factor.