While the ability to report election results was delayed in Suffolk County due to the county's ransomware attack, it appears the so-called "red wave" that failed to materialize in the rest of the country crashed on Long Island.
"No one can disagree that Lee Zeldin had tremendous coattails not only here but throughout the entire state of New York, and the other combination is that we ran active campaigns in every seat, even deep blue seats," said Suffolk County GOP Chairman Jesse Garcia.
"The results are astronomical," he added, reflecting on victories and close margins throughout the county.
The New York State Republican Party and the Suffolk County Republican Party, overall, were able to win or appear to have won key contested congressional and legislative seats across the state while holding on to their current territory.
These include Long Island's entire congressional delegation.
1st Congressional District: Nick LaLota (R,C) 54.47% – Bridget Fleming (D,WFP) 43.03%
2nd Congressional District: Andrew Garbarino (R,C) 59.22% – Jackie Gordon (D,WFP) 37.93%
3rd Congressional District: George Santos (R,C) 52.55% – Robert Zimmerman (D,WFP) 44.42%
4th Congressional District: Anthony Esposito (R,C) 50.62% – Laura Gillen (D) 46.90%
Note: Some precincts in Suffolk County had still not reported at the time of publication.
Not since 1997 has the entire congressional delegation hailing from Long Island been members of the Republican party. Also noteworthy: George Santos being the first openly gay Republican elected to Congress.
"Thank you to the voters of Suffolk County for placing your trust in me," said Congressman-elect Nick LaLota. "I am extremely thankful for the trust and confidence you have placed in me, and I won't let you down."
The state legislative races saw the Republican Conferences in Albany grow their membership, as well.
State Senate:
1st District: Anthony Palumbo (R,C) 56% – Skyler Q. Johnson (D,WFP) 44%
2nd District: Mario Mattera (R,C) 58% – Susan Berland (D, WFP) 42%
3rd District: Dean Murray (R,C) 65% – Farzeen Bham (D) 35%)
4th District: Monica Martinez (D,WFp) 51% – Wendy Rodriguez (R,C) 49%
5th District: Steven Rhoads (R,C) 61% – John Brooks (D, WFP) 39%
6th District: Kevin M Thomas (D, WFP) 59% – James Coll (R,C) 41%
7th District: Jack Martins (R,C) 53% – Anna Kaplan (D,WFP) 47%
8th District: Alexis Weik (R,C) 69% – John Alberts (D) 31%
9th District: Patricia Canzoneri-Fitzpatrick (R,C) 56% – Kenneth Moore (D, WFP) 44%
Note: At the time of publication, District 4 was too close to call.
State Assembly
The only Suffolk assembly race that saw a change was Republican challenger Ed Flood defeating Democrat Steven Englebright. Flood will join at least 12 newly elected Republican colleagues in the Republican Conference. Englebright was first elected to the assembly in 1992, making his defeat all the more surprising.
Outside of Suffolk, Chris Sperber is ahead in the 11th Assembly District by 100 votes, although the final outcome is to be determined. Then, in New York City, several high-profile Democrats, including Peter Abbate, chair of the Governmental Employees Committee, and Steve Cymbrowitz, chair of the Assembly Housing Committee, were defeated at the ballot box.
With GOP gains will not come a change to the balance of power, with Democrats poised to retain their supermajorities in both chambers of the legislature.
Countywide Offices
Comptroller John M. Kennedy Jr. (R-Nesconset) won his third term and final term in the position over challenger Tom Dolan.
"I'm humbled and honored to be returned for office for a third term," said Kennedy. "I look forward to tackling additional improvements in operation and restoring normal order to the chaos inflicted by the hack of September 8 and will seek to expand the effectiveness of our audit staff to the wide range of contract agencies that provide services throughout Suffolk County."
Kennedy added that "I've reached out, and I will be looking to join with my colleague elected county comptroller throughout the state to get joint auditing audit authority for IDA as well as LDC."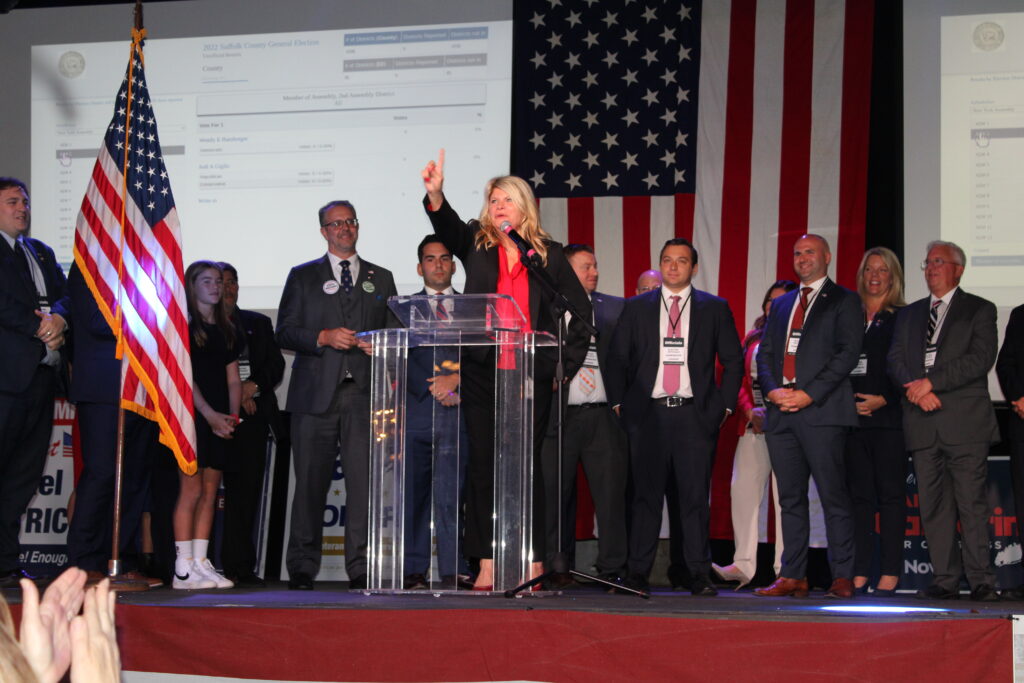 Smithtown Clerk Vinny Puleo (C-Nesconset) won the seat being vacated by Judy Pascale and defeated Lisa Jimenez.
Gubernatorial
Despite their many successes, the elusive white whale of the Republican Party, the governor's mansion, remained in the hands of Governor Kathy Hochul, who narrowly defeated challenger Congressman Lee Zeldin, who conceded the election on November 9.
"New Yorkers, I will not take for granted the trust you placed in me," said Hochul before outlining her political ascent, having never been defeated at the ballot box.
While not winning the race, the Chairman of the Suffolk GOP thought highly of the effort.
"No one can disagree that Lee Zeldin had tremendous coattails not only here but throughout the entire state of New York, and the other combination is that we ran active campaigns in every seat, even deep blue seats. The results are astronomical…"  – GOP Chairman Jesse Garcia.
"Those controlling Albany should take note," reads a statement by the Zeldin campaign. "New Yorkers of all walks of life are sick of the attacks on their wallets, their safety, their freedoms and the quality of the kids' education and are hitting their breaking point, as proven by these results. As they take office in January, Governor Kathy Hochul and those controlling Albany must address the grave concerns voiced by the voters."
With Zeldin's defeat, many are left to wonder what comes next for the congressman that led a campaign with margins resembling a purple state like Michigan over New York. And with Hochul's victory, does she feel the need to moderate her policy or is she encouraged to do as she wishes?
Propositions
New Yorkers voted in favor of Proposition 1: The Clean Water, Clean Air, and Green Jobs Environmental Bond Act.
The Bond Act will allocate $4.2 billion to projects across four categories: water quality improvement and resilient infrastructure, restoration and flood risk management, open space land conservation, and climate change mitigation.
The various projects are estimated to create 100,000 jobs.
"In a year of stark political divides, last night, New Yorkers came together and agreed on the importance of protecting our water and our environment. The $4.2 billion Clean Water, Clean Air, and Green Jobs Bond Act is a game-changer that will provide funding to protect communities from flooding and sea level rise, improve water infrastructure, protect drinking water, conserve land, combat climate change, and more," said Adrienne Esposito, executive director of Citizens Campaign for the Environment.
"These historic investments will benefit all New Yorkers and allow our communities to move forward with critically important environmental and public health protection programs while creating good local jobs throughout the state."
Proposition 2, reestablishing term limits in Suffolk County, also easily passed with 86% of the vote. The proposition arose after a former legislator, Kate Browning, of the Working Families Party, sued to get on the ballot after previously serving 12 years on the Suffolk County Legislature.