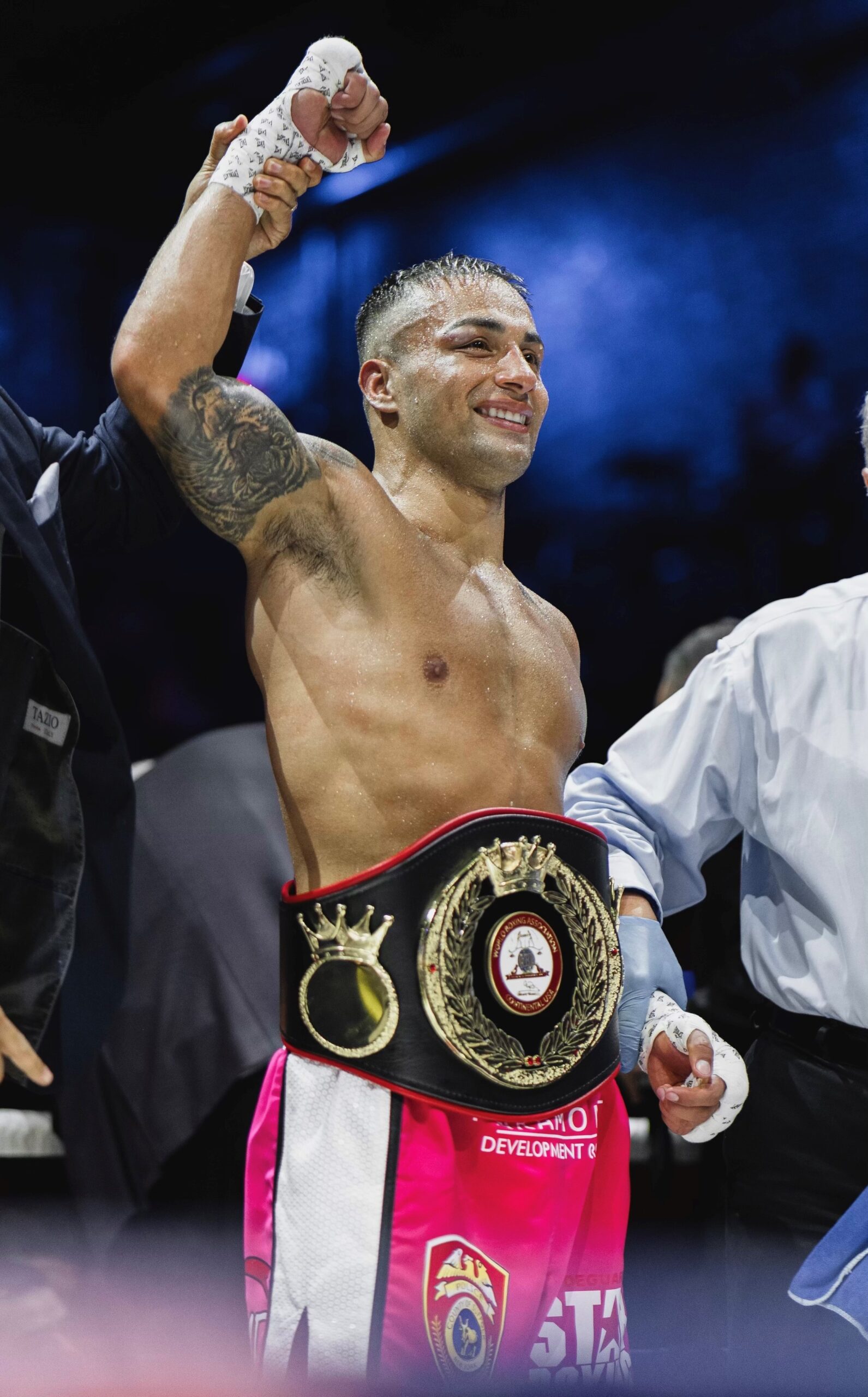 Professional Boxer and Suffolk County Police Officer Alex "El Toro" Vargas, 28, of Bellport made Long Island proud earlier this month when his fourteenth consecutive win earned him the WBA Continental USA Super Lightweight title and belt.
"It's something every single pro fighter wants and I'm proud to be one of them that was capable of winning one," Vargas told The Messenger. "It felt amazing to win my first title belt."
A sold-out Paramount saw the winning fight against Julio Rosa, of Puerto Rico. Rosa was tough competition, knocking Vargas down in round one. However, El Toro took his nickname to heart, pulling out the win after eight rounds. El Toro means "the bull" in Spanish, a mentality Vargas keeps in the ring. "Bulls endure a lot in the worst situations and do not give up for one second," he explains.
Vargas has been boxing since he was a child, beginning in his basement at the early age of six till he was old enough to join a real gym at age nine, although Vargas' parents say he's been throwing punches since he was a baby.
"My father would always watch boxing on television, and I remember seeing Mike Tyson fight and immediately wanting to be a fighter after that."
He quickly went on to make a name for himself as an amateur boxer, winning the Junior Olympics twice, New York Golden Gloves, and the Florida State PAL Championship all while under the age of eighteen.
After high school, Vargas put boxing aside to continue his education at Suffolk Community College for his Associate's Degrees, SUNY Cortland for his Bachelor's, and the Institute of International Languages for his bilingual certificate. However, he soon returned to boxing after earning his education, advancing to pro-ranks in 2018.
Boxing was his top priority for a few years, until a different dream came true with one phone call.
"I always wanted a career that gave me purpose and a reason to go to work every day, and being a Suffolk County police officer is simply that."
Vargas was called to the academy after a long three years of waiting, but this also meant taking a long hiatus from boxing to focus on his training.
"It was extremely tough to step away from boxing at that point because big opportunities were coming. I don't regret it one bit though, I have an amazing job now and it was well worth it." Vargas graduated from the academy in August of 2022, hoping to return to the ring within the year.
His first fight back after the academy may have been one of the toughest for Vargas. His opponent, Mauro Godoy, was a well-seasoned and more experienced pro boxer, and Vargas was fresh off an 18-month layoff.
"My initial thought to fight Godoy was 'let's do this.'"
Vargas wasn't worried about Godoy's record. "I just know what I'm capable of and I work extremely hard, so I was confident. Did I think ring rust would maybe play a factor and be in the back of my mind? Absolutely. But over eight rounds, I was confident I'd settle in pretty quick."
Despite all that faced him, Vargas showed up at the Paramount with skilled footwork, agility, and quick movement which won him the fight against Godoy and led him straight to his first Title and Belt fight just three weeks ago.
Rallying in his corner for both his fights at the Paramount was Vargas' family, along with hundreds of fellow officers from the Suffolk County Police Department (SCPD).
"It wasn't just the precinct, it was the entire department that was supporting me, purchasing tickets, posting me," explains Vargas. "That was a really good feeling and shows how much of a family the SCPD is. From bosses to my coworkers on patrol, it was just amazing. It gives me great motivation because I don't want to let them down and I want to represent the department in the best way I can."
Lou Civello, Second Vice President of the Suffolk County Police Benevolent Association (PBA), commended Vargas for his successes both in the ring and in his community and testifies to the family-like nature of the PBA.
"Whether it's in the ring or on the job, Officer Vargas commands the respect of those around him," said Civello. "His toughness, quick thinking, and calm under pressure make him both a great boxer and an excellent police officer. His PBA brothers and sisters cannot be prouder of his championship win and to call him one of our own." 
Vargas plans to continue being the best he possibly can in both his boxing career and his law enforcement career. However, for now, he is excited to enjoy the holidays with his friends and family and continue to get acclimated to being an officer. "I go into work not knowing what will happen that day but hoping to come out of it being able to help anyone I can in any way I can and also give them a positive outlook on police officers."
Vargas is a serious contender for the WBA Top 15, which would present him with the opportunity to fight for the main world title.
"For now, I'll just continue to stay in shape until that time comes."